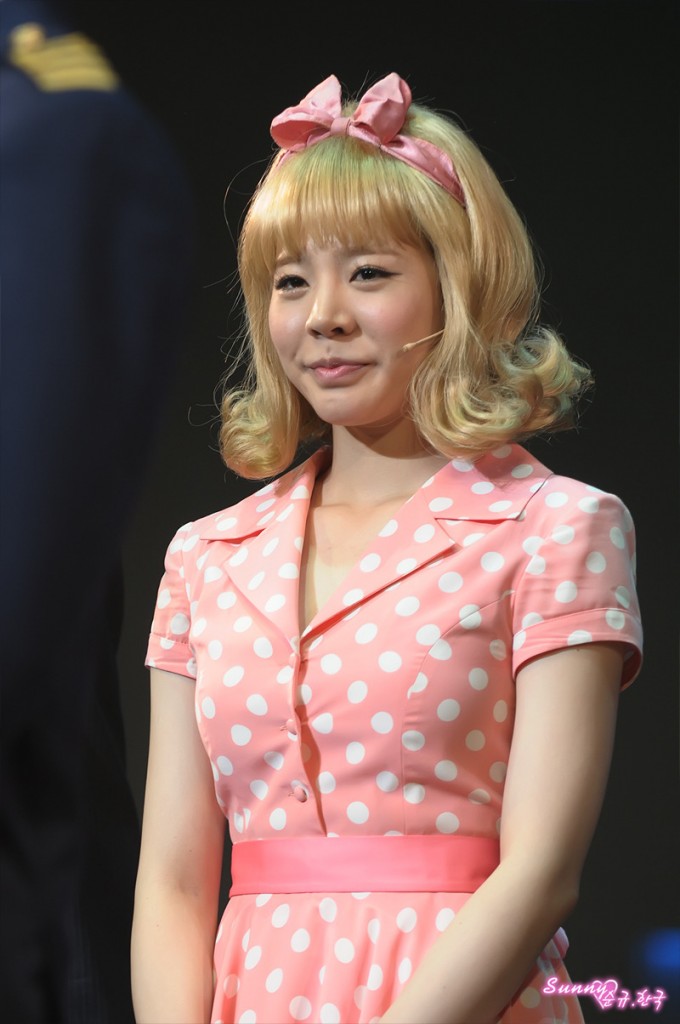 On May 12th, Sunny completed her final performance for her musical, "Catch Me If You Can". For her role as the lovable "Brenda" in the hit musical based on the Steven Spielberg movie, Sunny has been nominated in the Female Newcomer category for the 6th The Musical Awards.
Starting on March 30th, Sunny took the stage for thirty performances of the musical and took her final bow as Brenda on the May 12th performance. Sunny's debut as a musical actress has been met with widespread praise from critics. A reviewer from Chosun news said, "The person who showed the most potential as a musical actress was Sunny. She took the role of Frank's girlfriend, nurse Brenda, and digested exaggerated cuteness and flippant acting. One part of her is still inexperienced, but she shows potential for her ability to understand her character and apply it to her acting."
In addition to Sunny showing her potential as an actress, her singing ability was also put on display. As Jang Kyungjin of 10asia writes, "While Sunny wasn't a member in her group who put her vocals forth, she showed her power through Brenda's 'Fly, Fly Away' with her clean, firm voice, showing her potential to the audience."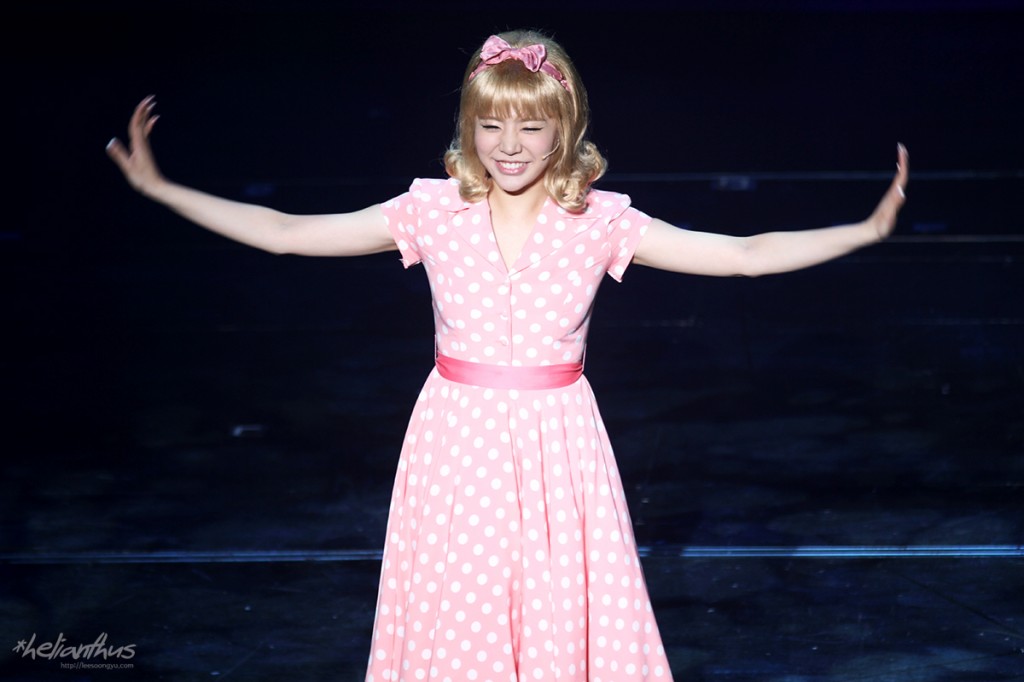 Sunny's stellar performance as Brenda is being recognized by everyone, and she is even nominated for the Female Newcomer award at the 6th The Musical Awards. The awards show will be aired on JTBC on June 4th at 8pm KST.
After Sunny finished her final performance, two of Sunny's fansites, Sunshine Village and Helianthus, prepared a special event to congratulate her. Fans gathered along a red carpet holding banners and gave Sunny a congratulatory cake as well as a specially made plaque to commemorate her accomplishment.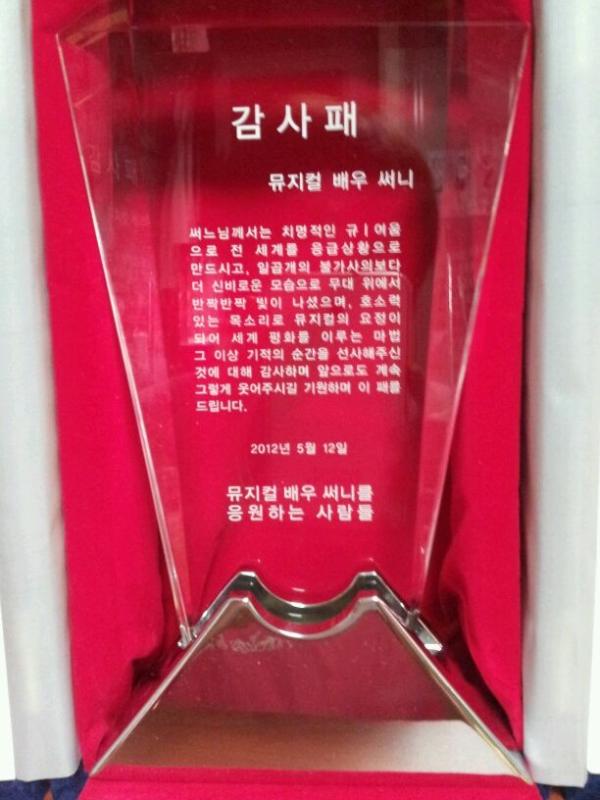 Appreciation Plaque
Musical actress Sunny

By putting everyone in a state of emergency with her fatal 'kyu-teness' [T/N: cuteness, a play on Sunny's name] Sun Goddess took the stage with a pretense more mysterious than the seven wonders of the world, and shined brightly. We're thankful for her becoming a musical fairy with her appealing voice, and creating a momentary miracle of causing world peace. We give this plaque and wish she continues to laugh like this.
2012 May 12
People who support musical actress Sunny
Sunny was very moved by the event and said a few words to all the fans who were there to congratulate her.
Thank you so much for coming to watch the show. [horn sound] Yes. And, if there's another good opportunity…But hearing the word "actress" is so awkward. I think I'll be able to meet you all as an actress again. Everyone be healthy, and you all know, right? What about coffee!? [sees cake] fan: It looks like Sunny! [after she blows the candles out] fan: Good job / Sunny: Thank you. Bye bye!
Along with Taeyeon, Jessica, and Tiffany, Sunny has become the latest Girls' Generation member to successfully complete her debut as a musical actress. Sunny once again proved that she can take on any challenge.
Sources: Soonkyu Korea, Sunshine Village, Helianthus, cranberry515@youtube.com, 10asia, Chosun via Daum, The Musical Awards
Written by: MoonSoshi9@soshified
Contributor: ch0sshi@soshified
Edited by: letaengbutt@soshified
Have a news item that you think Soshified should know about? Leave us a tip or e-mail us at tip@soshified.com.
Follow us on Twitter: http://twitter.com/soshified for the latest on Girls' Generation.