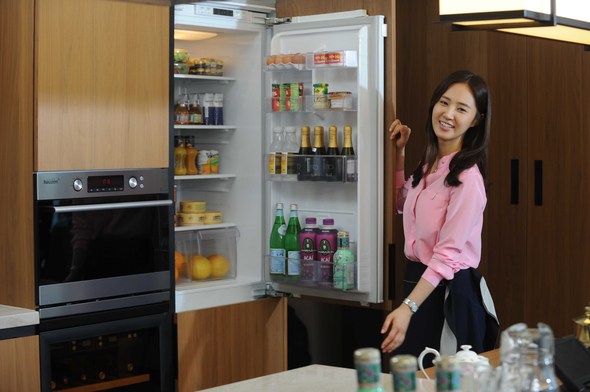 Various pictures of Yuri acting out a playful refrigerator CF are making the rounds. Yuri recently took on the role of fashion designer "Choi Anna" in the SBS drama "Fashion King".
Recently, during a filming for "Fashion King" held at a building in Seoul, Yuri was filming a scene in which she was to take a drink out of a refrigerator. When she was given a break, her playful side appeared, and she acted out a refrigerator CF for the staff members who were tired from their work on the drama.
When the staff members saw Yuri's playful CF, they reacted by saying, "As expected, Yuri is pretty doing anything," and, "She'll get a refrigerator CF contract soon."
After making her first appearance on the second episode of "Fashion King" in a scene where she met her ex-boyfriend, Yuri left a strong impression with only three minutes of screentime and made a successful drama debut.
Yuri also broke the hearts of many male fans when she was shown in a kiss scene with Jaehyuk (played by actor Lee Jehoon) in the preview of the third episode, which will air on March 26th.
Source: Newsen via Daum
Translated by: minigiglo@soshified
Edited by: bhost909@soshified, residentbenchwarmer@soshified, MoonSoshi9@soshified
Have a news item that you think Soshified should know about? Leave us a tip or e-mail us at tip@soshified.com.
Follow us on Twitter: http://twitter.com/soshified for the latest on Girls' Generation.