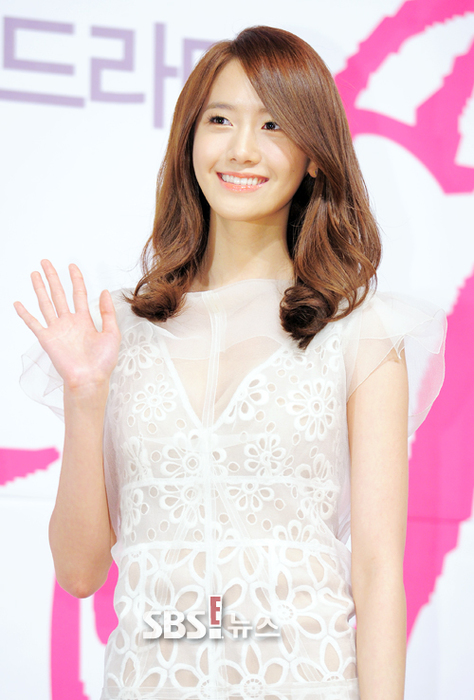 On March 22nd, several cast and staff members from "Love Rain", including Girls' Generation's Yoona, attended a press conference to commemorate the upcoming premiere of the drama. At the press conference, Yoona, who plays both Kim Yoonhee from the 1970s and Jung Hana from the present day, revealed, "I was a bit burdened and a bit nervous at the beginning for having to play two roles, but the director led me well and the other actors helped me a lot, so I was able to successfully act out my scenes." Yoona also said, "I feel that this drama is very close to me, because I haven't acted in a drama in two years. I really want to show to the viewers what I can do. I'll work hard for the rest of the drama shoot."
When asked about her first impression of Jang Geunsuk, the male lead in "Love Rain", Yoona answered, "Even though I haven't done much acting, all the male leads I've worked with have had a large age difference with me, so they were all very nice to me and took care of me very well. This was my first time acting with a male lead who was around my age. When I first saw him, I thought he looked very chic and cold, so I was worried that he might treat me with the same coldness that I saw in his physical appearance. However, since the first time we met until now, he never showed me such coldness, but instead treated me very well and actually lightened the mood at the drama shoots." Yoona also showed how grateful she was to act with Jang Geunsuk, saying, "I am really thankful for such a kind oppa, and I'm happy that I got to meet him. I think that he's an oppa who is well matched with a bright smile."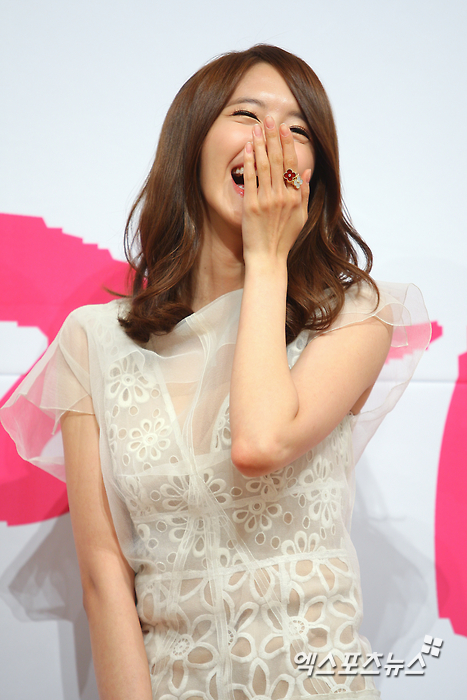 Yoona also gave her thoughts on the fact that both "Love Rain" and "Fashion King", a drama in which Girls' Generation's Yuri is starring in, air during the same time slot on the same day. She said, "Even though our dramas air at the same time, it doesn't mean that we're competitors. We monitor each other and ask about each others' dramas. I hope that with this opportunity, unnie will have an easier path as an actress." She also added, "Yuri unnie is a very passionate person, and she tries hard with everything she does, so I think that she'll do well in this drama."
Many of the other actors and actresses in the drama were also interviewed during the press conference. Jang Geunsuk was later asked about who his favorite member of Girls' Generation was. He then pointed at Yoona and said, "Of course I like Yuri." (Translator's note: he spoke as if going to say "Yoona".) Jang Geunsuk then said to Yoona, "I heard there is an actor you personally like," to which she responded with "Jang Geunsuk". He replied, "I also like Girls' Generation's Lee Sooman." (Translator's note: he gave a random answer as a joke.) Jang Geunsuk eventually stopped joking around, and said, "I love Girls' Generation. I found an actress in front of a camera instead of a singer on top of a stage. I'm actually learning a lot these days from teacher Yoona."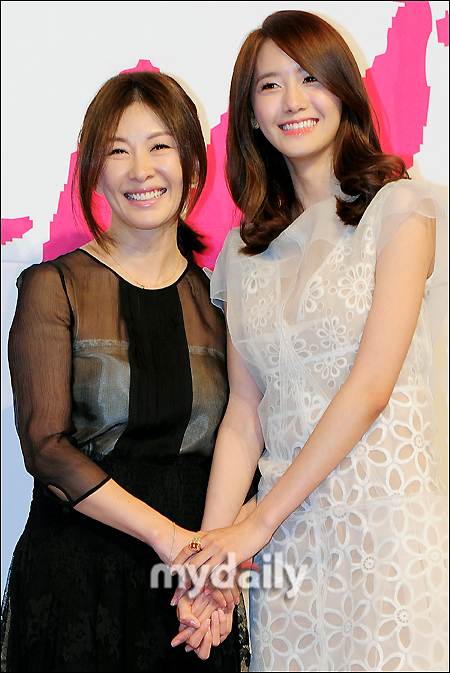 Actress Lee Misook, who plays Kim Yoonhee during the present day, said, "I'm thankful that Yoona is acting as my 70's lifestyle very well. I too am observing Yoona in order to act out the character's lifestyle." She added, "She's very calm, ladylike, never raises her voice, and hides her emotions very well. Because I've been imitating how she behaves, a doctor I visited a few days ago for acupuncture said I have symptoms of an emotional disorder caused by stress and gave me a few acupuncture needles on my chest."
During the conclusion of the press conference, Yoona finished by saying, "I hope that you'll like our drama because we really worked hard and we will continue working hard. I also hope that you'll recharge your emotions with 'Love Rain'".
Anticipation for "Love Rain" has been building since November of last year with the release of several previews and teaser images. The drama's first episode will air next week, March 26th.
Check out videos of Yoona's appearance at the "Love Rain" press conference below. News and fantaken images from the event can also be found in Soshified's Photos Section.
Sources: MyDaily, Newsen, NowNewsTV, SBS CNBC, XportsNews, XportsNews, 1004KBS@youtube.com
Written by: bhost909@soshified
Contributor: minigiglo@soshified
Edited by: MoonSoshi9@soshified
Have a news item that you think Soshified should know about? Leave us a tip or e-mail us at tip@soshified.com.
Follow us on Twitter: http://twitter.com/soshified for the latest on Girls' Generation.