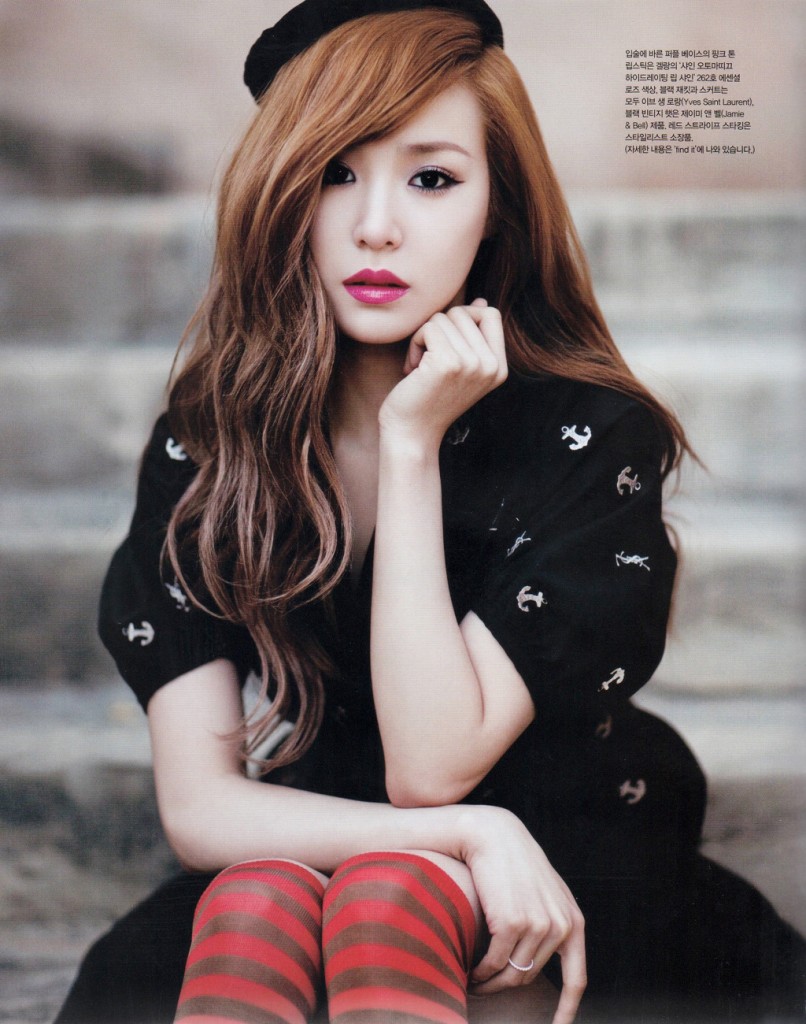 Tiffany's appearance in the April issue of "Vogue Girl" also featured a staff account of the photoshoot by editor Jung Soohyun.

#1 West Hollywood
"So, should we shoot in my neighborhood?" She spoke lightly as if she was saying to a friend she met on the street by coincidence, "Come over sometime." Tiffany, who appeared on "Late Show with David Letterman" and performed in concerts in France and Thailand, said that she was going to Los Angeles to meet her family members and friends. Right before she left for the 2012 Burberry Prorsum F/W Fashion Show, she received a short break of five days. Technically, she received four days and a morning, but she spent fifteen hours of that time with Vogue Girl. Moreover, she did not request for a room in the Chateau Marmont (translator's note: a luxury hotel in Hollywood), nor was she accompanied by a manager. She just wanted to stay in her home with her family. She got on the plane two days before the other staff, and we decided to stay at a place near her house. Ah, I almost forgot: what was worse was that she spent the first day of her break dying her hair for this shoot. She changed the jet-black hair from her musical, Fame, to a bright orange-brown color. To be honest, when we heard from Tiffany's hairstylist that she was going to dye her hair, I thought that was the most unrealistic aspect of this shoot. I actually repeated the question over and over again during the phone call. "Girls' Generation's Tiffany is really going to change her hair color for our photoshoot?"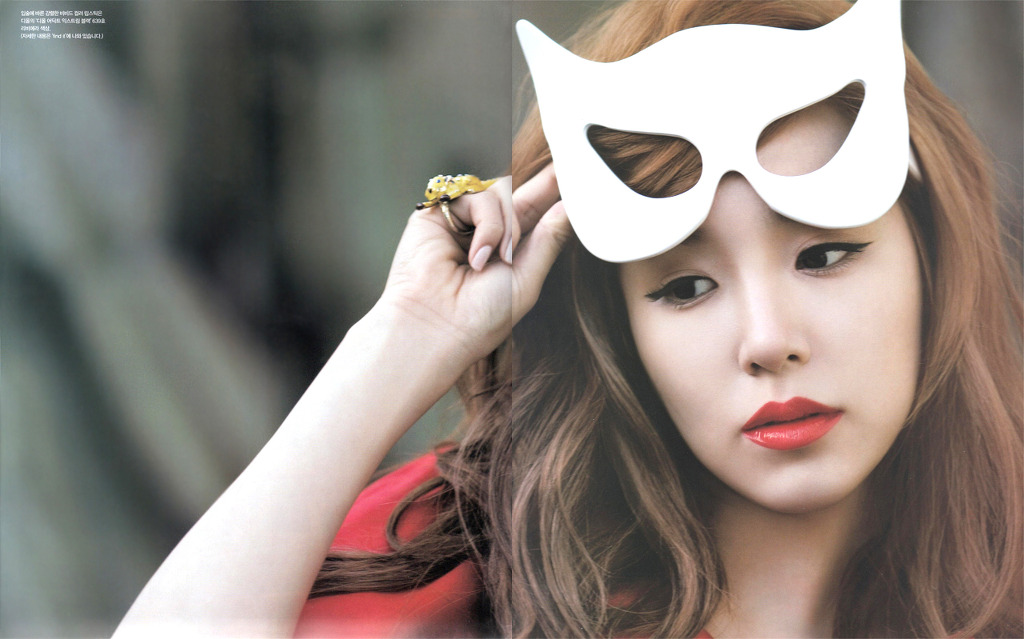 #2 The Poolside
At 6AM on the day of the shoot, we were eating bagels and muffins on the first floor of our dorm. The make-up artist said that Tiffany was never the type of celebrity to be tardy, and that she would be at the lobby at the promised time. Indeed, she arrived about fifteen minutes early and started calling us one by one announcing her arrival (translator's note: the staff members were still in their hotel rooms). Tiffany, who was wearing a pair of jeans, a short-sleeved shirt, and holding a Chanel Surf Bag, looked slimmer than during the promotions for "The Boys". She revealed, "I lost a lot of weight during the musical, but I started gaining weight little by little as soon as it was done." When I saw the white earphones in her hand, I was curious about what songs she was listening to. "I'm totally into electronic [music] these days. Usually I listen to David Guetta, Jessie J, Adele, and Rihanna a lot. Did you by any chance listen to 'Give Me Everything Tonight' by Pitbull? It's a really addicting song."
While she was getting her hair and make-up done, we decided to talk about today's outfits instead of holding an interview. Tiffany had her eyes on vividly colored Juicy Couture outfits and said, "I like to wear them on a regular basis. They are lovely, easy to mix with other items, and the brand is always coming out with colors matching the current trend." For a split second, I thought that she was the type of a person who could perfectly describe her preferences, like Gain of Brown Eyed Girls or Krystal of f(x). The stylist talked about how Tiffany's airport outfit was so impressive, and how one time she wore denim shorts, a red-colored leopard chiffon shirt, converses, and matched a very pretty bag with fringe details to the outfit. The stylist also mentioned how Tiffany doesn't decorate herself with expensive items, somehow finds amazing products that cost only $20, and, from time to time, also matches her own classical shoes to the items that the stylists put on her.
In between all these compliments, the first shoot started. When Tiffany appeared in the pool area of an urban vintage-style boutique hotel called "Farmer's Daughter" with a red long dress and clad in a zip-up jumper of terry cloth, everyone started cheering. However, the editor and the photographer from New York interpreted the word "typical" differently, and the happy mood of the scene quickly turned cold. Fortunately, we  came to understand each other fairly quickly and the poolside photoshoot breezed by. While changing out of her clothes, Tiffany said with a relieved expression, "Editor, did you see my expression with a question mark on my face?" She spoke with her unique voice and slightly awkward accent. "Everyone will feel better after eating Los Angeles' In-N-Out burger."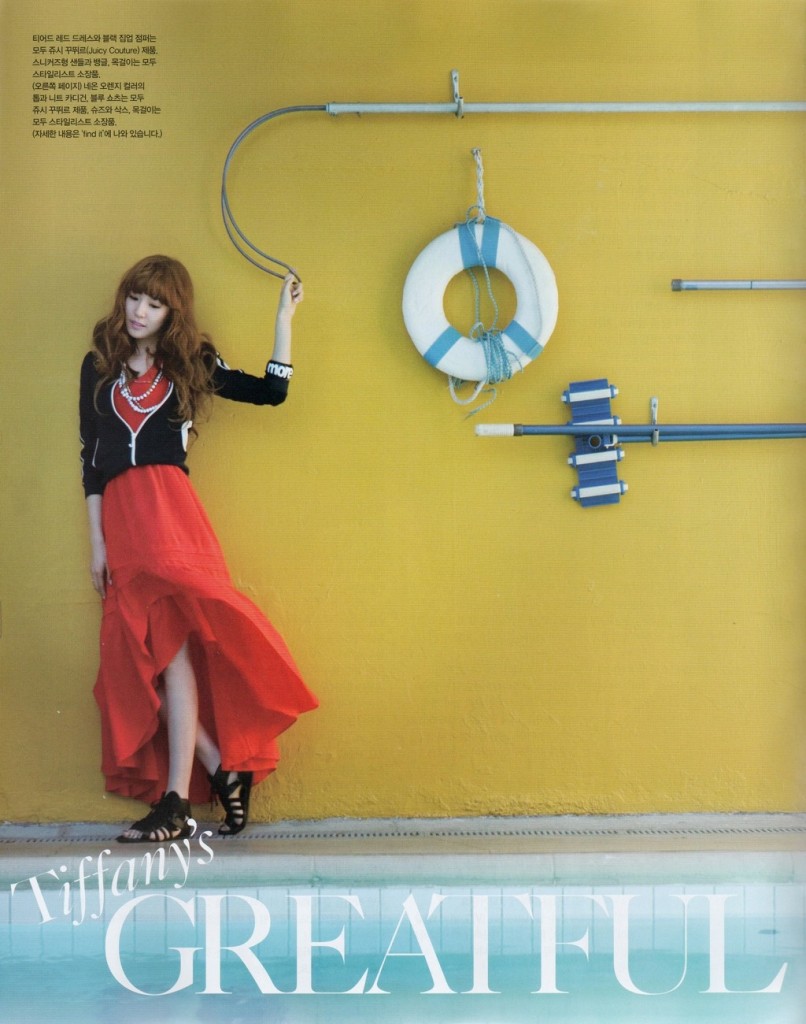 #3 Santa Barbara
We arrived at Santa Barbara a little before 1PM. The winter of Los Angeles was gray and cold in contrast to what we expected. Tiffany, who wore a sleeveless t-shirt and a thin one-piece all morning, started shivering. The Marina del Rey area with the yachts was especially windy. Even more, because the sun starts to set at 4PM, we started to worry about her condition. Somewhere from the yachts, we heard a voice calling for Tiffany. It was a group of auntie fans, which included her own aunt, that came to cheer for Tiffany in the photoshoot. As soon as her aunt arrived, Tiffany shot right back up as if nothing had happened. While we were waiting for all the people to get off the merry-go-round for the shoot, we started talking about our favorite designers. She said, "Which designer brand from the S/S collection did you like the best? I liked the Fendi or Prada I wore today, and Miu Miu, but I usually like a design that's a bit bold and lovely, such as the styles of Blumarine, Blugirl, Betsey Johnson, Roberto Cavalli, and Emilio Pucci." Indeed, this is an answer expected of a Los Angeles girl. "But recently I've been drawn to New York designers, like Peter Som and Prabal Gurung. They are great right now, but one day they will become the trend setters of the fashion industry, like Marc Jacobs and Raf Simons."
Tiffany's interest in fashion was not the level of boring bloggers who collect motorcycle bags from Balenciaga by their color. She was naturally interested in fashion because of her aunt, who herself also had a large interest in fashion. By the time she was a teenager, Tiffany was able to have a decent conversation with her aunt about designers. She also added that she didn't have a specific role model, but that she thinks that stars like Blake Lively and Amanda Seyfried wear what really goes with themselves. "When I look at Blake Lively, I think that she chooses pants or skirts with the perfect length. They're either short or long. She never wears a medium length skirt." The talk about fashion went on until the shoot ended. We talked so much that I can't remember all the details. When someone told her that her fashion style is similar to Vanessa Hudgens', she said she hears such comments very rarely. Tiffany also said that she recently picked out Sooyoung's birthday gift at Prada. "Do you know how well Sooyoung can pull off any outfit? She's the perfect celebrity style who shines in an outfit of any shape and color."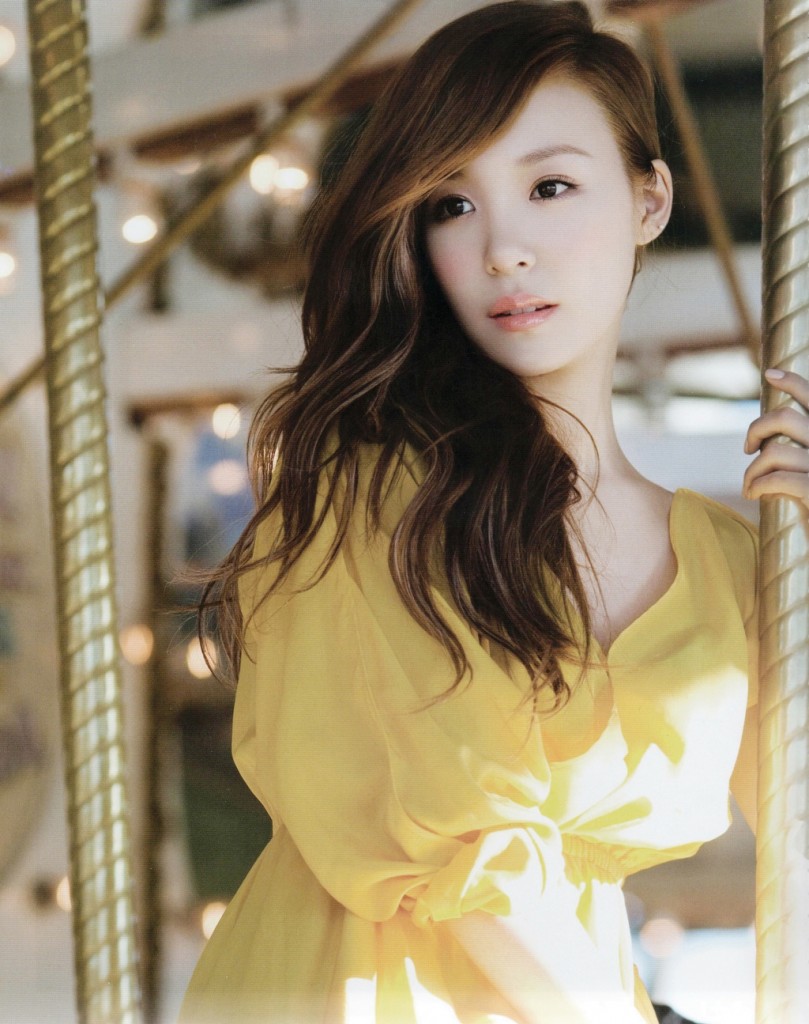 4. Night Out
The photoshoot ended past 7PM, when the sun had set. The group of auntie fans reserved a Korean restaurant in Koreatown for us. Tiffany, who said she gets sleepy after 6PM ever since she came to Los Angeles, was up and bouncing. She was even imitating the English pronunciation of a male manager (whose Korean was worse than Tiffany's) who worked with the Los Angeles branch of SM Entertainment. Right before the meal, Tiffany tied her hair up into one ponytail. The hairstylist kept on telling her that she needed to use a lot of a Moroccan Oil treatment on the ends of her damaged hair. When I asked if she does her own hair treatments or skincare, the staff began to compliment her. They said that she does mostly home care because she doesn't have time to go to a salon to get treatment. Whenever they mentioned "Smart Tiffany", she laughed out loud as if it were nonsense. She said, "I do what I can with skincare. My skin is quite dry so I put on moisture packs or cream very frequently. I do my own hair treatment at home. Also, when I go to the airport, I remove my make-up as soon as I get on board, even if I went to the hair shop to get my make-up done for the airport. I like to put on make-up, but I think that as much as I like to put it on, I need to remove it as well." Now that I come to think about it, Tiffany is the only member in Girls' Generation who likes colorful make-up. She's the only one who puts on lipstick with a scarlet red tone. "Actually, the other members rarely put on a strongly-colored lipstick. I do a lot of red lips at award ceremonies. I like vivid lipstick and smoky make-up. Only, you always have to keep your skin beautiful and fluffy. Actually, I'm okay with anything except the eye shadow colors that make your eyes look bloated."
After this, the subject of the talk moved to Tiffany's dream. She had a fantasy that one day, she would make an attempt in acting, and that she would have an opportunity to transform into someone other than Tiffany herself. She was willing to try any type of acting except for historical dramas because of her pronunciation. If one of the aunties hadn't realized that we stayed there until an hour past the restaurant's closing time, our dinner would have continued until after midnight. Right before we departed, Tiffany spoke while hugging us one by one. "I'll take you all to Disneyland tomorrow. Just like you have to eat In-N-Out burgers when you come to Los Angeles, you absolutely have to go to Disneyland." Oh my God! Speaking sweet words with a red face after a bit of beer, is this girl really Tiffany?
Source: TIFF_arin@twitter.com, Vogue
Translated by: minigiglo@soshified
Edited by: bhost909@soshified, MoonSoshi9@soshified.com
Have a news item that you think Soshified should know about? Leave us a tip or e-mail us at tip@soshified.com.
Follow us on Twitter: http://twitter.com/soshified for the latest on Girls' Generation.