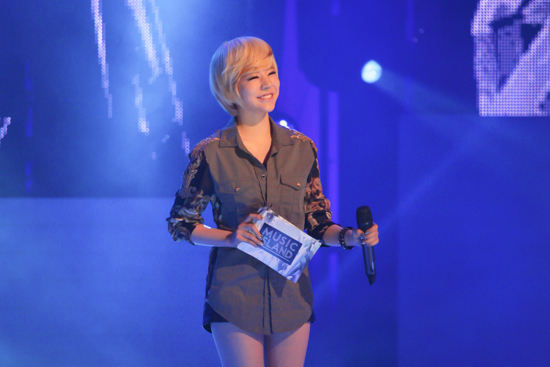 Sunny has been hard at work as MC for the new music show SBS MTV's "Music Island". Recently, Sunny sat down for an interview with SBS.
In the middle of the K-Pop wave all over the world, Girls' Generation member Sunny decided to have a change. She took the MC spot for SBS MTV's "Music Island".
On the first broadcast of "Music Island" on February 29th, Sunny showed off her talents as an MC with witty and stable progress throughout the program. The voyage of "Music Island" to spread Hallyu to the world has just begun!
I met Sunny on the corner of March that tickles the nose with the fragrance of Spring. It feels like her liveliness and energy is passed on to me.
You took your first solo MC spot through this program. I think you would feel unusual.
"I'm excited and a bit shaken. It's a bit sad that there is no partner or other Girls' Generation members with me, but I will try to make a place where I can talk about music with the invited guests."
How did you feel when you were first asked to MC?
"I would be lying if I said I wasn't overwelmed. But I took the offer with a happy and thankful heart. To be honest, I thought a lot about being a solo MC but I thought that it was a way of them trusting me and decided to do my best."
I'm curious about Girls' Generation members' reactions. Who cheered you on the most?
"All of the members cheered me, but Tiffany, Taeyeon and Seohyun, who are current MCs of MBC's 'Show! Music Core', gave me more advice. They were all happy for me and congratulated me as if it were themselves."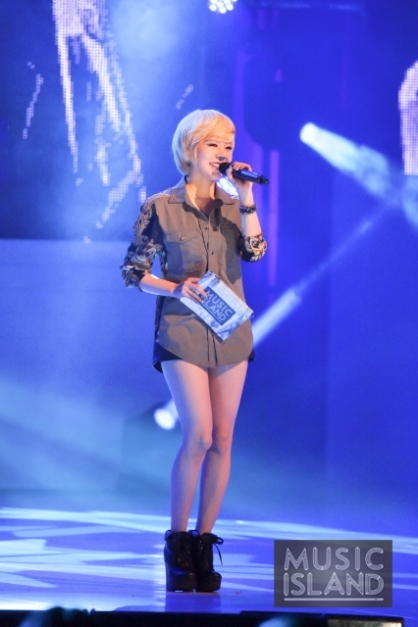 Is there someone you consider a role model as a MC?

"Yoo Heeyeol sunbae is doing the KBS's 'Yoo Heeyeol's Sketchbook'. I learned a lot from his way of communicating with the audience by his witty and humorous personality that only a musician can pull off. I know I won't be as good as him, but I'm trying very hard to learn more from him."
What were some of the reactions after the first episode?
"Everyone I know watched the first episode and congratulated me. I think they complimented me more than criticized me. I think only I felt that it wasn't my best."
What were some of the aspects that made you feel like you didn't do your best?
"To be honest, I was worried about the fact that I wasn't able to bring out an in-depth talk about music because I was young and because I was an idol. With this in mind, I will work harder to study music and other singers."
What do you think your forte as an MC is?
"Many people know about Girls' Generation and love us and want to know us more, so I think the fact that I'm a member of Girls' Generation is my strongest advantage. I think I was picked because I was a member of Girls' Generation and many people in the pan-asiatic regions can see me with a sense of familiarity. For that reason, I will work hard as Girls' Generation to let people learn about Girls' Generation and our country. I will work harder to spread our singers and K-Pop through 'Music Island'."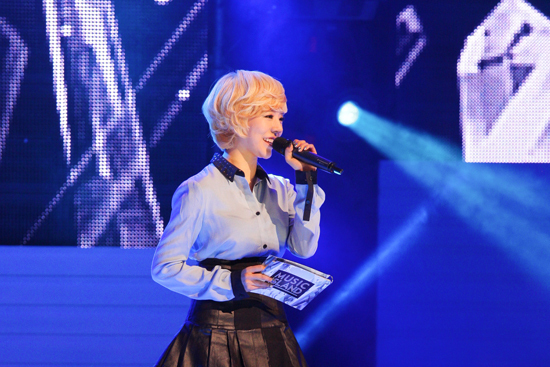 Girls' Generation's Sunny is a member who presents familiarity and confidence.
The more we talked to her, the more we felt that Sunny carried the confidence an MC must have, and that she is one with infinite possibilities as an MC. Our warm meeting with her continued on.
Is there anything that you do to set yourself apart from other MCs?
"Even if I'm not able to lead conversations expertly, I try my best to listen to everything they say. Something that sets me apart would be that, because I'm young, others think of me a lot more comfortably, and I'm able to MC comfortably."
Is there a star you want to invite? And a reason why you want to invite them?
"I want to invite Wheesung, who is currently serving in the military. Wheesung was my vocal instructor, so my inviting him would feel different. Honestly, the reason why I chose Wheesung is because he's serving in the military, and there's still another year until he's discharged. I don't want to lose my spot as MC on 'Music Island' until then, which is why I said he's the star I want to invite."
I think it would feel different getting on stage as a singer and as an MC. What things are different?
"As a singer, I would give explosive energy into three to four minute stages. As an MC, I learned that my performance is not as important as the general harmony and flow. And so I felt that the role of the MC is to fill in that balance, and I am doing my best to fulfill that role."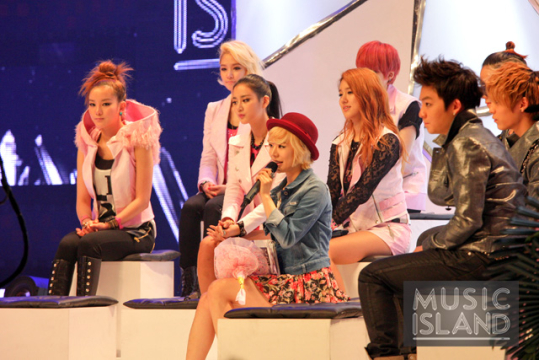 Girls' Generation's popularity in the world is huge. Is there any moment where you feel that the popularity of K-Pop has changed greatly compared to the past?
"Not just Girls' Generation, but I'm able to feel the popularity of K-Pop on my own skin. I realize how much K-Pop has spread when seeing fans cheering us on whenever we go overseas, as well as fans who come from other various countries, and I feel really proud. We will work hard to make Korea known to more people through K-Pop."
I bet there are a lot of memorable fans while promoting as Girls' Generation.
"Of course I remember all the fans who cheer me on, but one fan that comes to mind right now is one that I met in France. We received some free time while in Paris, and while we were sightseeing, a fan we ran into started singing and dancing to 'Gee'. That person's confidence and love for K-Pop was deeply felt, and I felt thankful, so I think that's why I remember that fan right now."
How is your health lately? I think it would be tiring being active as a singer and MC.
"Of course, going between a singer and MC is difficult and tiring, but rather than thinking of doing work in different areas at once as tiring, I think it's fun, so it's good. Every week, today I MC, then I'll deliver laughter on a variety show tomorrow, and the next day I'll practice for my musical. I think that because each and every day is different and fun, every day is more fun and worthwhile. Of course I'm busy, but because I'm gaining love, each day is fun and enjoyable to the point where I can't tell if I'm sick. In a word, I'm very healthy!"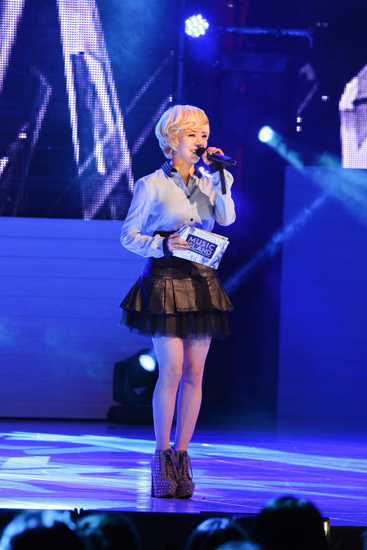 Is there any way that you take care of your health?
"As expected, having a job you like and working with people you like is enjoyable, and if each day is enjoyable, you smile and laugh more, so I think I get better faster even if I get sick. There isn't anything I do in particular to take care of my health. If I had to choose one thing, a pleasant mind? Living optimistically?"
Tell us your future plans. Not only as Girls' Generation's Sunny, but as the person Sunny, too.
"As Girls' Generation's Sunny and the person Sunny, I want to experience different areas of work more and feel and enjoy more things. And of course it would be nice if those things suit me well. Even if they are things that don't, I want to experience it and crash into it and feel it myself. Speaking on terms as Girls' Generation's Sunny, the musical I'm currently preparing for, 'Catch Me If You Can', starts at the end of March. I hope lots of people will come and see me, not only as MC Sunny, but also as musical actress Sunny. And of course, please give lots of support as my activities with Girls' Generation will also continue. I have a lot of activities coming up, so I hope many people will gain a positive energy from me, and I hope they give me lots of attention and love. Thank you."
Sources: SBS, SBS
Translated by: minigiglo@soshified, ch0sshi@soshified
Edited by: MoonSoshi9@soshified
Have a news item that you think Soshified should know about? Leave us a tip or e-mail us at tip@soshified.com.
Follow us on Twitter: http://twitter.com/soshified for the latest on Girls' Generation.