Hello everyone, it's me again. Did anyone miss me? It certainly feels like a while since I last wrote something for this column. Anyways, instead of focusing on one part of the forum, this time I'll be pulling pictures, videos, threads, and a bit of everything from everywhere. So, if you do get a bit lost, let me know, and I will point you in the right direction.
Since Taeyeon's birthday was last week, as part of a small tribute to her, she'll be the main focus for the column this month. Also, please check out the special dedication that Soshified wrote for Taeyeon here.
A rap song dedicated to Taeyeon that I found in Taeyeon's "Power of 9" sub-forum. Translated lyrics can be found here.
A somewhat unknown fact of Soshified is that we actually have a "styling" section. To get to this mystical side of Soshified, just go to http://style.soshified.com/ and you can start browsing around. They've got a ton of things going on, so take your time to go through it. A small part of a Soshified Stylist's job is to identify clothes that the girls wear and give the readers an idea of how much it would cost to get a similar outfit. For example, if you were wondering what Taeyeon was wearing during their promotions in New York, Soshified Stylists identified it as Lucca Couture, and they even listed out where to find it. Styling also has tutorials on how to do hairstyles similar to what the girls wear, such as Taeyeon's antennae buns.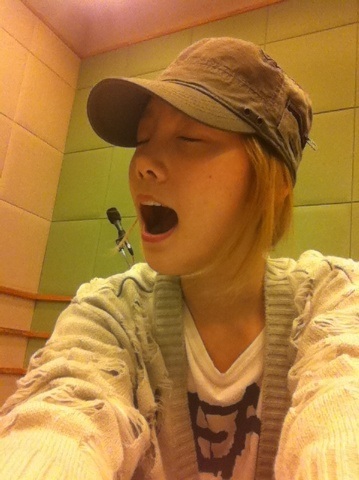 A picture of Taeyeon yawning found in the Soshified Gallery. Uploaded by xCYx.
Another great place to visit is the "Audio Downloads Section". You can find a large variety of different sound bites in this area, from ring tones to MP3s to song compilations. For new SONEs, I highly recommend visiting the thread that contains a compilation of songs Taeyeon has sung on radio shows before. It is always a pleasure to hear her sing and cover songs from other artists.
A video of Taeyeon singing "O'Holy Night"
Next stop is the "Translations" sections. As most people know, Taeyeon is a total dork, and it is just one of many things that we love about her. If you read Taeyeon's birthday dedication, then you'll probably recall that she used some strange words to describe herself. The sources for the two answers "cosmos" and "prism" can be found in the translated interviews from GQ Magazine and Holiday Photobook respectively. So be sure to check these out and the rest of the translations as well. Taeyeon also replied to some UFO messages recently, so be sure to take a look at these as well.
Taeyeon performing "I Love You" at the Athena Live Concert at Saitama Super Arena.
Of course, if you want to find pictures, gifs, facts, or anything random about Taeyeon, then you must visit her "Power of 9" sub-forum. I'll give you a quick sneak peek at a few threads that caught my eye. If anyone here is a fan of the manga called "One Piece" then you'll be surprised to know that Eiichiro Oda once drew a picture of Taeyeon, which you can find here (doesn't it remind you of Nami?). Also, does anyone remember the "Sooyoung likes butts" thread I linked to in my column a while back? Taeyeon has a similar thread, and if you were to ask my opinion, Taeyeon started the whole butt fetish. The last thread I'll mention from this section contains a cute quiz on Taeyeon. If you think you know a lot about Taeyeon or are really good at remembering random facts, then take a shot at the quiz and let us know what you got. Even if you don't know a lot about Taeyeon or aren't good at random facts, take a shot anyways. You might learn something new about our dorky leader.
Well, that's it for this month. I hope you enjoyed it. Don't miss me too much. I'll be back again next month.
Banner by: amipi@soshified
Source: OfficialSoShi09@youtube.com, Caramelcoffee1812@youtube.com, altara94@youtube.com
Written by: SeraphKY@soshified
Edited by: NeonCyro@soshified, residentbenchwarmer@soshified
Have a news item that you think Soshified should know about? Leave us a tip or e-mail us at tip@soshified.com.
Follow us on Twitter: http://twitter.com/soshified for the latest on Girls' Generation.