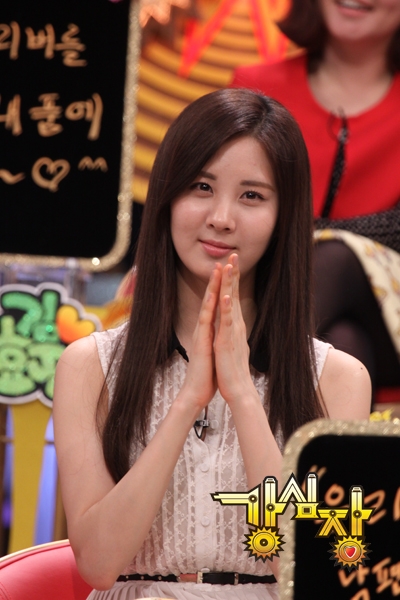 Girls' Generation's maknae Seohyun revealed, "Girls' Generation unnies forcefully made me drink a 'bomb shot'". (Translator's note: a "bomb shot" is a mixture of beer and a hard liquor, such as whiskey)
During a recording session for "Strong Heart", Seohyun said, "After completing one of the concerts on our Japan Arena Tour, we had a drinking party as a means of celebration."
Seohyun continued, "The members created a bomb shot in a big glass," and revealed an unexpected side of Girls' Generation. Seohyun also said, "I had to drink a bomb shot for the first time in my life, because I lost the game we played."
Fans who have seen Girls' Generation's appearance on KBS2's "Night Star" in 2010 may remember that Hyoyeon revealed a very similar story about Seohyun losing in a game with the other members and having to drink a small amount of alcohol. It seems that Seohyun is unlucky when it comes to drinking games.
This story will be aired on the March 6th episode of "Strong Heart".
Source: SBS News
Translated by: minigiglo@soshified
Edited by: bhost909@soshified
Contributor: MoonSoshi9@soshified
Have a news item that you think Soshified should know about? Leave us a tip or e-mail us at tip@soshified.com.
Follow us on Twitter: http://twitter.com/soshified for the latest on Girls' Generation.