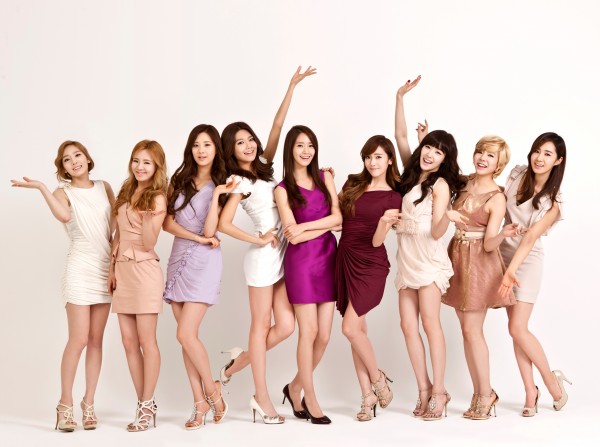 Girls' Generation is slated to appear on March 31st for a special three-hour broadcast on Fuji TV's "Mecha Mecha Iketeru" alongside famous Japanese comedy group Ninety Nine. This will be Girls' Generation's first appearance in a Japanese variety show.
Okamura Takashi, a member of Ninety Nine and self-professed fan of Girls' Generation, traveled to Seoul specifically for filming alongside fellow comedians, Yabe Hiroyuki and Kato Kouji. The group called themselves the "Okamura Takashi's Exploration Party" and they went to Korea in hopes of filming with Girls' Generation, who seemed to have inherited the beauty from an ancient clan called, "The House of Young Girls". (TL: "The House of Young Girls" is a play on Girls' Generation's Japanese name where "Generation" is replaced with "clan". Furthermore, the word "clan" indicates a passage of time which relates back to the original name, "Generation".)
Upon arrival, Okamura was instantly captivated by Girls' Generation's famed looks and whined, "They are so cute. I don't want to go home!", and after seeing Girls' Generation perform "MR.TAXI" with their shapely leg movements, he added, "I want to meet them again next week."
In addition, a picture was tweeted of the group posing with Girls' Generation, which can be seen below.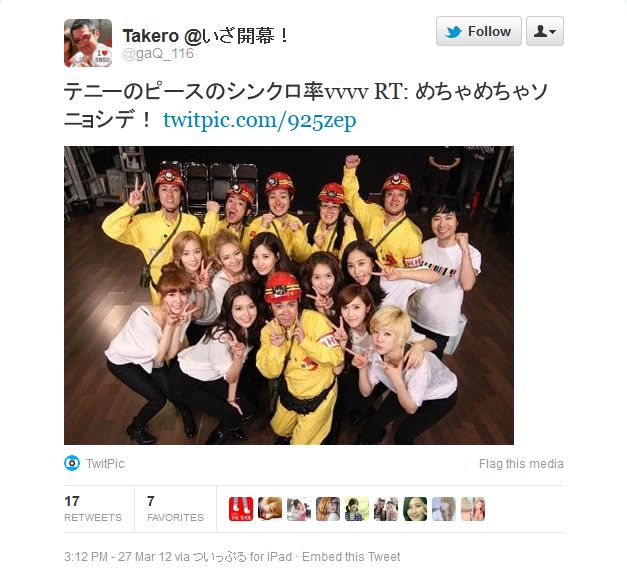 Source: Sanspo, gaQ_116@twitter.com
Translated by: arghninja@Soshified
Edited by: SNSDave@Soshified, SeraphKY@Soshified, LetsGo@Soshified
Have a news item that you think Soshified should know about? Leave us a tip or e-mail us at tip@soshified.com.
Follow us on Twitter: http://twitter.com/soshified for the latest on Girls' Generation.