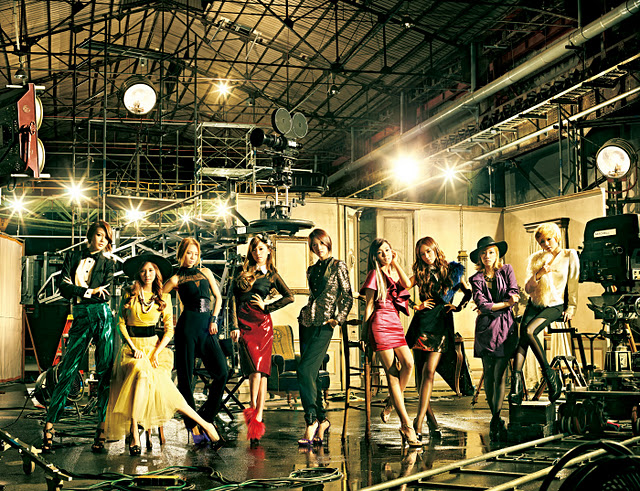 Girls' Generation's first Japanese album, "Girls' Generation", which was released on June 31st 2011, reached a shipping record of one million copies, a first in the history of Japan as a Korean artist . There will be a new music video to continue the rapid advancement of Girls' Generation into Japan. The music video will be for their new song "Time Machine", and comedian Imada Kouji will appear in the video.
"Time Machine" is a new ballad song that was recorded for last year's repackaged album release on December 28th, titled "Re:Package Album: Girls' Generation ~The Boys~". On February 25th, the song will also be promoted in Girls' Generation's CF of UHA Mikukato "E-ma Nodoame".
Imada Kouji is a self-proclaimed Girls' Generation fan and leads in knowledge and enthusiasm in the entertainment world, so the staff of Girls' Generation made the offer to include him.
On the day of shooting, which fell on Valentine's Day, Imada was not concerned that it was a day off and continued on with the schedule. He was fully motivated and looked forward the challenge. Imada Kouji was often seen as a strong man, but for this he passionately acted out the role of a weak man. He was to cry alone in a room while remembering about the unforgettable past.
Imada Kouji commented on his performance and said, "This is my happiest job ever since a couple of years ago. Before the manager finished talking, I enthusiastically said, 'I'll do it.' The filming was really fun. I gave it my all. When I saw the proposal written with 'Girls' Generation Tenth Member', I felt complete like cutting the goal-tape. I want to receive a business card that says 'Girls' Generation Tenth Member'. As one of the fans of Girls' Generation in the entertainment world, I'm glad they offered me the spot. To the other entertainers who are fans of Girls' Generation, I feel like I have to tell them the stage has changed (laughs)."
Furthermore, the music video for "Time Machine" is set to be released in early March. For the girls, this music video concept is something that they have not done so far and it seems that the video was influenced by the atmosphere of the teaser. The thirty-second version of the teaser can be seen on Girls' Generation's official Japan Facebook page which was opened on February 24th, while the fifteen-second version will be broadcast on Japanese TV on February 25th. You can look up the translations of "Time Machine" in Soshified's Lyrics Center Section  and also check out the thirty-second version of the teaser below.
Source:
Barks
Translated by:  arghninja@soshified
Edited by: LetsGo@soshified, MoonSoshi9@soshified
Have a news item that you think Soshified should know about? Leave us a tip or e-mail us at tip@soshified.com.
Follow us on Twitter: http://twitter.com/soshified for the latest on Girls' Generation.