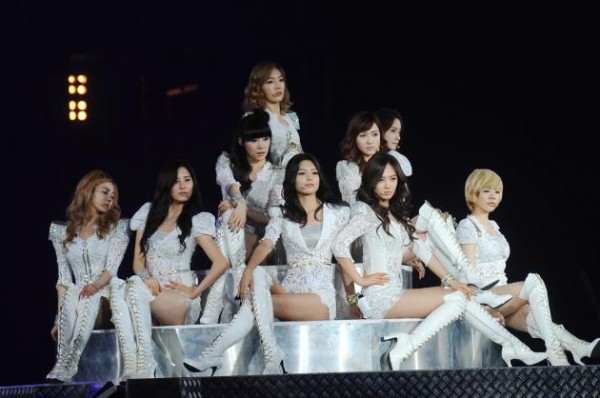 What started out as an arena tour around Japan quickly evolved into a second tour around Asia, interspersed with short appearances around the world, including Sydney, New York, and Paris. The full tour consisted of 23 performances, which saw approximately 230,000 fans gathering to watch three hour concert performances by Girls' Generation.
The 2nd Asia Tour, which included the First Japan Arena Tour, held its final show at Impact Arena on February 12th in Bangkok, Thailand. The playlist saw a few changes since the tour through Japan, as Girls' Generation performed the Korean versions of "You-aholic" and "Mr.Taxi" instead of the original Japanese versions. Girls' Generation also performed the English version of "The Boys".
Bangkok showed their love for Girls' Generation when they performed the song "Complete". The fans showed the depth of their feelings by holding up posters that read "Finally We Meet", since it was the first time the girls have visited Bangkok for a solo concert.
The 2nd Asia Tour, which started on May 31st and spanned ten months, set a new record for attracting the greatest number of attendees for a Korean girl group.
Source: nationmultimedia.com, chosun.com
Written by: SeraphKY@soshified
Edited by: taengsoshi@soshified, bhost909@soshified
Contributor: residentbenchwarmer@soshified
Have a news item that you think Soshified should know about? Leave us a tip or e-mail us at tip@soshified.com.
Follow us on Twitter: http://twitter.com/soshified for the latest on Girls' Generation.