Guess what everyone? It's the last week of the month, which also means you won't have to see me every week after this either. Doesn't that make you happy? Anyways, randomness aside, this week I'll be talking about the active DJ's on Soshified. However, it is a bit hard to include everything about each DJ, so I'll try to focus on a couple noteworthy traits about their show or the person in general.
Now, if you're new to the site and want to listen to the radio, just look at the header and the "Radio" link will lead you to the radio page. Once there, you'll see a small description of who is on air. Just below that is a series of players that you can choose from. Select whichever one works best for you and it should automatically download the proper streaming information for you to listen to the radio. If it doesn't work, you may need to refresh the player or even try a different one. If you want to interact with the DJ's during their shows, then just head over to the Shoutbox and talk to them.
First up is the DJ that really needs no introduction. She is one of the biggest Taeganger's around, a cute spazzer (with video proof), and an all around fun person. She is the wonderful DJ Cesca, and her weekly show starts at Friday 9:00 PM EST or at Saturday 11:00 AM KST. One of the most notable things about DJ Cesca's radio show is the length. Most radio DJ's do around two hours for a single show, but DJ Cesca has been known to do six hour marathon shows. How she does it is a mystery, but no one complains because we all enjoy her show. Maybe it is her cheerful and fun demeanor that draws people in, not to mention having caffeine for blood helps with the marathon shows, which always include a lot of guests. So, be sure to visit her DJ thread and stalk her to find out about her shows.
One of the best "spazz" videos you will ever see. DJ Cesca is so adorable.
Next up is DJ Giggles, also known as Michelle, a fun girl that is a double agent among the staff members because she also writes for Soshified alongside her DJ duties. She's quite the random girl because she'll be talking about one topic and then change quickly into another topic seamlessly, even though the two topics aren't even related. So, pay attention to her show or you might miss something. DJ Giggles is also well known for her love of games. Recently she has been playing "Left 4 Dead 2" with other staff members. During one game, the other staff members kept closing a door that she was trying to get through, and not knowing she was being picked on, she thought her computer was broken. DJ Giggles is quite innocent, so try not to pick on her too much. Her shows are on Tuesday at 9:30 AM EST or at 11:30 PM KST. You can find additional information in her DJ thread here.
Poor DJ Giggles being picked on.
Third on the list is DJ Jnster, the unofficial maknae among the DJ's even though she isn't really. She is described as a sweet and gentle soul, but she can have Jessica-like reaction times to jokes. Her shows are on Thursday beginning at 10:00 PM EST or Friday at 12:00 PM KST. She is the owner of a cute voice, though according to some of her listeners, it changes every week. An interesting corner from her radio show is "WinWin Questionnaire", a game mirrored after a segment from Taeyeon's tenure as an MC for WinWin, where she and a guest speed-read questions. If guests wins they will exchange questions wtih DJ Jnster, however if they lose they will be kicked off air. She also plays Starcraft II, so if you think you have the skills, you can try requesting a match. Be warned though, she's Korean, so tread carefully. You can find out more about Jnster in her official DJ thread.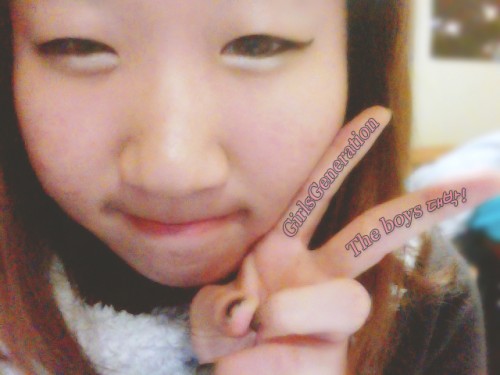 The innocent and very cute DJ Jnster
After a run of three female DJ's, let's slot in a male just to spice it up. So the next DJ will be known as Jon, because Jon changes his DJ name quite often. There were three different incarnations last I remember, with the last known one being DJ Hipstar. Show time begins at 11:30 PM EST on Tuesday nights or on Wednesday afternoon at 1:30 PM KST. DJ Hipstar uses a lot of interesting intros and phrases in his show. A favorite would be his intros into song breaks, because I always think they're prerecorded, even though he does it live every time. Another specialty of DJ Hipstar is singing covers of K-pop songs while playing the acoustic guitar, so be sure to check it out. Also, an interesting tidbit about DJ Hipstar is that outside of his DJ duties he is actually in the middle of creating a game based off K-Pop groups called "Hallyu Wave Rumble", and the thread for the game can be found here. If you want to know more about Jon, check out his official DJ thread.

Sprite creations by DJ Hipstar. I especially like the Taeyeon sprite.
Last but not least is DJ Kriss, the official maknae of the DJ's, although she is described as the mature but quirky girl. DJ Jnster is the unofficial maknae because apparently even DJ Kriss takes care of her at times. Opening show times start at Sunday 7:00 PM EST or at Monday 9:00 AM KST. Aside from being the maknae, she is also well known for her singing. She often takes requests for song covers from her listeners (provided she knows the song). DJ Kriss possesses a deep voice, but she has a decent range so she can cover the high notes. Due to extraneous circumstances, she hasn't been able to fulfill her duties too much, but she is looking to start up again, so be on the lookout for her new show. Her official DJ thread can be found here.
 	
		
		
		
		
		
		
		
	


Cover of "Because of Me" by DJ Kriss
Also, just in case, here's a time zone converter (link) for those of us that aren't very good at changing time (like me).
Ladies and gentlemen, unfortunately that is the end of the column for this month. It was a bit long this week, but hopefully everyone found out a little more about the radio DJ's from Soshified.
Alas, it is also the end of our celebration of Soshified's anniversary month, so it'll be another couple weeks before we see each other again. Thanks to everyone for their support, and much love to those that commented on the column (especially those that cried). See you all soon.
Banner by: amipi@soshified
Source: azn1221@youtube.com
Written by: SeraphKY@soshified
Edited by: MoonSoshi9@soshified, residentbenchwarmer@soshified
Contributors: xocescaxo@soshified, FrozenArtic@soshified, Jnster@soshified, ninja kriss!™@soshified, startoonhero@soshified
Have a news item that you think Soshified should know about? Leave us a tip or e-mail us at tip@soshified.com.
Follow us on Twitter: http://twitter.com/soshified for the latest on Girls' Generation.