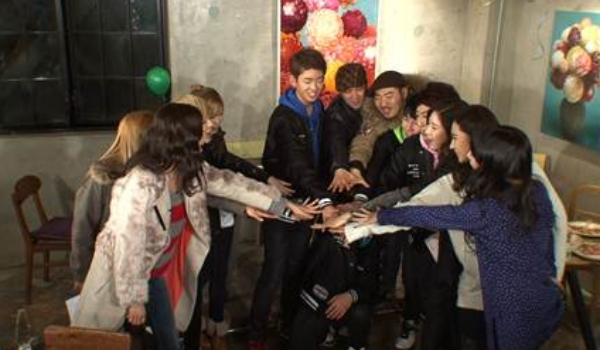 The last episode of jTBC's "Girls' Generation and Dangerous Boys" will be broadcast on March 4th.
Girls' Generation, who were the boys' mentors, faced several difficulties throughout the show but did not falter. Even though one of the boys left halfway through the show, the members of Girls' Generation continued to give warm advice and cold warnings to the boys even when they were not recording for the show.
With the help of Girls' Generation's earnest hearts, the boys improved tremendously and not only impressed the girls, but the staff as well.
With the first recording session happening way back on November 20th of last year, Girls' Generation could not hide their sadness upon saying their goodbyes. Sunny, in particular, mentioned that Kim Hwehoon even appeared in her dreams, while Seohyun, who received the nickname "Enraged Seohyun", showed tears during the last interview session and said, "I think I did poorly with the kids but I have also learned a lot through this program."
Even the boys looked like they couldn't believe that they were actually saying goodbye to each other, and one of them even shed tears after filming ended.
Source: etoday
Translated by: minigiglo@soshified
Edited by: LetsGo@soshified, letaengbutt@soshified
Have a news item that you think Soshified should know about? Leave us a tip or e-mail us at tip@soshified.com.
Follow us on Twitter: http://twitter.com/soshified for the latest on Girls' Generation.