Videos
Video of Sunny in Press Conference

A short segment of Sunny at the "Koala Kid" press conference was aired on KBS2.  During the press conference, she showed her appreciation for Taeyeon and Seohyun for giving her advice on dubbing.
Girls' Generation First on Taiwan's G-Music Chart for Four Consecutive Weeks
A video of Girls' Generation thanking fans for helping them place first on Taiwan's "G-Music Chart" for four consecutive weeks was recently aired.  In the video, the members gave their thanks and said that they would continue to work hard.  Afterwards, Yuri made a joke and asked, "If we go to a K-pop concert, will they give us popcorn?"  The other members then joined in and displayed their sense of humor by saying that they liked garlic, caramel and cheese popcorn.  Yuri added, "Give us nachos", while Taeyeon finished by saying, "Give us a combo."
Girls' Generation Again Featured on "Access Hollywood"
Girls' Generation has been featured once again on "Access Hollywood".  The show mentioned Girls' Generation performing at Madison Square Garden during SMTown in New York, as well as the release of their special album "The Boys" in the US market on January 17, 2012.  Girls' Generation's first appearance on "Access Hollywood" can be seen
here
.
Endorsements
Sooyoung Wishes Everyone a New Year Through Kwangdong Pharmacy's YouTube Page
To celebrate the New Year, Kwangdong Pharmacy uploaded a new video featuring Sooyoung to their official YouTube page.  In the video, Sooyoung wishes viewers a happy new year and thanks all of the fans who loved Girls' Generation in 2011, saying, "Even though I can't meet all of you, I will use this opportunity to thank each and every one of you."
New Video From FreeStyle Sports Features Girls' Generation
A newly released trailer from FreeStyle Sports features the animated versions of Girls' Generation.  The characters can be seen in Girls' Generation's outfits for "The Boys" and making poses from "The Boys" or holding basketballs.  FreeStyle also released new photos featuring Girls' Generation that can be found in
Soshified's photos section
.
Others
Soshified Mentioned in "New Straits Times"
On January 2, 2012, Soshified was mentioned in the "New Straits Times", a newspaper published in Malaysia.  It mentioned the confirmation of Jessica's new drama, "Wild Romance", based on this article.  To read their full online article, click here.
MTVK Lists "The Boys" As One of the Most Memorable Music Videos of the Year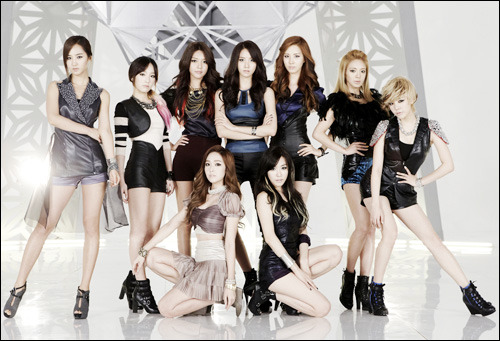 MTVK selected Girls' Generation's "The Boys" as one of the most memorable music videos of 2011, citing the individualized outfits and "fantasy-inspired" sets.  Released on October 18th last year, "The Boys" has proven to be very popular, recording over 26 million views on YouTube.  MTVK's entire entry on "The Boys" as well as the entire list can be found
here
.
Girls' Generation Mentioned on National Public Radio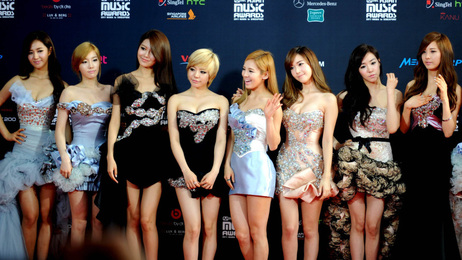 Girls' Generation was mentioned in a segment on National Public Radio titled "K-Pop Blows Up: Korean Music Finds Fans Worldwide".  The segment discusses Girls' Generation's performance at Madison Square Garden during SMTown New York as well as their music video for "Gee".  The entire clip can be found 
here
.
Yuri Wins "Hottest Female Artist Award" in Third  Philippine K-pop Awards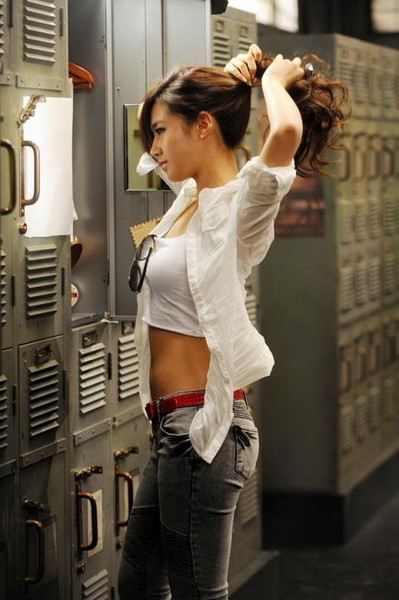 Girls' Generation's Yuri won the "Hottest Female Artist" award at the third Philippine K-pop Awards, beating Sandara Park from 2NE1, Hyuna from 4Minute, Nana from After School, Hara from KARA, and Hyorin from SiSTAR.  It seems that our Black Pearl is once again recognized as a hot female idol, not just in Korea, but in the Philippines as well.
Jessica, Yoona and Seohyun Endorse Different Brands
New sponsor photos have recently surfaced featuring Jessica, Yoona and Seohyun.  In the picture above, Jessica has her hair tied up to show off her "macos adamas" earrings.  Yoona is wearing a fashionable and warm jacket from "Thursday Island", the perfect item to keep warm during winter. Lastly, Seohyun is seen with a pair of cute heels by "babaraflat".  Links to Yoona and Seohyun's photos can be found under "New Sets of Pictures".
Girls' Generation Mentioned in "Tabloid!"
Girls' Generation was recently mentioned among other K-pop artists in a United Arab Emirates-based newspaper, "Gulf News".  The small article about the rapid expansion of K-pop was published in "Tabloid!", the leisure and lifestyle section of the newspaper.  The article recognizes Girls' Generation as one of the leading groups of the Hallyu, and it goes on to mention other artists such as 2PM, TVXQ, Wonder Girls and Seo In Young.
Girls' Generation Sends Tiffany a Wreath For Her Musical
Girls' Generation sent Tiffany a flower wreath for her performance in the musical "Fame" on January 5th.  The members displayed their wit and humor, as the left side of wreath reads, "Real name Hwang Miyoung's reliable back, Girls' Generation."  The right side reads, "Ghandi jaksal actress Ti, proud Madonna of the girls."  (Translator's note: "Ghandi jaksal" is slang meaning "killer sexiness". The other members are making a joke.)
Boom Tweets Two Pictures of Sunny and Hyoyeon From "Invincible Youth 2"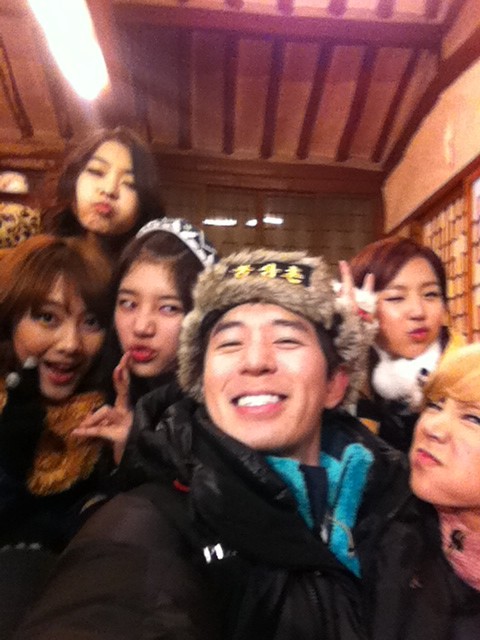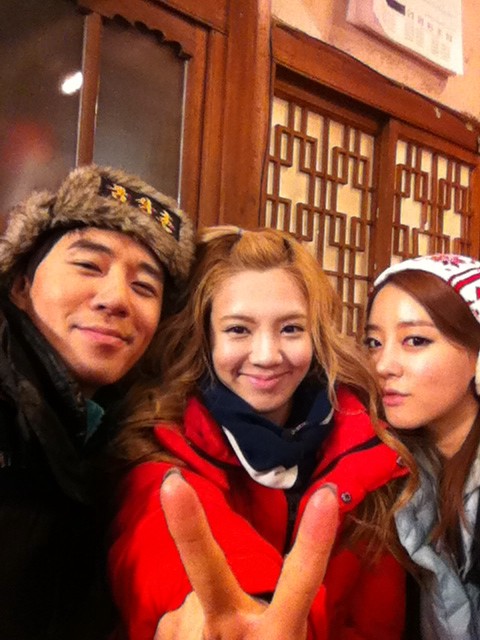 Boom, one of the MCs on KBS's "Invincible Youth 2", recently tweeted two selcas from the filming of the show.  In the first, Sunny can be seen on the right side making a funny expression for the camera while Hyoyeon is seen smiling in the second.  Be sure to check out the Soshified-subbed versions of the first and second episodes of "Invincible Youth 2".
"The Boys" Remix ft. Snoop Dogg Played on German Radio

Girls' Generation's "The Boys" remix featuring Snoop Dogg was aired on a German radio on January 4th at 10PM CET.  It was played on one of the most popular radio stations in Hesse (a state of Germany), which usually plays pop, dance, house, hip hop and RNB music.  It seems that the remixes from the maxi single of "The Boys" have also become hits in Germany.
Girls' Generation Tour in Hong Kong
Girls' Generation will be in Hong Kong as part of their "Second Asia Concert Tour" on January 15th.  They are looking for another amazing concert following the successful two-night performances in Singapore on December 9th and 10th of last year.  Don't forget to show your support to the girls if you're attending!  For full details of the concert, click here.
Girls' Generation to Attend Music Bank in Hanoi, Vietnam
According to the director of Korean Culture Center in Vietnam, Keum Gi Hyung, Girls' Generation will be attending Music Bank on March in Hanoi, Vietnam.  This will be roughly one month after Girls' Generation attends Music Bank in Paris on February 8th.  Stay tuned to Soshified for the latest details.
Girls' Generation Mentioned on IGN
In a review comparing Battlefield 3 and Modern Warfare 3, Ryan Clements, an IGN editor, mentioned Girls' Generation as something he loves and is devoted to.  Ryan has mentioned on several occasions his admiration for Girls' Generation and even brought up that he would attend the SMTown New York concert to see them live.
New Sets of Pictures
Vita500 – Taeyeon, Jessica, Sunny1, Sunny2, Tiffany1, Tiffany2, Hyoyeon1, Hyoyeon2, Yuri1, Yuri2 Sooyoung1, Sooyoung2, Yoona, Seohyun1, Seohyun2, Group
Sponsor Photos – Yoona, Seohyun
SONE Picture/Video of the Week
On the show "K-Pop Star", a group of contestants named "秀Pearls" auditioned with their own powerful rendition of Girls' Generation's "The Boys".  The performance earned applause from the audience and praise from the judges, one of whom was BoA, fellow labelmate of Girls' Generation.  One of the members of 秀Pearls, Park Ji-Min, also performed "
Rolling in the Deep
", which became a viral hit earlier this year.
If you have any pictures or videos you'd like to submit for SONE Picture/Video of the Week, please feel free to do so by sending them to the Soshified Writing Team at tip@soshified.com or posting at the official SONE Picture/Video of the Week thread
Sources: Kwangdong@youtube.com, Kwangdongpharm@twitter.com, NewStraitsTimes, MTVK, NPR , Manila Bulletin, sosiz.net, Manpa_J@twitter.com, BOOM486@twitter.com, ssfsubs10@youtube.com, cranberry515@youtube.com, CapsuleHD6@youtube.com, OkrangePants@twitter.com, AsiaWorld-Expo, ign.com, SONEkiss@youtube.com,  TheNvtx@youtube.com, Access Hollywood, minkyung2020@youtube.com, delisweb@youtube.com
Written by: bhost909@soshified, taengsoshi@soshified, LetsGo@soshified, FrozenArctic@soshified, letaengbutt@soshified.com, SeraphKY@soshified, Litney@soshified
Contributors: minigiglo@soshified, residentbenchwarmer@soshified, taengbear@soshified, ch0sshi@soshified, hangthienbao@soshified
Have a news item that you think Soshified should know about? Leave us a tip or e-mail us at tip@soshified.com.
Follow us on Twitter: http://twitter.com/soshified for the latest on Girls' Generation.