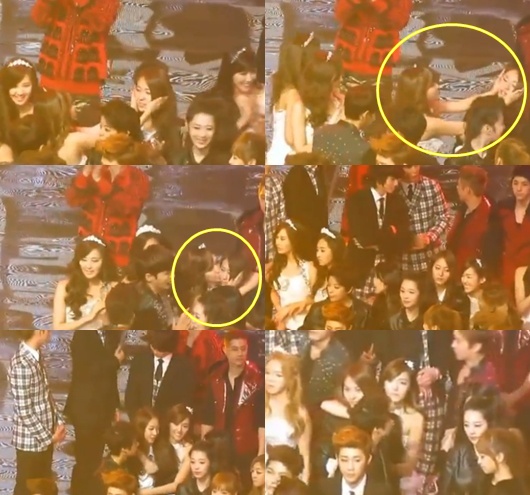 Girls' Generation's Jessica showed "aggressive skinship" toward Krystal with a kiss and a back hug.
A video titled "Dongseng Babo Jessica" was recently posted on an online community. (Translator's note: dongseng = younger sibling, babo = stupid) The clip was from the end of KBS2's "Gayo Daechukje" on December 30th, when all the artists performing on the show were on stage to give a final greeting.
Though many artists, as well as other sunbaes and hoobaes were spotted greeting each other, the scene of Girls' Generation's Jessica greeting her younger sister, f(x)'s Krystal, became a topic of interest.
Jessica is seen displaying "aggressive" affection by wrapping Krystal's face with both of her hands and giving her a kiss and a back hug. Jessica was all smiles while Krystal's expression was chic, causing many to laugh.
Girls' Generation is currently promoting their song "Mr. Taxi" while Krystal is acting in MBC's "High Kick 3".
Source: ENews24 via Nate
Translated by: taengbear@soshified
Edited by: bhost909@soshified
Contributor: Soy@soshified, SeraphKY@soshified
Have a news item that you think Soshified should know about? Leave us a tip or e-mail us at tip@soshified.com.
Follow us on Twitter: http://twitter.com/soshified for the latest on Girls' Generation.