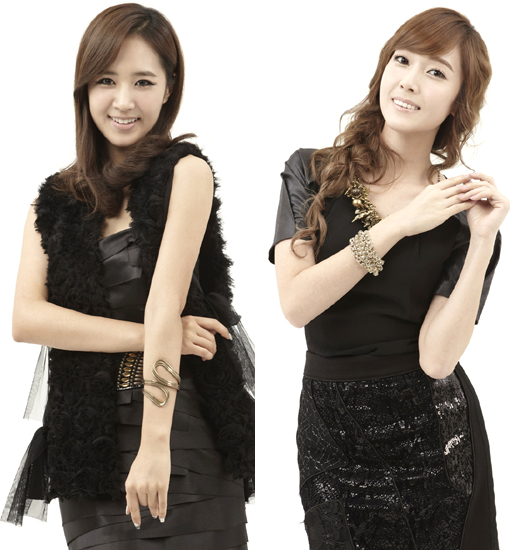 In late 2011, it was announced that four members of Girls' Generation would be cast in different dramas that would air in 2012.  Among the four are Jessica and Yuri who will be appearing in "Wild Romance" and "Fashion King" respectively.
In preparation for their drama debuts, both girls are studying hard by receiving intensive acting lessons from veteran teachers.
An official from SM Entertainment said, "They are focusing on learning character analysis, and proper vocalizations and breathing from their teachers which are fundamental for acting rookies."  Also the company stated that "these days, singers who wish to come out as actors and actresses can only do so after learning the basics of acting, so Yuri and Jessica are working very hard to not disappoint their fans."
After concluding the promotions for Girls' Generation's third full album in December 2011, all that remains are solo schedules for each member.  During this period of time, Yuri and Jessica plan to concentrate all their efforts in acting.
When news surfaced that Yuri and Jessica will also be joining the trend of idol actors and actresses, this garnered the utmost interest among fans.  Even among the staff members of the dramas, they believe that both girls will do well and have high expectations for the both of them. According to the producers of the drama "Fashion King", Lee Kwanhee Productions, Yuri has received many compliments for her emotional acting skills which are considered above average.
"Fashion King" will air in March 2012, while the first episode of "Wild Romance" will be broadcasted on January 4th at 9:55pm KST.
Source: Sports Donga
Translated by: minigiglo@soshified
Edited by: FrozenArctic@soshified
Contributors: MoonSoshi9@soshified
Have a news item that you think Soshified should know about? Leave us a tip or e-mail us at tip@soshified.com.
Follow us on Twitter: http://twitter.com/soshified for the latest on Girls' Generation.