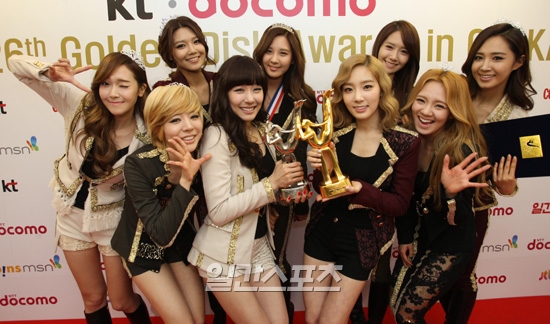 Girls' Generation, who has been active in Asia and all around the world, held the digital Golden Disk daesang and shed hot tears. Girls' Generation made their first steps on the Golden Disk Award stage in 2007, receiving the rookie award with "Into the New World". In 2009, they received the digital Golden Disk daesang with "Tell Me Your Wish", and also received the daesang the following year with "Hoot". They were able to receive the digital daesang for "The Boys" once again this year. After the award ceremony ended, we met with the members, who were hugging one another, enjoying their happiness backstage.
-What were your thoughts when you were called for the daesang?
(Taeyeon) "I'm really thankful. Because they called us in Japanese, I didn't hear it well at first and was taken aback. It turned out they had called Girls' Generation. (laughs) I can't stop smiling even now. I'm reminded of last year. We shed tears of joy last year, too. I'm happy they gave it to us again this year."
-Did you predict your win?
(Tiffany) "I wanted to receive it. (laughs) But I was nervous because there were other talented and great singers. I told myself I'd be satisfied even without an award because we worked hard last year. But I'm thankful we were given the award."
-Is there anyone you're thinking of right now?
(Sooyoung) "I would have to say our fans are the first to come to mind. We were able to receive this award thanks to our fans. I'm thankful."
-The members were all sad when receiving the daesang last year because Tiffany wasn't present due to an injured leg. This year must have been more special because you received it all together.
(Tiffany) "It felt really good. I think I was the happiest and most excited. I'm happy being with my members and can only think of working harder."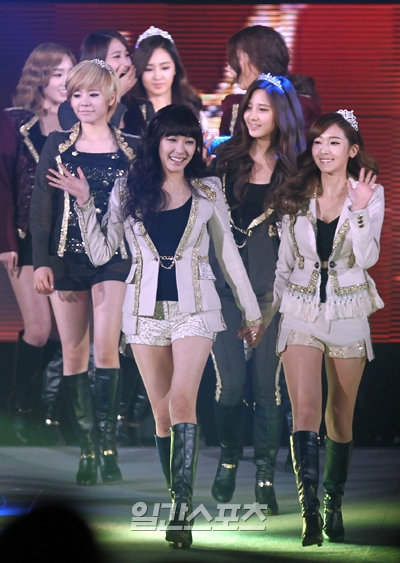 -What kind of year was 2011 like for Girls' Generation?
(Jessica) "It was a very busy year. It was a year where we could meet many fans overseas. If they wait a little, we will go to meet them again."
-You received the rookie award in 2007, digital daesang in 2009, and Golden Disk daesang in 2010. You recieved the daesang again this year, as well as a bonsang. You have a deep connection with Golden.
(Yuri) "It's a real honor. There were many good things after receiving the awards. I think this year will be another happy year."
-During the past 3 years, you didn't miss a single daesang, getting the digital daesang one year, the Golden Disk daesang the next, and the digital daesang again this year. Girls' Generation is the second singer to receive the daesang for three consecutive years following Kim Gunmo.
(Yoona) "I got goosebumps after hearing that just now. Ah, it feels electrifying hearing 'three consecutive years' that I'm getting goosebumps. Thank you, and we will work hard to show good results next year with great performances."
-You've been continuing to rise after your debut. But I think there would have been times where you were tired as an individual. When was that?
(Tiffany) "There were always hard times, but I was able to overcome those hard times because of my members. I'm thankful to my members."
-Plans for 2012?
(Seohyun) "We've been having a Japan arena tour since last year. We are planning on continuing our concerts this year. While going around our arena tour, I've gained a dream to have a world tour. I want to meet with fans often."
-A word to fans all over the world.
"Thank you for giving us such a big award. 2012 is also Girls' Generation!"
Source: Sports Daily
Translated by: ch0sshi@soshified
Edited by: MoonSoshi9@soshified
Have a news item that you think Soshified should know about? Leave us a tip or e-mail us at tip@soshified.com.
Follow us on Twitter: http://twitter.com/soshified for the latest on Girls' Generation.