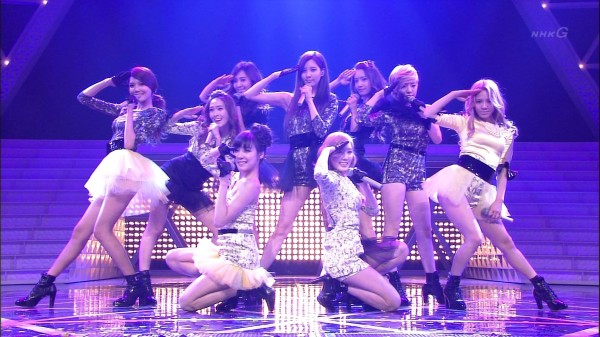 It was a busy New Year's Eve for Girls' Generation as they had to record several performances for both MBC's "Gayo Daejejun" and a live performance at NHK's "Kouhaku Uta Gassen".
At NHK's "Kouhaku Uta Gassen" Girls' Generation performed "Genie", their debut Japanese single, as a part of the red team. The girls were dressed up in black and gold outfits that showed off their beautiful figure that really accentuated the dance moves in "Genie". Prior to their performance, Sooyoung answered a quick question on how the girls were feeling about performing at "Kouhaku", saying, "While we are also very nervous, at the same time all the members are very honored to be able to perform here. We'll try our best so everyone can watch a wonderful performance."
Thanks to the outstanding efforts from everyone in the red team, including Girls' Generation, they were able to secure their first win in seven years.
Their performance at "Kouhaku" can be found in Soshified's video download section.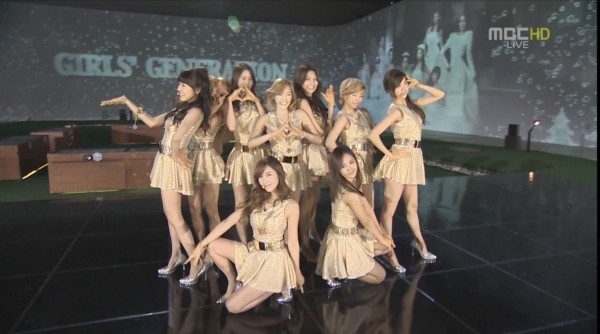 Unfortunately, because of the tight scheduling, Girls' Generation wasn't able to perform live at MBC's "Gayo Daejejun". However, they pre-recorded "Diamond", a song that they sang entirely in English for SMTown's "Warmest Gift" album, and "The Boys". This was the first time that "Diamond" has been performed on television by Girls' Generation. It featured a simple dance choreography along with gold dresses that highlighted their beauty. For "The Boys", they wore slightly different outfits fashioned out of a deep red color, which gave off a new vibe.
Both performances and the short interview can be found in Soshified's video download section.
Source: Soshified Video Downloads, gnalc8@youtube.com, whSoshi@youtube.com
Written by: SeraphKY@soshified
Edited by: MoonSoshi9@soshified
Contributor: letaengbutt@soshified
Have a news item that you think Soshified should know about? Leave us a tip or e-mail us at tip@soshified.com.
Follow us on Twitter: http://twitter.com/soshified for the latest on Girls' Generation.