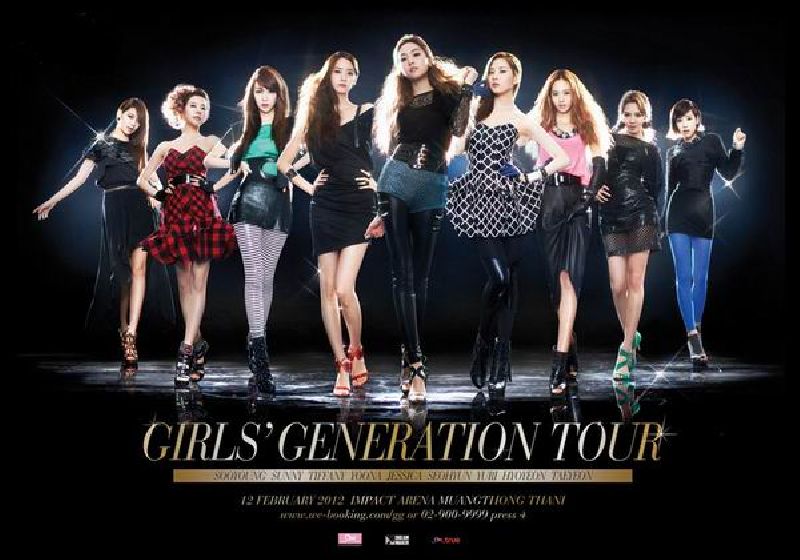 On January 14th, Girls' Generation broke the record for the fastest concert to sell out in Thailand.
Impact Arena in Bangkok, Thailand will be hosting the Fanta Playtime Presents Girls' Generation Tour on February 12, 2012.  The highest priced tickets, which were 4500 baht and 5000 baht each, sold out in ten minutes.  Other unconfirmed sources suggest that it was even less.  (Editor's note: Baht is currency in Thailand. One U.S. dollar equals thirty baht.)  All 11,000 concert tickets were sold in twenty minutes, setting the record for the concert to be sold out the fastest in Thailand.
Girls' Generation recently won the Digital Daesang at the 26th Golden Disk Award on January 12th, making them the only artist to have received three Daesang awards.  Their most recent album, "The Boys", was also the best selling album of 2011.
The girls will also be in Hong Kong on January 15th for their next stop on their "Second Asia Concert Tour".  After performing in Singapore on December 9th and 10th of last year, Girls' Generation is looking to continue their concert success in Hong Kong and Bangkok.
Sources: Matichon, AbqpdA@youtube.com
Written by: taengsoshi@soshified
Edited by: residentbenchwarmer@soshified
Thanks to tyron_triston@soshified for the tip.
Have a news item that you think Soshified should know about? Leave us a tip or e-mail us at tip@soshified.com.
Follow us on Twitter: http://twitter.com/soshified for the latest on Girls' Generation.