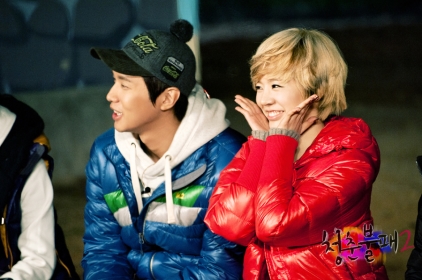 Sunny has been gaining a reputation on "Invincible Youth 2" as the smart and reliable member of G8. There were a lot of expectations for Sunny coming into the second season of "Invincible Youth". She was the only returning member from the first season of the show, and so far in "Invincible Youth 2", she has been showing exceptional leadership.
On the episode which aired on December 3rd, Sunny showed her expertise when G8 was discussing the items needed for the opening celebration of idol village. Other G8 members suggested expensive items like a flat-screen TV and a robot vacuum, but Sunny put a halt to the talk of those items, mentioning the direction of the program by saying, "We came here to work." She also suggested they "get used goods" for necessary items such as the refrigerator.
Kim CP(Contents Provider) praised Sunny, saying, "Sunny is someone with intelligence as her basis", and "She has a great adaptability for the program because she had experience during season one. She is especially saving the program's concepts by letting the members get along well. There is a great reliance on her."
Source: Star News
Written by: MoonSoshi9@soshified
Contributor: minigiglo@soshified
Have a news item that you think Soshified should know about? E-mail us at tip@soshified.com.
Follow us on Twitter: http://twitter.com/soshified for the latest on Girls' Generation.