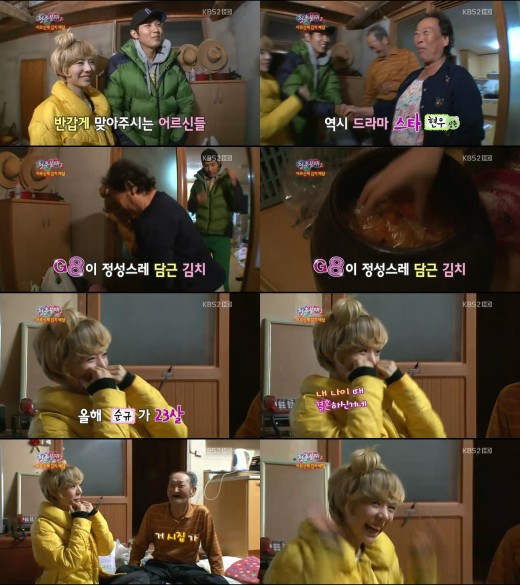 The suggestion to get married left Sunny blushing in embarrassment.
On an episode of KBS 2TV's "Invincible Youth" that aired on December 17th, the G8 members were given the responsibility of delivering homemade kimchi to the village's residents.
Sunny was paired with Ji Hyunwoo and the two made their way to an elderly couple's home. They sat down with the couple after greeting them politely. Sunny said, "Wow, you got married at the age of 23 – that's my age," to which the couple playfully responded, "So hurry up and get married then."
Feeling rather embarrassed at this remark, Sunny shyly hid her face in her hands, but eventually laughed out loudly in order to shake off the awkwardness.
Source: TVReport
Translated by: minigiglo@soshified
Edited by: catfat@soshified
Have a news item that you think Soshified should know about? E-mail us at tip@soshified.com.
Follow us on Twitter: http://twitter.com/soshified for the latest on Girls' Generation.