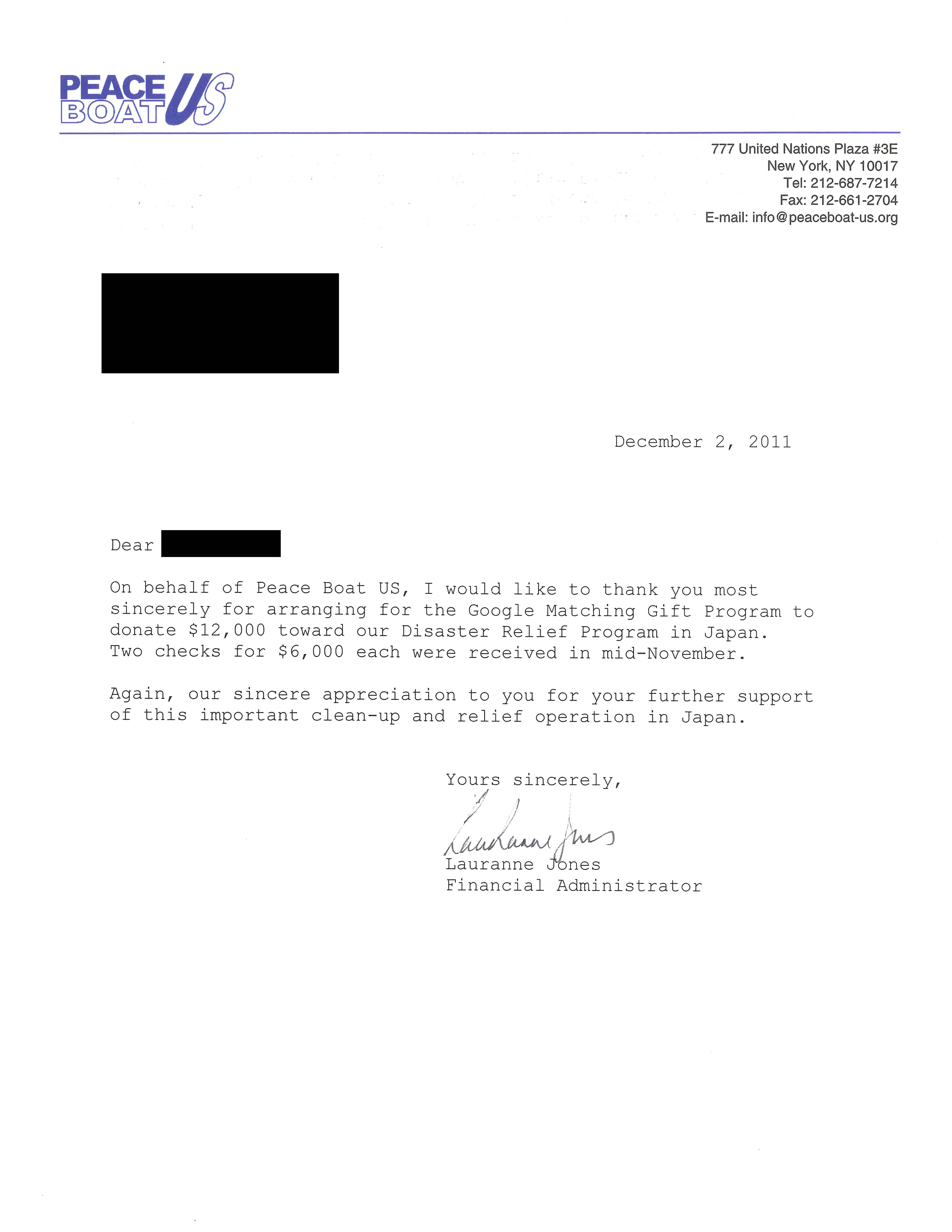 In March of this year, a three-week donation drive held by Soshified raised US$33,500 for victims of the 2011 Great East Japan Earthquake and Tsunami.  With the announcement that Soshified would accept donations for the relief effort, members from all over the world began to fill the charity thread with 21 pages worth of contributions.  In addition, several members put up signed items for auction with the proceeds also going towards the fund raising effort.  All of the donations collected by Soshified were given to Peace Boat, an international non-profit organization based in Japan currently working to provide disaster relief to areas affected by the earthquake and tsunami.  A complete summary of Soshified's donation drive and a letter of thanks from Peace Boat can be found here.
On top of the US$33,500 donated by Soshified members, Peace Boat also received an additional US$12,000 from the "Google Gift Matching Program" thanks to the efforts of a Soshified Project Leader.  The "Google Gift Matching Program" matched US$12,000 of donations, resulting in a grand total of $45,500 being donated to Peace Boat through Soshified's fundraising.  In the letter pictured above, a Peace Boat representative confirmed that two $6,000 checks were received by Peace Boat in mid-November of this year.
Since its founding in 2008, Soshified has been involved in numerous charity projects and to date has donated over $60,000 to various causes.  All of Soshified's charity efforts can be found in the Soshified Sowon Foundation forum.
Have a news item that you think Soshified should know about? Leave us a tip or e-mail us at tip@soshified.com.
Follow us on Twitter: http://twitter.com/soshified for the latest on Girls' Generation.