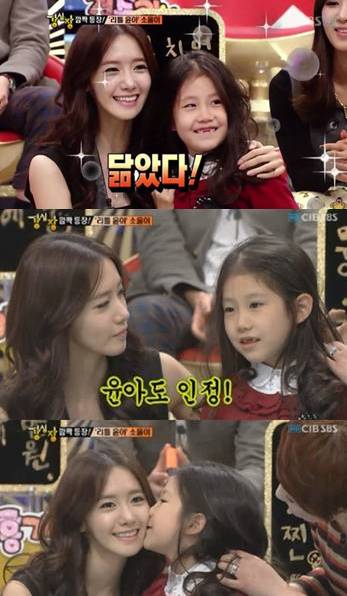 Actress Song Chaehwan's daughter, Park Soyul, and Girls' Generation had a beauty competition.
On November 8th, during SBS's "Strong Heart", Song Chaehwan guest-starred with her daughter Park Soyul. Soyul appeared on SBS's "Star Junior Show Boonguh Bbang", where she gained the nickname "Little Yoona" with her cute face.
Song Chaehwan explained, "I've wanted to meet Girls' Generation, especially Yoona." Following her cute self-introduction, Soyul shyly said, "I'm happy I got to meet Yoona unnie. She's really pretty." Song Chaehwan then asked her daughter, "Am I pretty? Or is Yoona unnie pretty?" to which she replied, "You are!"
Netizens who watched the show commented, "You'd believe they are sisters", "She took her parents' good facial features", and, "Continue to grow beautifully."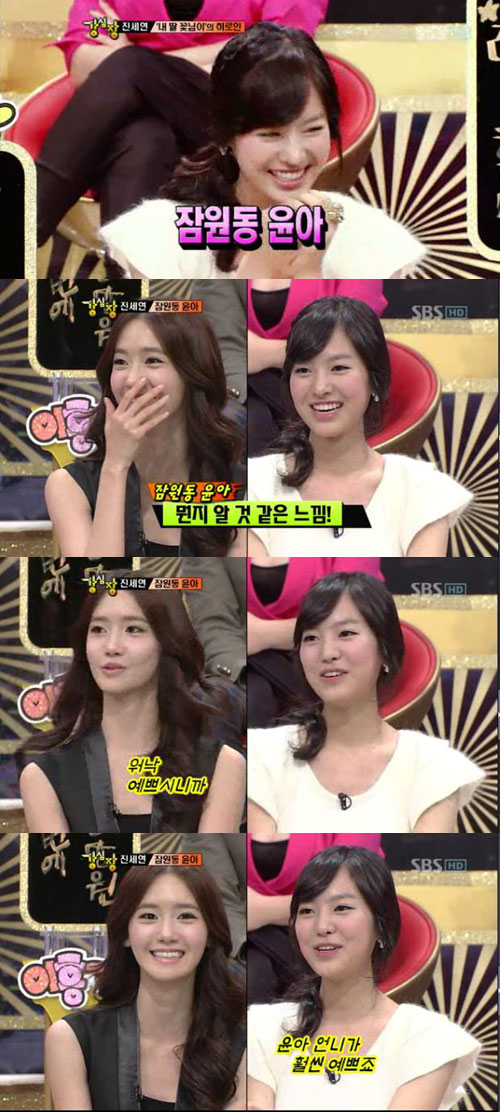 Also on the same episode of "Strong Heart", it was mentioned that actress Jin Se-yeon garnered attention as "Jamwon-dong Yoona".
Jin Se-yeon revealed her unique relationship with Girls' Generation member Yoona.
Jin Se-yeon stated, "I heard I had a connection with a Girls' Generation member. It's a bit embarrassing saying it myself, but I was called "Jamwon-dong Yoona" for a short period of time."
MC Lee Seunggi then asked Yoona, "What do you think?", and Yoona relied, "I saw her in the waiting room and was surprised. There is a similar feel. But, she's so pretty."
Jin Se-yeon waved her hands and said, "Yoona unnie's prettier." Boom caused laughter by commenting, "There are Yoonas in different areas. Hwayangri Yoona, Jamwon-dong Yoona, there are a lot."
Sources: Bntnews, Reviewstar
Translated by: ch0sshi@soshified.com
Edited by: residentbenchwarmer@soshified.com
Have a news item that you think Soshified should know about? E-mail us at tip@soshified.com. Follow us on Twitter: http://twitter.com/soshified for the latest on Girls' Generation.