Videos
J.ESTINA Making Film
The girls are in the midst of their promotions with designer J.ESTINA and this week a behind the scenes video was released showing off the girls' charms as they filmed their various commercials and participated in photo shoots. The best part has to be Tiffany goofing around on set. Even when working hard, Girls' Generation knows how to enjoy themselves.
J.ESTINA CF
J.ESTINA released a new CF featuring Girls' Generation. In the video we get to see the girls modeling J.ESTINA's new line of bags, as the text says "GET YOUR [SNSD] BAG". With these models, how can anyone say no to that?
Yuri Leaves a Message for MTV and SBS
SBS and MTV Korea are joining forces, and Yuri left a message to cheer them on. In the video Yuri congratulates the two stations for coming together for their global efforts. It was very nice of Yuri to take time out of her schedule and congratulate them!
Behind The Scenes of The Boys MV
Mnet has released a video showing off some behind the scenes action from The Boys music video. Check out how the girls filmed the video and talk about their "Spiderman" choreography.
Hyoyeon Asks for Cheers for Kwangdong Pharmacy
Kwangdong Pharmacy uploaded a video with Hyoyeon this week. Hyoyeon cheerfully asks for support for Kwangdong Pharmacy and people participating in their events.
Endorsements
Vita500 Wallpaper for November with Taeyeon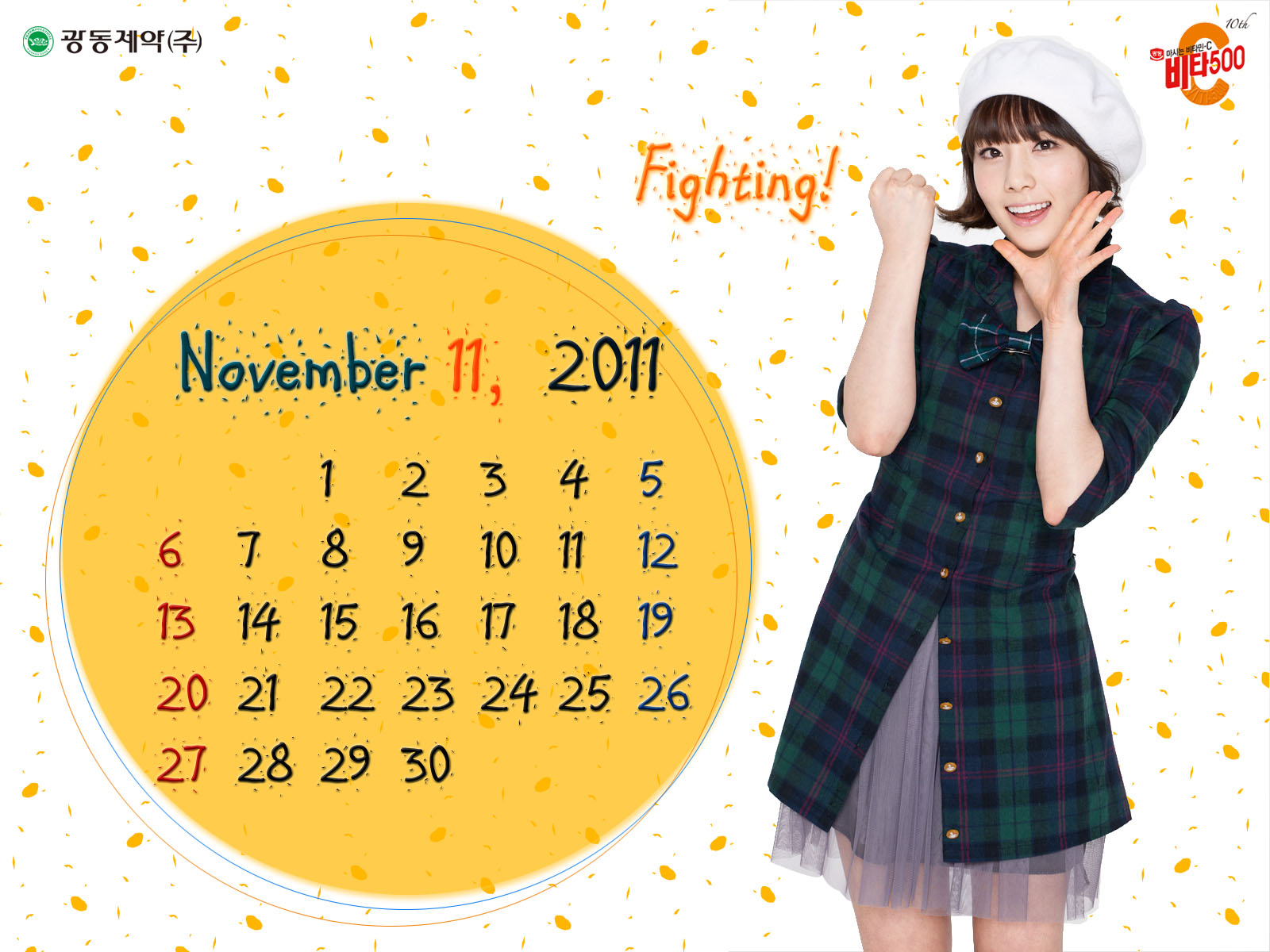 Kwangdongpharm tweeted a new wallpaper for the month of November, and it features none other than Taeyeon. Taeyeon will help you through the fall months with an encouraging cheer, "Fighting!" More November wallpapers featuring the other members can be found in the new photos section below.
Girls' Generation Films a New CF for Goobne Chicken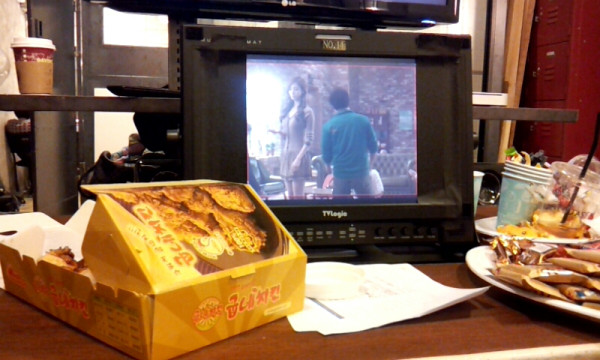 Goobne Chicken tweeted a behind the scenes picture of a TV and some chicken this week. If you look closely though, who is that on the screen? It's none other than Seohyun! The girls were filming a new CF for the chicken restaurant, so look forward to that being released soon.
Others
Girls' Generation Rankings on Billboard Chart

As should be expected, Girls' Generation has quite a few songs ranked on the Billboard Korea K-Pop Hot 100 Music Chart for the week of November 5th, 2011.  Of course, "The Boys" came in at number one on the chart.  Other songs making the list include "MR. TAXI" at fifteen, "Telepathy" at 26, "How Great Is Your Love" at 31, "TRICK" at 33, "Say Yes" at 37, "VITAMIN" at 41, and "Top Secret" at 46.  Except for "MR. TAXI" which charted as a re-entry on the chart, each song debuted on the chart this week.
Girls' Generation Featured on NY1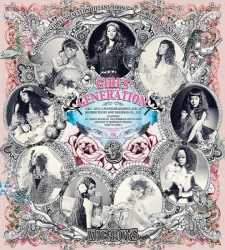 As part of their visit to New York City for SMTOWN New York, Girls' Generation did quite a few interviews with many media outlets, including NY1, a cable news channel in New York City.  In addition to filing a report about Girls' Generation's visit and wondering about whether America is ready for the group, reporter Lewis Dodley also chats with the girls, including asking them to "Tell Me Your Wish".  You can read the article and watch the videos here.
Girls' Generation Songs Added to New iPhone Game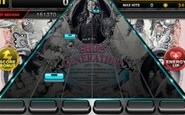 TAP SONIC, a mobile rhythm action game available in the Apple App Store and Android Market, recently announced that they would add Girls' Generation songs to their stable of music.  In addtion to Girls' Generation's new release "The Boys", Neowiz, the makers of TAP SONIC, will include other Girls' Generation favorites such as "Tell Me Your Wish", "Gee", "Kissing You", and "Way to Go!".
Korea Times Reports on Girls' Generation Press Conference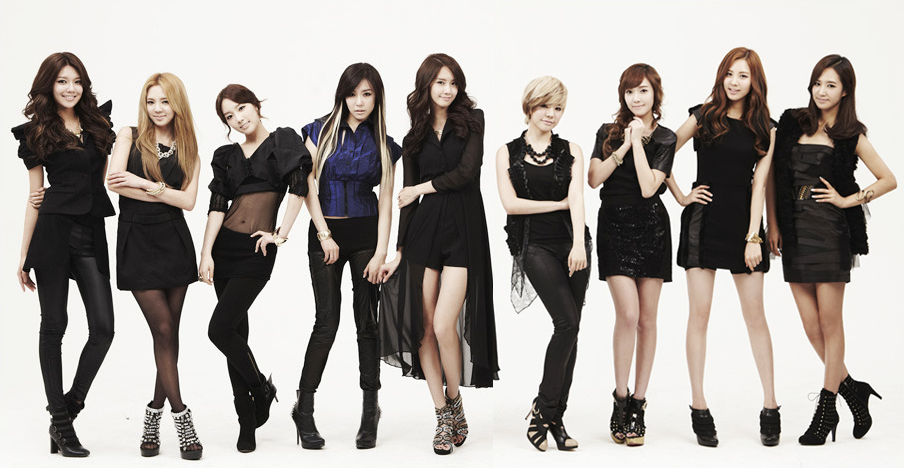 The Korea Times published an article from a recent Girls' Generation press conference prior to the release of "The Boys".  In the article, the girls talk about promoting their new song in South Korea and elsewhere, their image for the album, and how they work together.  To read more, go here.
Krystal Celebrates Her Birthday with Jessica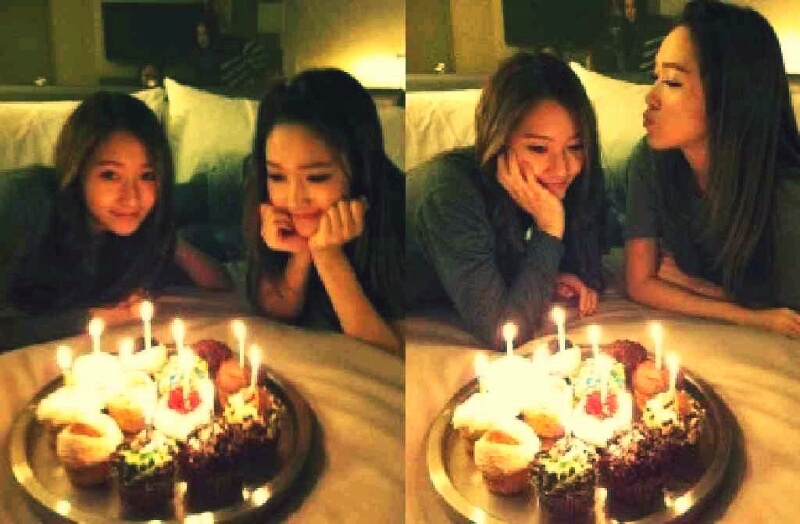 It was Jessica's sister, Krystal's birthday this past week. Krystal uploaded a cute picture of her and her sister celebrating together with a plate of cupcakes on her me2day. It looks like the two girls had a nice time together in New York.
The Boys App Available on iTunes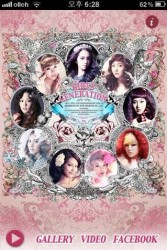 SM Entertainment released an app for Girls' Generation's new album, The Boys, on iTunes. The app includes pictures and videos from The Boys. Check it out on iTunes.
Taeyeon and Yoona Visit Yesung's Parents' Cafe.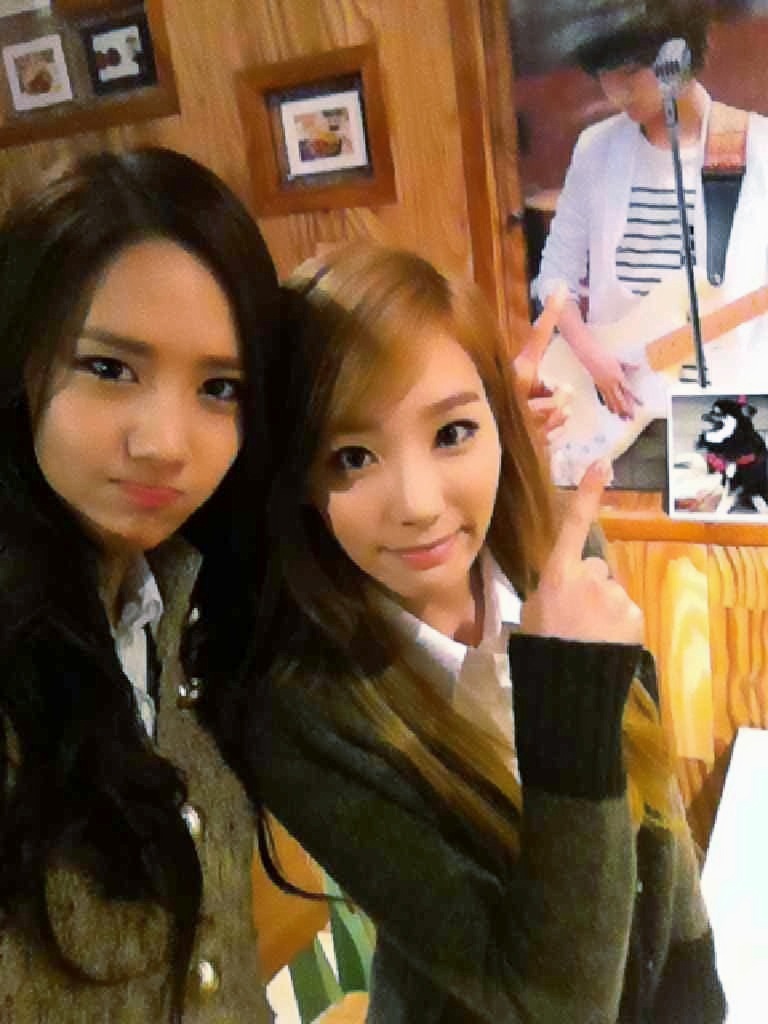 After one of their performances on music shows, Taeyeon and Yoona dropped by "Handel & Gretel", the cafe owned by Yesung of Super Junior's parents. While they were there, they took a picture with Yesung's brother, along with one where Taeyeon is pointing at a picture of Yesung, and Yesung shared them via his twitter. Even though the girls are incredibly busy, they always find time to be considerate to their friends and family at SM.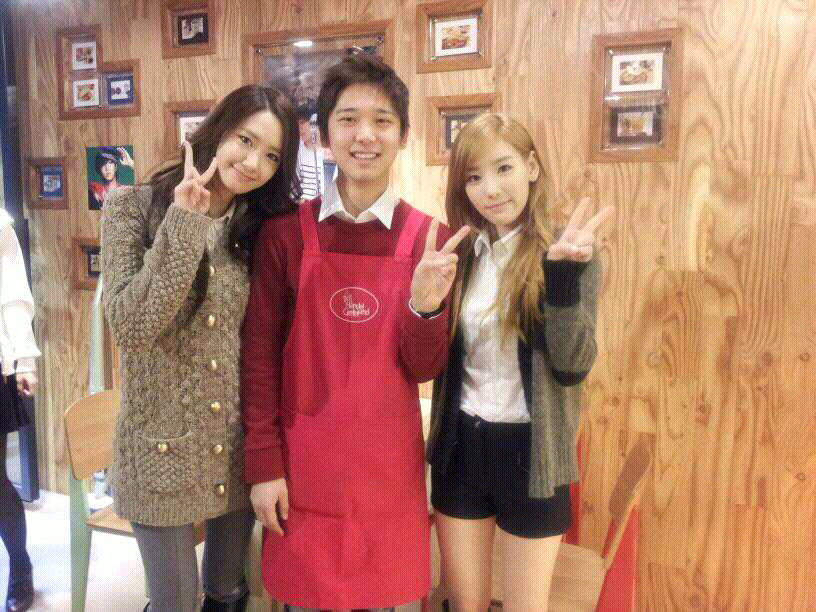 Girls' Generation on Yale University's Art School's Homepage
Girls' Generation continues to find their name popping up everywhere lately. The art school at the prestigious Yale University had a background showing off "Gee". Anyone who goes to the art school can edit the page, so kudos to the SONE who put the girls up there for everyone to see.
4Minute's Sohyun Tweets About Girls' Generation's Music

The Boys is a fast selling album, and it seems as though nobody is immune to the great songs on it. Sohyun from 4Minute tweeted that the song "My J" is good. Yes, Sohyun, I completely agree with you!
Girls' Generation's Interview Tops MTV News' Most Viewed Articles
Further proving their explosive popularity, Girls' Generation's interview with MTV News was the most viewed article on their website. The girls are just getting started in America and already there is huge interest by the various entertainment sites. Everyone wants to get to know these nine girls.
New Pictures of Sunny and Hyoyeon From Invincible Youth 2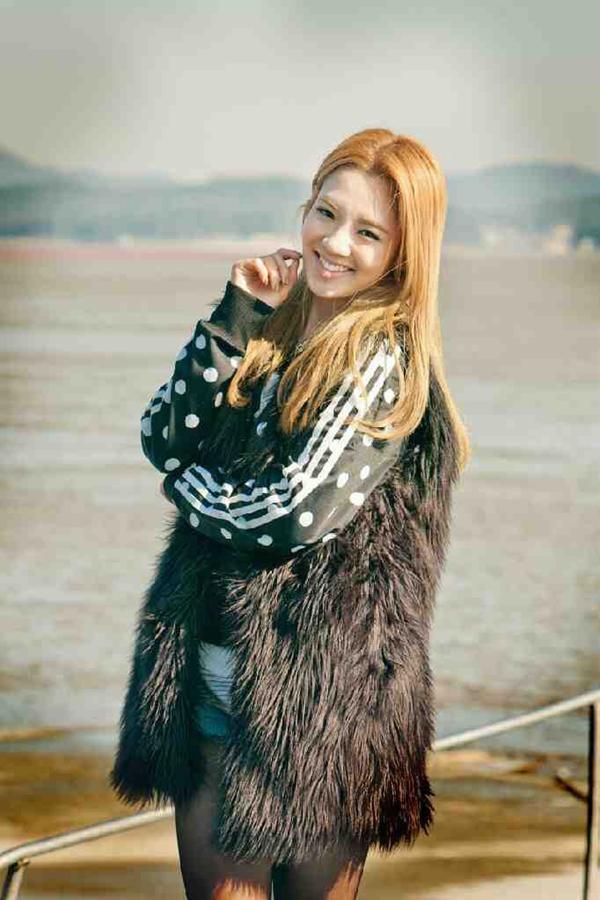 Sunny and Hyoyeon are hard at work filming for the 2nd season of Invincible Youth on KBS2. The PD for the show has been tweeting pictures of the new G8 group, and Sunny and Hyoyeon made their appearance. I don't know about anyone else, but I can't wait to see this show. Sunny and Hyoyeon are sure to provide some awesome entertainment with their amazing variety skills.
Girls' Generation Has an Official Twitter Account

Now don't get too excited, the members themselves aren't part of this twitter account. However, Interscope set up an official twitter account for the group for news and announcements. Within minutes of creation they had tens of thousands of followers and were being bombarded with mentions declaring fans' undying love for the girls. Check out Girls' Generation's official twitter account, @GirlsGeneration.
Pictures From the Set of Star King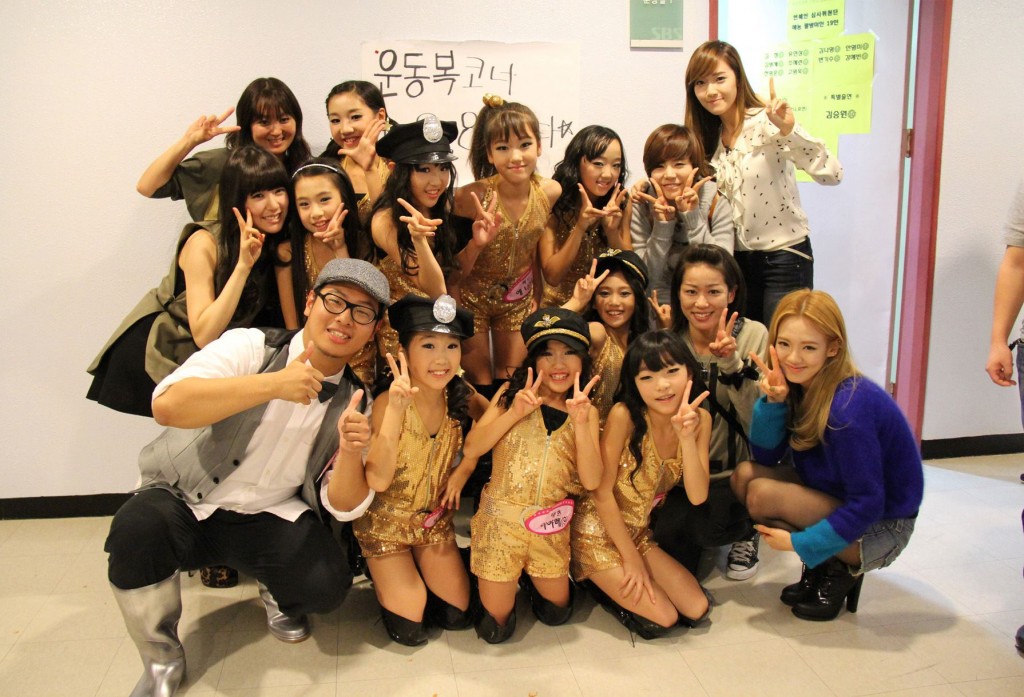 Girls' Generation members participated in the filming of an episode of Star King. Some pictures from backstage were uploaded showing off the girls along with some other people who were on the show. Everyone looks adorable together. Sunny's hair is causing some excitement as well, since people are wondering if she actually finally cut her hair for real. What do you think?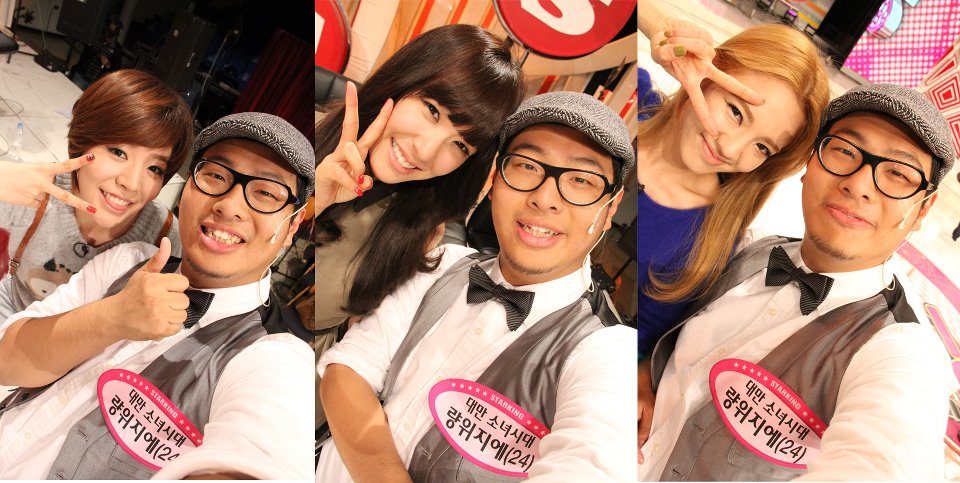 New Sets of Pictures
Vita500-Jessica, Jessica2, Sunny, Yuri, Yuri2, Sooyoung, Yoona, Yoona2, Seohyun, Wallpaper, Wallpaper2, Wallpaper3
The Face Shop – Seohyun
SONE Picture/Video of the Week
The Boys remix contest is in full swing, and we showed some really good ones last week. This week, another one was released by
Areia
. Normally I can't really stand dubstep, but this version of The Boys has some vicious beats and a unique instrumental. They weave the verses together and completely change up the song instead of just redoing the instrumental like some other covers are doing. It seems like this cover is one of the front runners in the contest. What do you guys think of it?
If you have any pictures or videos you'd like to submit for SONE Picture/Video of the Week, please feel free to do so by sending them to the Soshified Writing Team at tip@soshified.com or posting at the official SONE Picture/Video of the Week thread
Sources: Soshified Photo Section, Billboard, NY1, Gameplay Today, Korea Times, jestina001@youtube.com, me2day, Kwangdongpharm@twitter.com, iTunes, SoshiSoshiSoshi2@youtube.com, shfly3424@twitter.com, Oumae31@youtube.com, Yale Art School, 4M_kwonsso@twitter.com, Nate, cleanmountain@twitter.com, Kwangdong@youtube.com, GirlsGeneration@twitter.com, goobnechicken@twitter.com, Bestiz, areiacreations@youtube.com
Written by: MoonSoshi9@soshified.com, residentbenchwarmer@soshified.com
Contributors: letangbutt@soshified.com
Graphic by: cioco@soshified.com
Have a news item that you think Soshified should know about? E-mail us at tip@soshified.com. Follow us on Twitter: http://twitter.com/soshified for the latest on Girls' Generation.