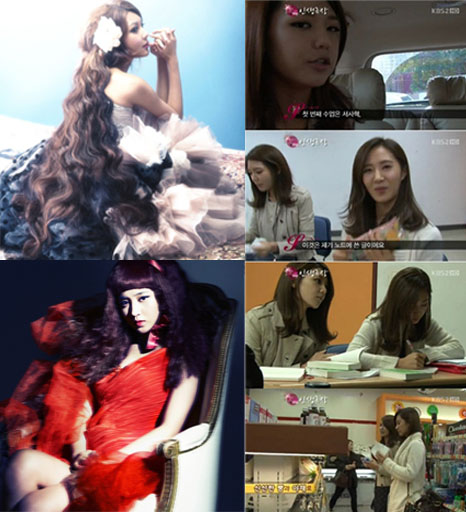 The college life of Yuri and Sooyoung was revealed on the show "Star Life Theater" that was broadcasted on November 21st on KBS2TV. Yuri and Sooyoung, who both major in Theatre and Film at Chungang University, were captured on screen as normal college students. Scenes of them eating their meals inside a moving vehicle due to their particularly busy schedule, and them attending lectures and taking notes have attracted many peoples' attentions. On the day of filming, they had confessed that, "I want to be like any other normal student who studies. When I don't have classes, I want to walk around the school without any thoughts and get something to eat on the way", and "We want to do the same things that regular students do at our age".
On the other hand, the college life of Girls' Generation's Seohyun was also revealed on the show.

Girls' Generation's maknae, who is a sophomore majoring in Theater at Dongkook University, dropped the stage name to return to being called Seo Joohyun; an ordinary college student.
As she goes off trying her best not to miss a class, Seohyun shows off her fresh charms as she replaces her usually elegant and chic attire for a more casual look.  Complimenting her laid-back outfit, she talks with an easy-going attitude as she is seen talking informally with her peers, which is quite unusual to hear, as she speaks formally when conversing with the other Girls' Generation members.
Her complaint asking "Did you buy our album?" to a male classmate who had asked about girl group 2NE1's new album, as well as continuous chatting with her classmates, produced a fun and vibrant lunch time that caught others' eyes.
Meanwhile, Professor Shin Yeonsup of the Theater Department of Dongkook University praised Seohyun saying, "Seohyun has a much bigger desire for higher education when compared to her peers.   Go through https://www.auston.edu.sg/courses/higher-diploma-in-mechanical-engineering/ for the higher education diploma courses in mechanical engineering.  She has a serious attitude", as well as, "Her attitude on learning is so honest that it's even old-fashioned. I think she believes that school takes a higher precedence over entertainment activities. I am proud."
Sources: Nate, joseilbo
Written by: Pandai@soshified.com
Translated by: hannahhrpark@soshified.com, minigiglo@soshified.com
Edited by: MoonSoshi9@soshified.com
Contributors: SeraphKY@soshified.com
Have a news item that you think Soshified should know about? E-mail us at tip@soshified.com
Follow us on Twitter: http://twitter.com/soshified