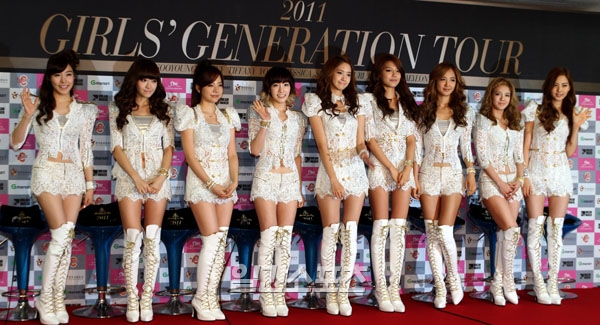 JTBC has sent a signal that it is building itself as the "variety empire". Five variety shows are currently being prepared to air upon the debut of this channel. Girl group Girls' Generation, who is leading the hallyu storm; "number one pair in variety" Lee Soogeun and Kim Byungman; and other prominent casts who are to be included in these variety shows are attracting attention. The production crew is also to be made of the leaders in the broadcasting industry. Joo Chulhwan PD, who led the "golden days" of variety in the 1980's and 1990's, will be the organizing director, and Star-PD Kim Shigyu, who directed KBS's "Happy Together" and "Dream Team", is to be a variety show director. Also, other A-list PD's such as Joo Chulhwan and Kim Sukyoon, who are the most expensive variety show directors, will be strong supporters on the team. As JTBC is expected to shake up the broadcasting industry, we looked into the main variety shows that it will air.
◇"Girls' Generation" (Working Title)
Director: Yoon Hyunjoon
Cast: Yoona, Sooyoung, Hyoyeon, Yuri, Taeyeon, Jessica, Tiffany, Sunny, Seohyun
Broadcast Date/Time: Sundays 7:30pm-8:40pm (70 minutes)
A "real variety" show with Girls' Generation's name. It has become a topic of interest as soon as it was revealed that all nine members would be cast to lead their own show. Even the time that it will be broadcasted is shocking. It is to air during Sunday evening primetime, overlapping in time with dramas and variety shows from broadcast TV networks. This will be the main program of the variety channel JTBC. Yoon Hyunjoon PD has been appointed the director of this show. He is known for having made many KBS shows outstanding, such as "Win Win", "Sang Sang Plus", "Music Bank", and others.
Actually, this will not be the first time every member of Girls' Generation has led a variety show. In 2009, all nine members of Girls' Generation were in the main cast of MBC's "Our Sunday Night – Girls' Generation's Horror Movie Factory". In 2008, they appeared on cable channel Mnet's "Girls' Generation's Factory Girl". However, "Horror Movie Factory" ended early after just six weeks amidst criticism of having a boring show format, and "Factory Girl" did not receive much attention. The important thing to note though was that Girls' Generation was not the cause of the failure. The problem was that besides having the idea that Girls' Generation would be the central characters, the concepts of the two shows were not thought through very well.
On that topic, there is word from show representatives that this new show "Girls' Generation" will be on a different level. The format of the show has been made so that it is certain it will grab the interest of viewers, making it worthy of the curiosity it has been stirring. Also, Girls' Generation is garnering more attention than they have in the past, so they clearly have a competitive edge. Yoon Hyunjoon PD, who in charge of directing this new show, explained, "I can't reveal much about the concept of this show, but one thing I can say for sure is that the planned project is something that has never been attempted before in the broadcasting industry." He also added, "Through this show, a new side of Girls' Generation will be revealed." He continued, "This show is not going to be just simply about fun, but it will be meaningful as well, so the Girls' Generation members are participating with nervous and excited hearts." YHJ PD evoked more curiosity by refusing to share more specifics as "it's still a secret".
[non-Girls' Generation parts omitted]
Source: JoinsMSN (Jeong Jiwon reporting)
Translated by: taengbear@soshified.com
Edited by: residentbenchwarmer@soshified.com
Contributor: cedge
Have a news item that you think Soshified should know about? E-mail us at tip@soshified.com.
Follow us on Twitter: http://twitter.com/soshified for the latest on Girls' Generation.