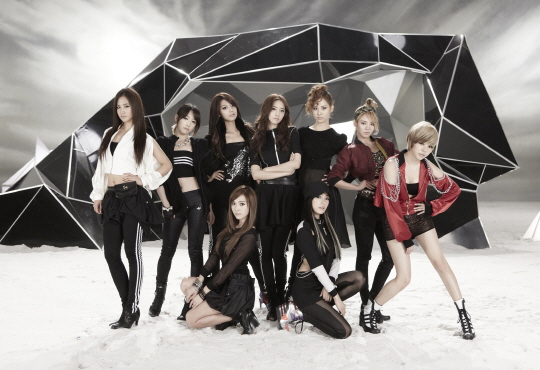 With their third album activities, Girls' Generation's popularity has remained unchanged. After releasing their third album on October 19th, Girls' Generation started official promotions for "The Boys" after a year-long hiatus in Korea. During the past two weeks, they have been holding their place at the top of weekly charts on various music sites. They also took the number one spot on music programs, starting on the 27th at Mnet "MCountdown", continuing on to KBS 2TV "Music Bank" and SBS "Inkigayo".
Their third album promotions also showed the matured nine members, who people thought would always be girls. A fair amount of people in the music industry have expressed their admiration, commenting, "Their force on stage has evolved. There probably won't be a girl group to catch up to them for the time being."
One of the reasons behind this is the transformation of their outfits. Girls' Generation stood on stage wearing similar uniform-like outfits for a while, but each of them have been wearing different outfits for "The Boys". Their concepts have also been changing continuously on stage, from a classic look to a suit look.
While there isn't a unified look like previous promotions, Girls' Generation is continuing to capture the public's attention. It has been interpreted that a stage where nine different girls on stage performing as one has increased the public's level of interest. They have also been able to appeal to fans as the group Girls' Generation, as well as each individual member.
On the 2nd, according to SM Entertainment's visual director Min Heejin, the point of this album's outfits is to put as much emphasis on each of the members' personal taste in style.
When it comes to Sooyoung, she went with diverse styles with her long hair that would remind you of a beautiful South American woman. She also chose pants as a focus to show off her slim body line and put emphasis on her exotic mask. To put emphasis on the feminine, soft image under her cold one, Jessica went with a girly, luxurious detailed skirt look.
With her short cut hair, Sunny is continuing to change by incorporating a feminine appeal to her neutral, chic look. Seohyun, Yoona, and Yuri have either been showing off their body lines wearing pants, or styling to put emphasis on their silhouettes.
Hyoyeon got rid of her tomboy image by going with a cute, girly image. She matched the outfits with her charisma, for a soft, charismatic appeal.
Along with looking cute, Taeyeon has been making detailed outfit choices that add on an urban, polished image. Tiffany has been focusing on a beautiful, feminine style.
Min Heejin explained, "I felt that it would be sad making each member's different traits be shown through one look. Along with variations of outfits for each stage to show off each member's individual charms, we thought it would also make the song a little more enjoyable with the diverse images."
She added, "I was expecting Girls' Generation to be able to show diverse visual variations, and that it would be able to show more emphasis on them, not only in the singing department."
Like Girls' Generation's "The Boys" song lyrics, they are getting "attention from the entire world".
Source: StarIn Edaily
Translated by: ch0sshi@soshified.com
Edited by: MoonSoshi9@soshified.com
Have a news item that you think Soshified should know about? E-mail us at tip@soshified.com.
Follow us on Twitter: http://twitter.com/soshified for the latest on Girls' Generation.