The Global Generation effect is in full swing following the release of their new album "The Boys". Prominent financial news website Marketwatch.com posted a press release from Interscope Records, the record label that is handling the United States release of Girls' Generation's upcoming maxi single in November. Interscope's press release summarizes the progress of Girls' Generation's career and lists many of their accomplishments. The Interscope press release that was posted on Marketwatch.com can be seen here.
Also, the popular English-language Korean news website The Korea Times published an interview that they recently conducted with the members of Girls' Generation. In the interview, Tiffany said, "It is an energetic song, representing girl power — not only Girls' Generation's power, but women overall," when asked about the title track "The Boys". Regarding the foray into the American market, Taeyeon was quoted as saying, ""It is a significant beginning for Girls' Generation in the U.S., but we do not expect big success at our first attempt. I think it is a good start for us and for K-pop." The entire interview by The Korea Times can be read here.
Interscope Records has also made a strong push to publicize Girls' Generation. First, on their Twitter account, they tweeted about the iTunes release of "The Boys" single in the United States, and they also changed their background image to the cover image of "The Boys".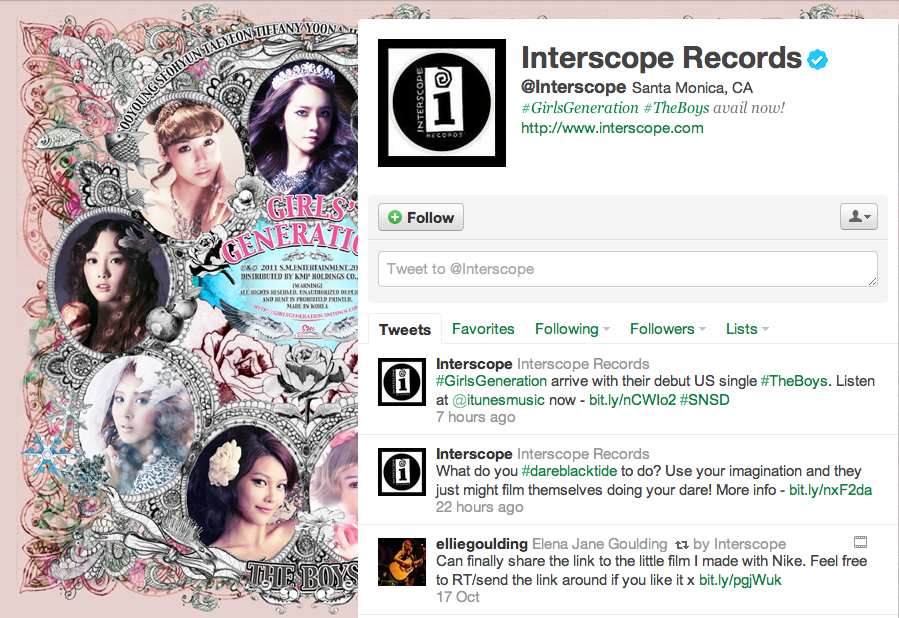 Finally, the iTunes release of "The Boys" American single made a strong impact, as they broke the top 100 overall songs list and reached (at the time that this article is being written) the #74 spot on that list and the #32 spot on the Pop chart.. The success of the American release coincided with "The Boys" appearing on popular TV host and radio personality Ryan Seacrest's website and the all-kill that "The Boys" achieved in Korea.
Source: Marketwatch.com, The Korea Times, Interscope@Twitter
Written by: michaelroni@soshified.com
Have a news item that you think Soshified should know about? E-mail us at tip@soshified.com.
Follow us on Twitter: http://twitter.com/soshified for the latest on Girls' Generation.