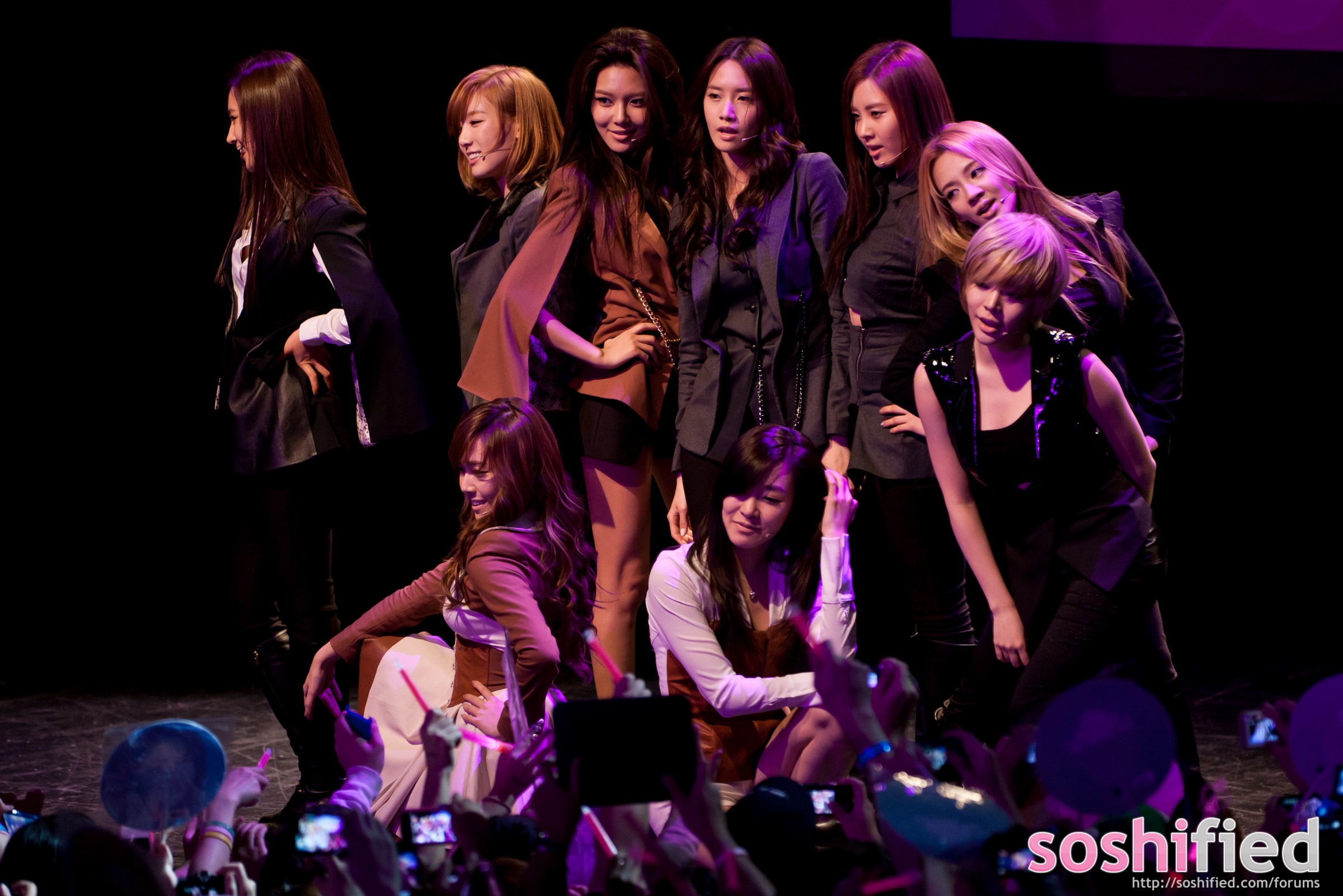 Girls' Generation has arrived in America. On October 22nd through the 24th, the nine members of Girls' Generation descended on New York City to make it known to everyone in The Big Apple: right now, it's Girls' Generation. Not only did the girls give a memorable show at SMTOWN LIVE in NEW YORK, including the first ever live performance of "The Boys" in English, they were gracious enough to give close to 1,000 Soshified members a priceless gift with a personal fan meeting. Soshified organized an incredible experience for SONEs with the First U.S. Fan Meeting at the Best Buy Theater in addition to a day's worth of events where SONEs and Girls' Generation took over Times Square. It was an experience Girls' Generation and SONEs will never forget.
The Girls Arrive at JFK International Airport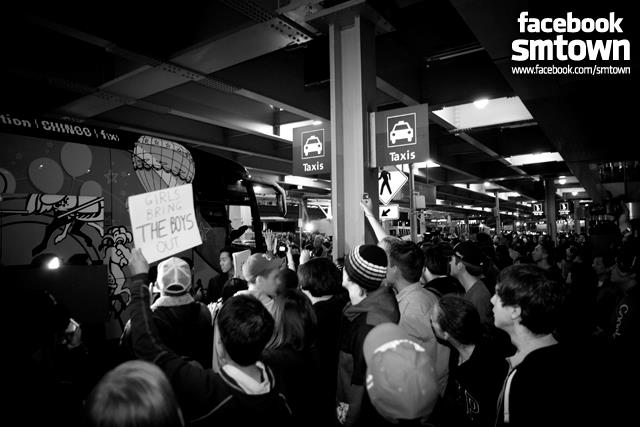 SONEs cheer for the arrival of Girls' Generation
Hundreds of fans made the trip out to JFK International Airport to greet Girls' Generation as they arrived from Korea. We all started lining up at the international terminal hours before the girls' flight arrived. Korean media was there filming us holding fan signs and cheering. The atmosphere was very happy and excited as we all eagerly awaited the arrival of the nine members, showing off "The Boys" music video to security guards and airport staff. The girls arrived and were spotted exiting the terminal at another exit, and it was a mad dash outside to the waiting SMTOWN bus as everyone sprinted outside to catch a glimpse of Girls' Generation. The cheering outside at the bus was absolutely deafening with SONEs screaming each member's name as they passed by and climbed onto the bus. Lots of signs were held up, and fan chants broke out once the girls were all on the bus. "SO NYUH SHI DAE" and "BRING THE GIRLS OUT" echoed throughout the area.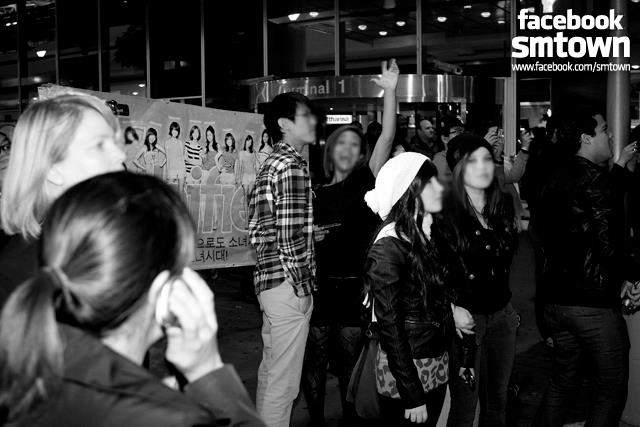 Soshified shows support with a massive banner
A few Soshified members held up the huge Soshified Banner in front of the bus for the girls to see, and after the bus left, Korean media began interviewing people. It was a whirlwind at JFK, kind of chaotic, but we showed our support for Girls' Generation and welcomed them with loud cheers. If the girls didn't know they had a lot of international fans before, they definitely knew it by now. Welcome to America, Girls' Generation!
SMTOWN LIVE in NEW YORK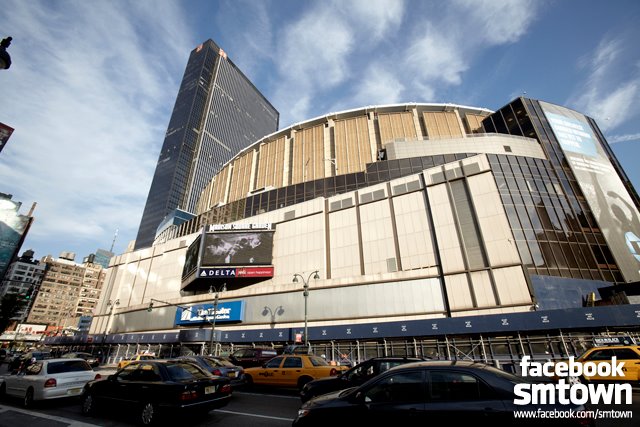 This entire block was filled with fans waiting to get into MSG and see Girls' Generation and other SM artists
Madison Square Garden, home of the New York Knicks, arena where legends have performed, the most prestigious concert venue in the United States, now adds SMTOWN to its storied history. On October 23rd, SMTOWN artists played to a sold out crowd at Madison Square Garden in New York City in a performance that can best be described by Tiffany's new favorite word, "Epic". Fans began lining up for general admission around 6am for the 7pm concert. Everyone wanted to be as close as possible to see their favorite idols.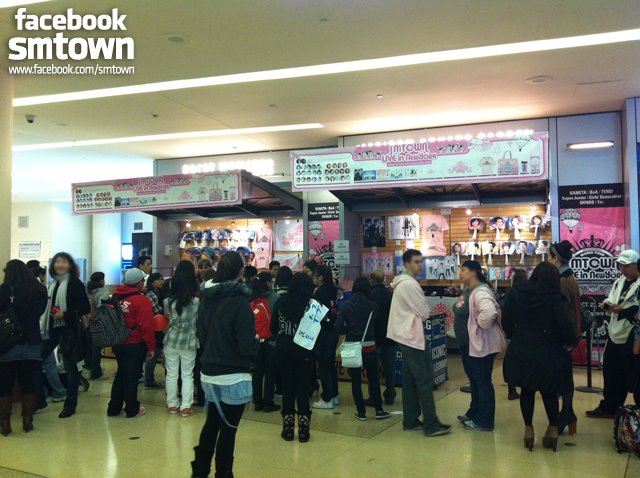 Fans purchase posters, shirts, and fans to support their favorite artists
Lines started forming to purchase concert merchandise around 2pm, and eventually the two lines stretched all the way out to the street. Korean media started appearing as it got closer to showtime and got everyone in line excited and cheering as they filmed the massive line of people waiting to enter the arena. After the arena was packed, anticipation for the concert was extremely high, and when the lights dimmed and the SMTOWN intro video started playing, the Garden erupted. The first performance featuring a Girls' Generation member was "Tik Tok" by the Jung sisters, Jessica and Krystal.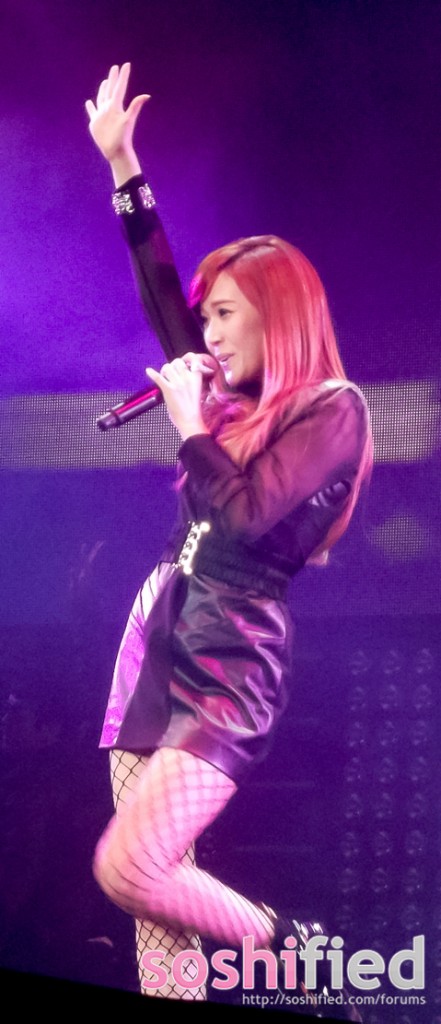 Jessica rocks out to "Tik Tok"
Jessica and Krystal gave a fun performance, and there was an adorable moment where Jessica was kneeling in front of Krystal. She couldn't contain herself and burst into laughter for a second. The Jung sisters looked like they were having such a great time performing with each other. Seohyun was up next for Girls' Generation, singing the duet "Way Back Into Love" with Super Junior's Kyuhyun. The two started at opposite ends of the main stage and made their way down the walkway to the center stage. Seohyun's beauty really stood out in her white dress. At the end of the song she and Kyuhyun held hands and Seohyun rested her head on his shoulder. This caused a massive cheer from the crowd.
The rest of the girls joined Seohyun soon after that, when Girls' Generation performed "Run Devil Run", "Kissing You", and "Oh!". After performing "Run Devil Run", each member introduced themselves. However something was different this time around. Each and every member spoke in English! It was very surprising and heartwarming that they would prepare English introductions for us. Seohyun was especially cute as she stumbled trying to remember the word "here", but she got through it with a little help from Tiffany, who encouraged the audience to applaud Seohyun because she worked really hard to practice her English. Afterwards, the girls ran all over giving fan service during "Kissing You" as they made their way to the center stage for "Oh!".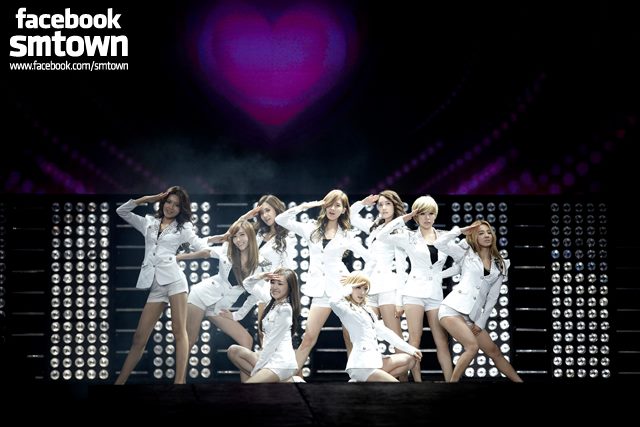 Girls' Generation wows with "Genie"
Girls' Generation came out a few songs later for "HaHaHa Song" and "Himnae". The girls are the queens of fan service, and these two songs were no exception. I was wearing my t-shirt from the Soshified Field Trip to Seoul and waving our Soshified "Global Generation" towel as the girls passed by me at the front. Sooyoung clearly noticed it and pointed at me, nodded and smiled. As expected, she really loves international SONEs and never misses an opportunity to show her appreciation. Also, a tip if you ever go to a concert with Girls' Generation: They love SPAO birthday hats. I was wearing Sunny's and she most definitely noticed. At the part in "Himnae" where the lyric is "Yes it's you~", I pointed at Sunny with my lightstick and she pointed right back at me.
The next song for Girls' Generation was "Genie". This version was the remix including Tiffany's rap section in the middle. The girls emerged from the center stage in a pyramid formation and stunned the crowd with their legs and crisp singing and dancing. Following a short break, they came back out on the main stage in black and white outfits to perform "Hoot", and soon after, one of the highlights of the entire concert.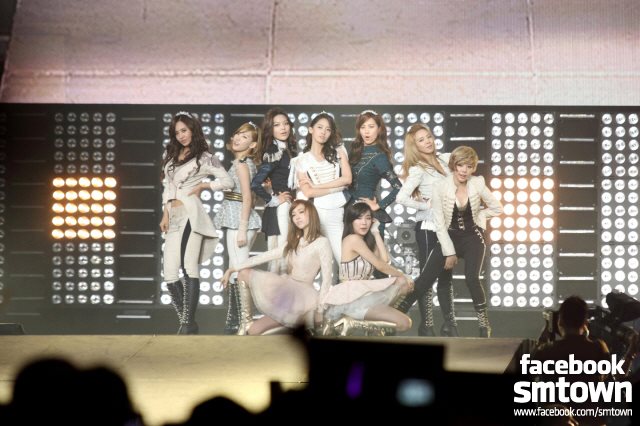 Girls bring the boys out!
Girls' Generation came out in unique outfits for each member and, for the first time ever, performed the English version of "The Boys" live. The fanchants were incredibly loud, and everyone was singing along. The girls made their mark with this song. It was a very powerful performance, and by the end, everyone in Madison Square Garden was cheering as loud as they could. It was one of the strongest performances of any group of the night. Girls' Generation came into New York and performed their first English single, completely dominating the stage like they owned the entire city.
After that it was Hyoyeon's time to shine, as she came out to start the Dance Break. She was joined later by Sooyoung, Yoona, and Yuri, in addition to members from other groups. They showed off their superior dancing skills, and ended the break dancing to the Michael Jackson's "Jam". The girls came back out later for one last solo performance when they performed their hit song "Gee" dressed in their famous white shirts and jeans, and of course, the fanchants were deafening. There's nothing quite like hearing an entire arena of people shouting "GEE GEE GEE GEE GEE" in unison.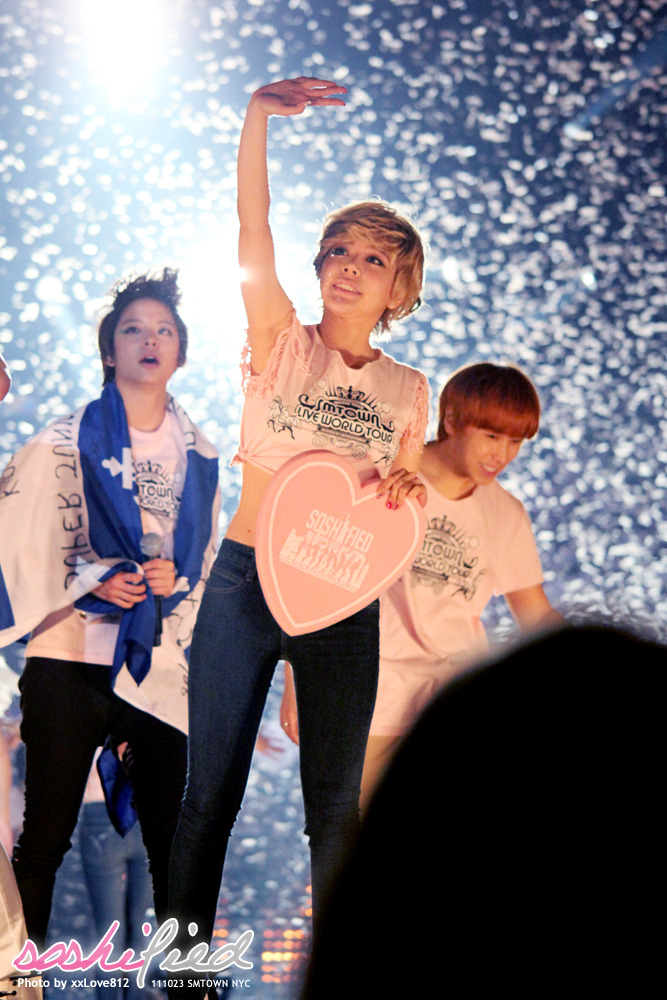 Sunny with Soshified's special New York heart
The concert ended with SMTOWN's "Hope". Everyone knows Taeyeon loves her dukongi, her stuffed peas, and the fans in New York tossed a few on stage for her. Taeyeon picked them up and was playing with them along with the other members. Seohyun was waving one around, and Tiffany and Taeyeon were playfully pretending to eat them. It seems to be a tradition now that Girls' Generation receive a Soshified foam heart at their concerts. On this occasion, I was lucky enough to be the one to give the heart to Sunny. While all of SMTOWN was singing the final song, Sunny and Tiffany came by me, and Sunny waved at me as I was reaching out with the heart. I motioned to her that I could throw it if she wanted the heart and she nodded and reached for it, so I tossed it up on stage lightly and she picked it up. At one point she was playing with Hyoyeon with the heart. The girls always make an effort to show their love and support for SONEs. Girls' Generation, along with their SM label-mates, put on one amazing show and rocked the Garden.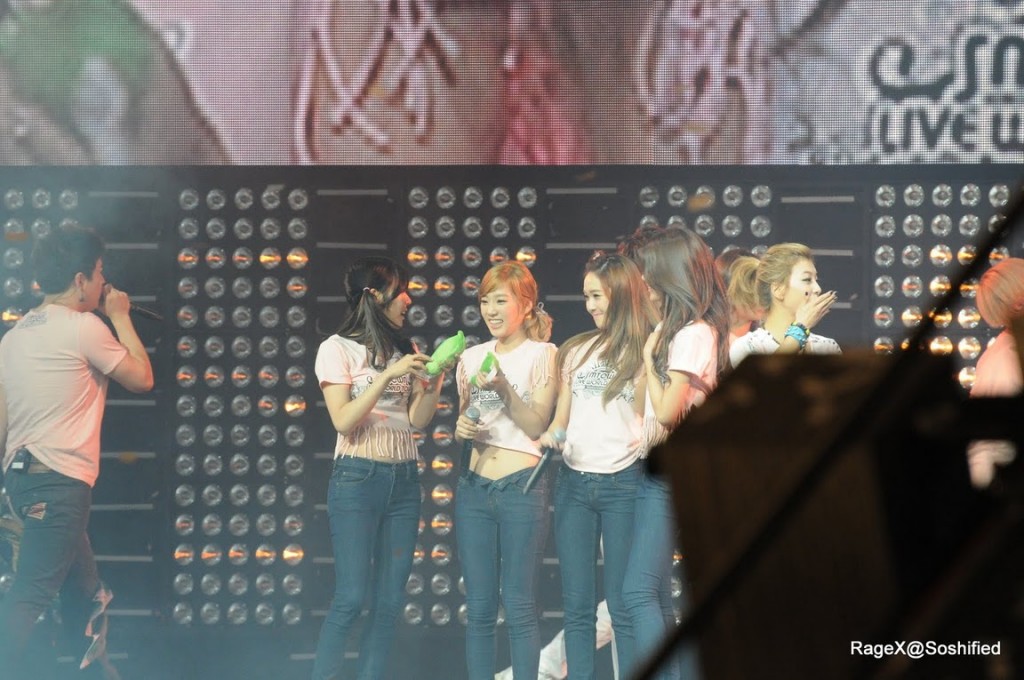 The girls playing with the dukongs
Girls' Generation and SONEs Take Over Times Square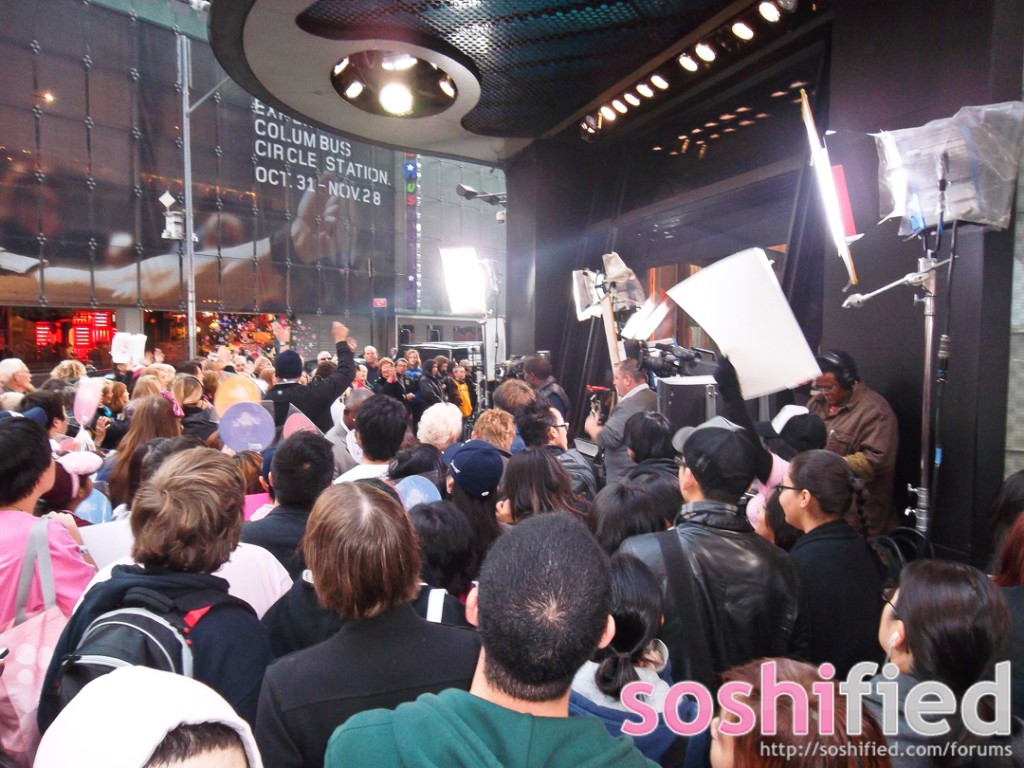 Fans gather at Good Morning America
On Monday October 24th, Soshified planned a day of events in Times Square that let everybody know that Girls' Generation was in town.  The fans who arrived earliest were awarded with 50 "The Boys" albums autographed by the girls themselves. Showing off their dedication, they actually camped out over night to ensure they were there before anyone else! Early in the morning, SONEs made their way to the set of Good Morning America where there is an outside section that gets filmed, along with being visible through the studio's windows. It was a sea of pink and Girls' Generation fan signs with cheers for the girls filling up the area for two hours.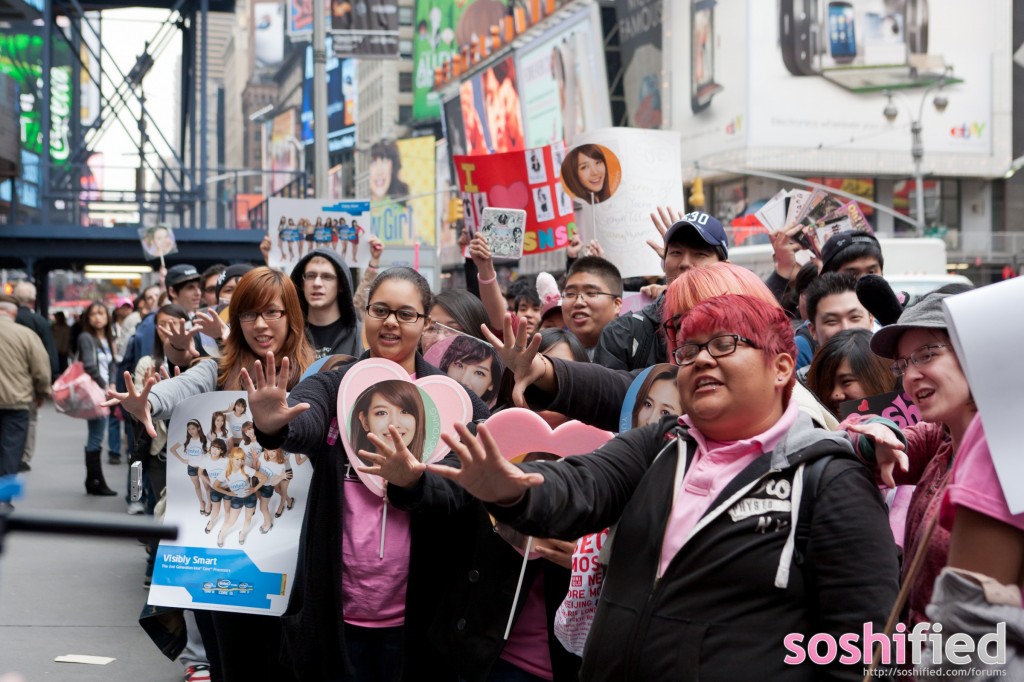 Fans wait in line for Girls' Generation. The line wrapped completely around the block
The First U.S. Fan Meeting wasn't scheduled to start until 4:30pm, but that didn't stop SONEs from lining up at 9am right after Good Morning America ended. Everyone wanted to be the first inside to see the girls up close. The line that ended up forming went out to 7th avenue from the Best Buy Theater, then all the way down the block and down the next street. It was incredible to see just how many fans came out to cheer on Girls' Generation.
During the waiting time until the next event started, Girls' Generation's interview with MTV Iggy, an interesting encounter happened for a few of us, as we decided to go eat some lunch and bring some food back for others waiting in line. We walked down Times Square and turned a corner to see an SMTOWN bus right in front of us. We had just accidentally stumbled on the W Hotel, where all the SM artists, including Girls' Generation, were staying. We were extremely lucky enough to greet the girls as they entered their vans to head to the MTV studios. They were very bright and cheerful as they waved back to us. Some of us had gifts that we had been carrying around on the off chance we could actually give them to the girls. Tiffany was kind enough to reach out and take my gift(which included yet another dukong for Taeyeon to play with), Yuri took a Minnie Mouse dressed as the Statue of Liberty, and they received a box of drawings of all their teaser images from "The Boys". Taeyeon started playfully waving the dukong around, and the girls immediately started looking at the drawings. Needless to say, we were all blown away by the kindness and big hearts that Girls' Generation members have.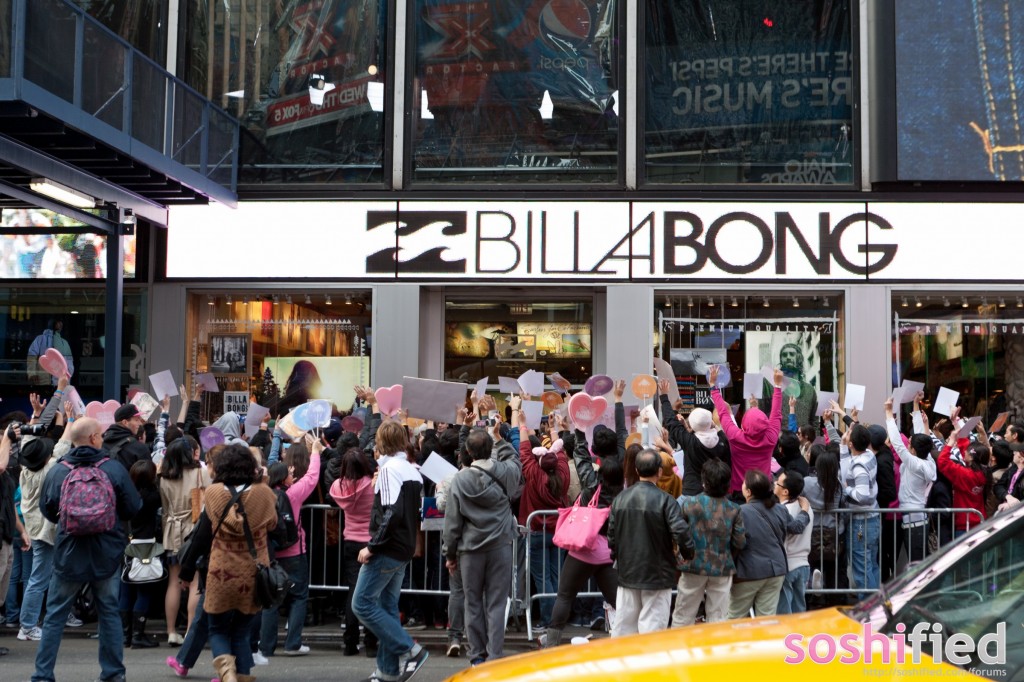 A large crowd gathers outside MTV Studios to cheer for Girls' Generation
By the time Girls' Generation was in the studio getting ready for their interview, Times Square was completely overrun by SONEs clad in pink and waving hearts and signs around. Both sides of the street were filled with fans waving up at the MTV studios as we watched the girls give their interview on a huge screen.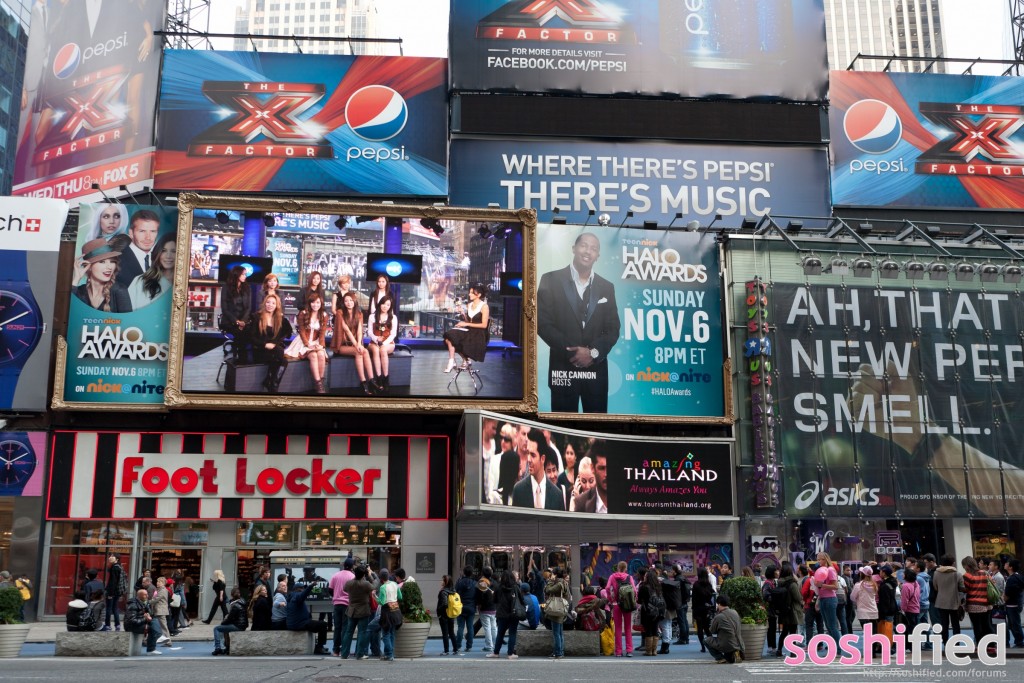 Everyone in Times Square could see Girls' Generation
Throughout the interview, fans in the street were cheering for each of the members. Bystanders who had no idea what was going on stopped to ask questions and film the experience. Everyone was more than happy to answer their questions and explained who Girls' Generation was and why they should check them out. Though there was no audio for the interview out in Times Square, the girls looked back a few times to see their fans cheering for them. While in the studio, Girls' Generation sat down with MTV News to talk about their experiences in New York and filming for their music video. They shared some funny behind the scenes stories, like one involving the dove and Sunny, so be sure to check out the interviews
here
and
here
.
The First U.S. Fan Meeting With Girls' Generation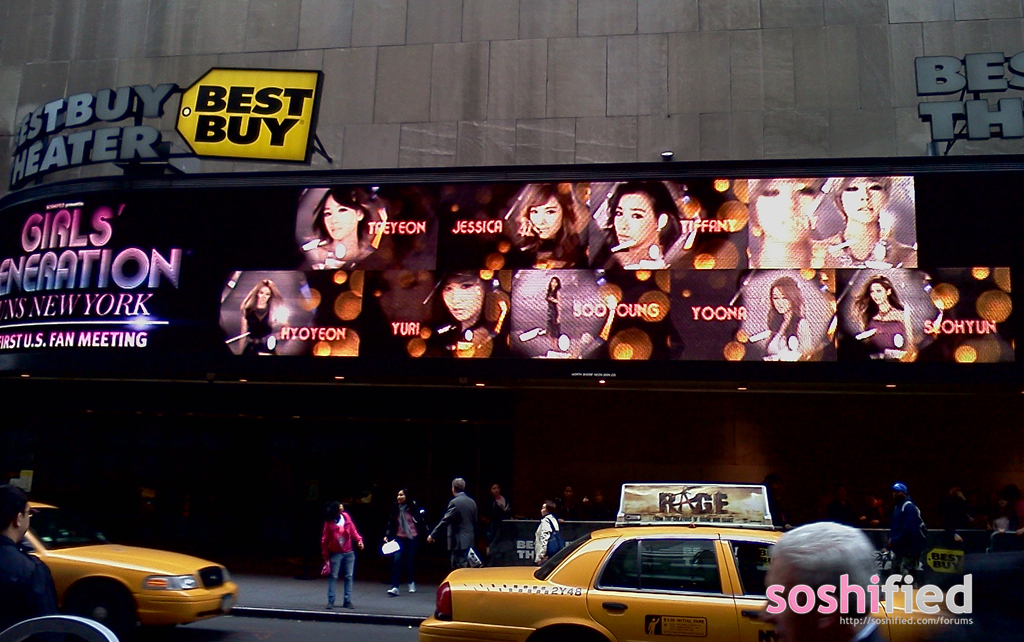 The marquis outside the Best Buy Theater in Times Square
Close to 1,000 fans packed the Best Buy theater with pink hearts, pink shirts, amazing fan signs, and a ton of energy for Girls' Generation Runs New York: The First U.S. Fan Meeting. The atmosphere was electric when the music video for "Into The New World" began playing on the big screen, and everyone started singing along, showing how dedicated they are to Girls' Generation by memorizing the Korean lyrics to the iconic song. After watching and fanchanting to more music videos, Hyoyeonce@soshified, the MC for the event, came out and got everyone excited to see Girls' Generation. Everyone was chanting "SO NYUH SHI DAE" and "GIRLS' GENERATION", and the curtain separated to reveal the 9 members on stage. They burst right into a performance of "The Boys".
Girls' Generation performs "The Boys" at The First U.S. Fan Meeting
It really shows much Girls' Generation appreciates their fans that even though they were exhausted from a packed schedule and performing at Madison Square Garden the night before, they would still perform for us. Taeyeon was sick and Yoona was exhausted, but they pushed through it all just for SONEs. Yoona even injured her ankle while performing but still kept going. After the performance, the girls came back onto the stage, with Yoona trailing behind as she had her ankle checked out, to sit down and have a chat about what it means to be an international SONE.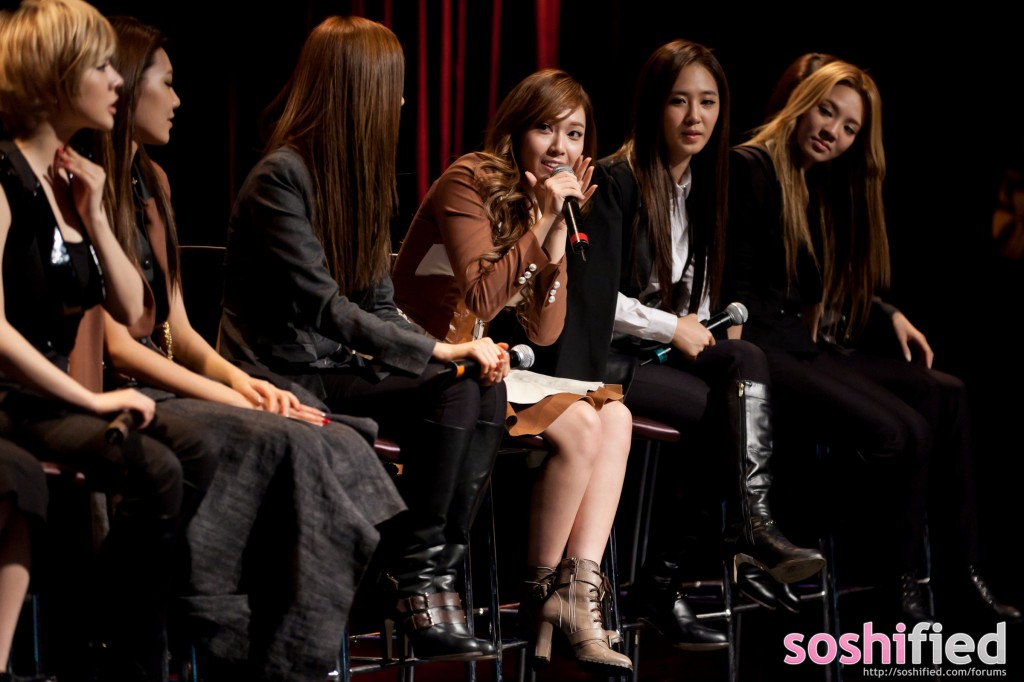 Girls' Generation sits down to meet with fans
Dongie@soshified translated as the girls talked about international fans, saying "Their favorite number is 9", "They are trying hard to learn Korean", and that "They are more interested in Korean culture." There was a cute moment when Jessica's mic wasn't working and she said "Stress!" which drew laughter and applause from everyone.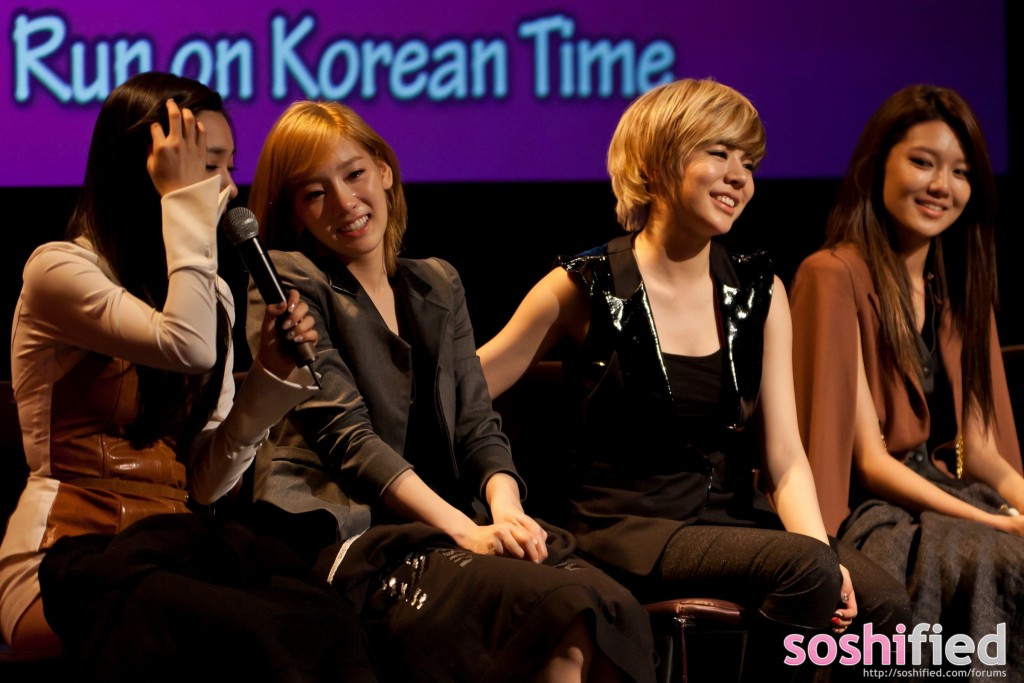 Taeyeon can't hold back her tears
After the girls gave their answers for being an international SONE, it was the MC's turn to talk about everything we do for the girls. International SONEs have the distinct disadvantage of not actually living in the Korean time zone, so we all have to stay up to ungodly hours to watch the girls' performances live. Tiffany said "I think it's harder to be a SONE than a SNSD member", and Taeyeon became overwhelmed and started to cry. It was such a touching moment to see the bond between Girls' Generation and SONE. They sincerely appreciate and love their fans and everything we try to do for them in return for everything they give us.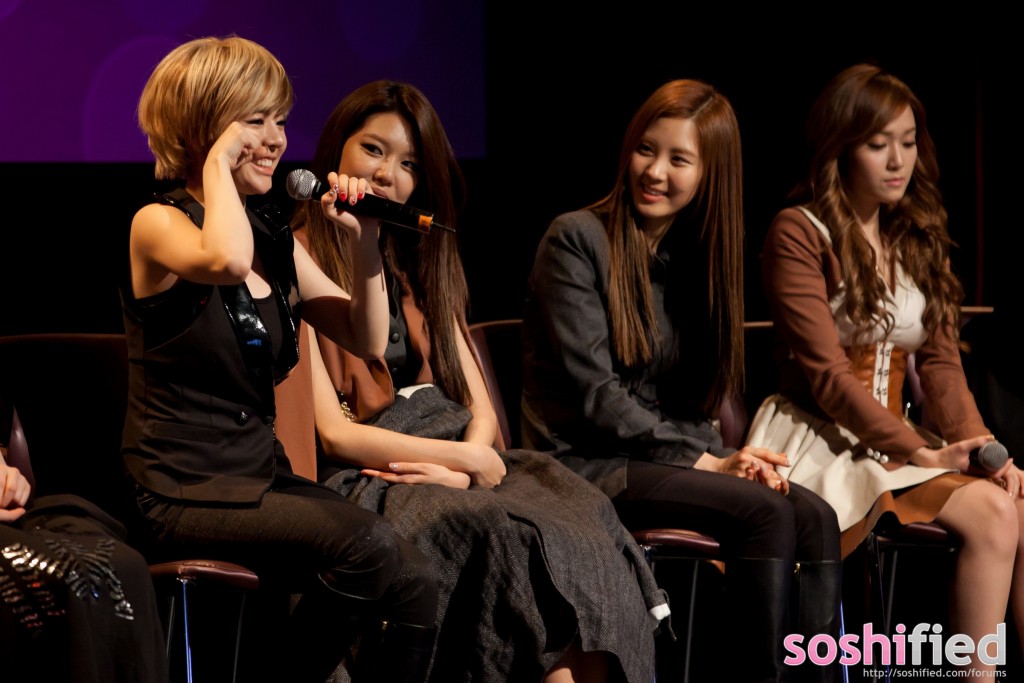 Bbuing bbuing! Sunny shows off her aegyo. Jessica loves it
The girls also took turns showcasing some of their qualities that fans love about them. Yuri spoke in her awesome English saying, "I love you so much." Hyoyeon burned up the dance floor with her trademark dancing skills. Yoona brightened everyone's day with her alligator laugh. Jessica sang "Almost" from their solo concert a capella which was beautiful, but then her cuteness took over as she hilariously trailed off at the end when she stopped singing, making the audience laugh. Seohyun, ever the source of life advice, told us all to "Please fasten your seatbelt." The members were surprised to know that we all knew about Cristina from Sooyoung's hysterical impression of her. When Sooyoung broke into Cristina's voice the entire place was laughing. Even though Sunny has been killing fanboys and fangirls alike with her sexy new look, she still hasn't lost her cute charms. She made Yuri get up and try to punch her when she did her "cuteness that calls for a punch". Of course, Tiffany's world famous eye-smiles melted some hearts in the crowd.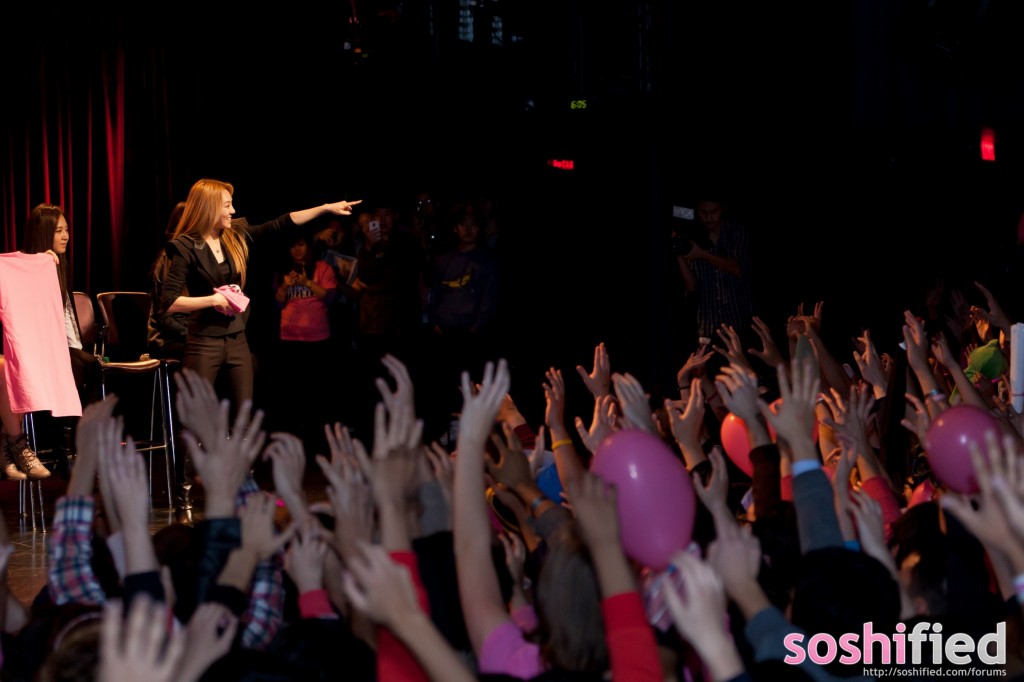 Hyoyeon throws her signed shirt into the crowd
The girls all signed Soshified t-shirts and threw them into the crowd. Tiffany implored everyone not to fight over them. They also picked out their favorite fan signs, and the winners received signed copies of "The Boys" album.
All the girls gave one last talk and thanked the fans for everything. Sooyoung surprised everyone by speaking in fluent English. As Girls' Generation left, there was thunderous applause and cheering as people shouted out to them. The girls all waved and made hearts to people as they walked off the stage. Right after the fan meeting, the girls sat down with Soshified for an exclusive interview.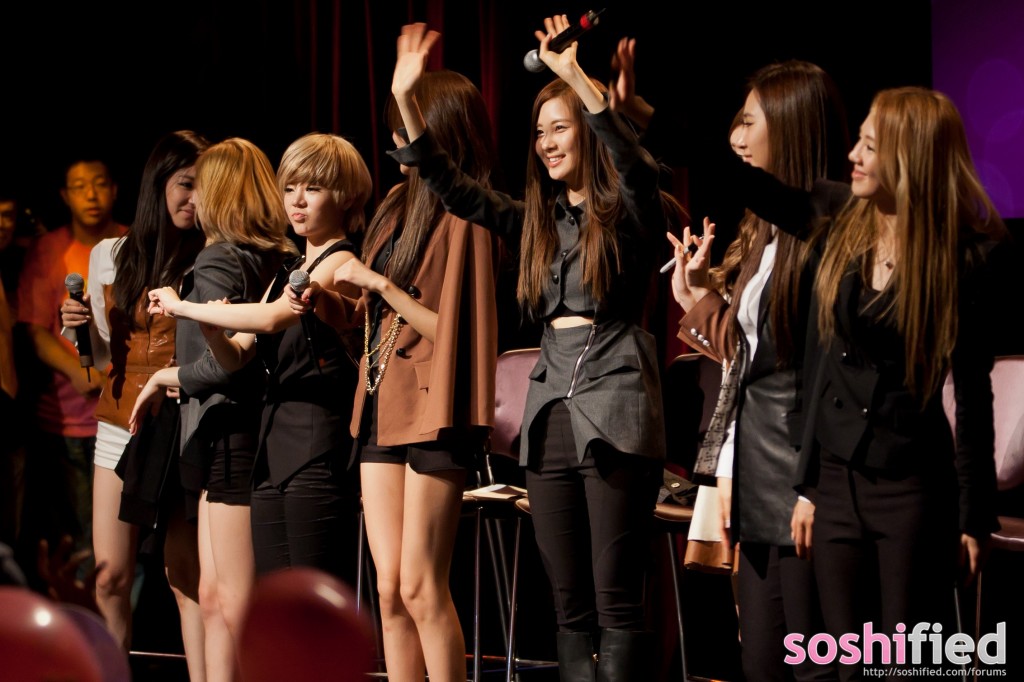 The girls wave goodbye
Final Thoughts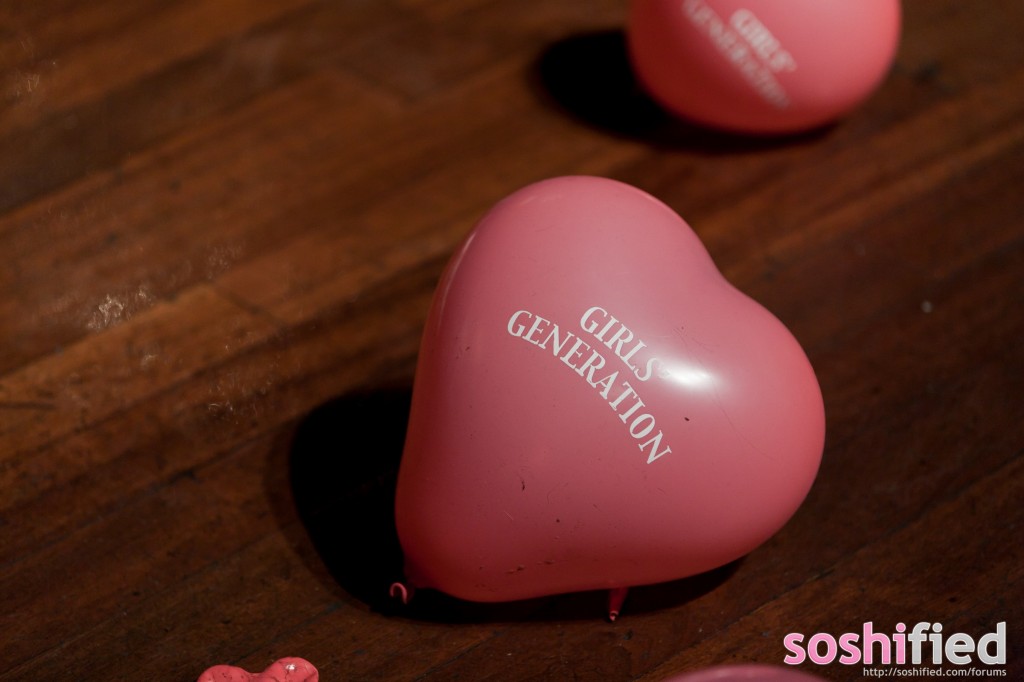 The weekend in New York felt like only a few hours now that I look back on it. From greeting the girls at the airport, the incredible concert, personally handing gifts to Tiffany, to the utter SONE domination of Times Square and the epic fan meeting, the entire experience left a lasting impression I will never forget. I went to see the girls on the Soshified Field Trip to Seoul, and I never thought something could top that. Meeting SONEs from around the world and seeing Girls' Generation live was incredible, but SMTOWN LIVE in NEW YORK and Girls Generation Runs New York actually trump everything. SONEs that met thousands of miles away and months ago in Seoul reunited in their home country and became even closer. Girls' Generation got to meet their international fans up close for the first time. Not only did the bond between SONEs grow, but the bond between SONE and Girls' Generation grew as well. We all knew the girls were exhausted, but that didn't stop them. They were determined to show SONEs that they care just as much, if not more, about us as we do about them. The image of Taeyeon crying as she hears SONEs' dedication and Sunny helping her wipe her tears is something I will never forget. Personally, I had such amazing experiences between myself and Girls' Generation members(especially Sunny!), and I was so proud to see them achieve a dream in Madison Square Garden. SONEs and Girls' Generation definitely support each other, and the concert and fan meeting was proof of that.
Special thanks to Soshified and the staff and volunteers for all their hard work organizing a truly memorable experience. I am sure that Girls' Generation flew away from New York feeling a sense of fulfillment seeing first hand how far they reach and how many people's lives they touch.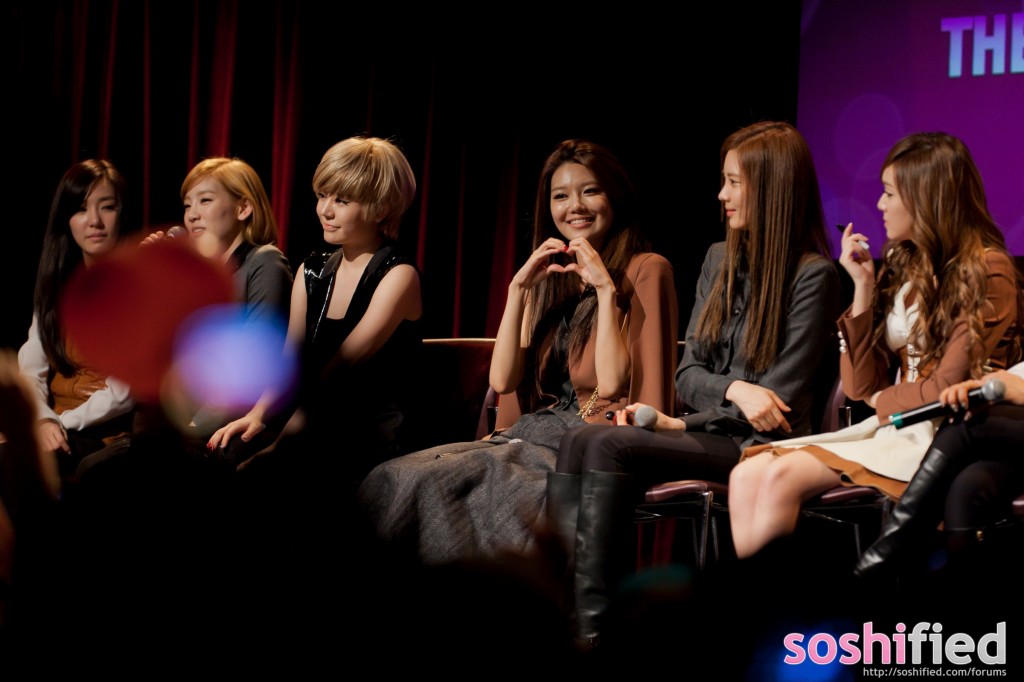 Sooyoung shows some love with a heart
For more pictures of The First U.S. Fan Meeting, head over to the gallery, and for some more personal stories, check out Jadefalcon's and Akino_Makoto's fan accounts, and the other stories from the weekend in the fan account section.
Photos by: MoonSoshi9@soshified.com, xxLove812@soshified.com, RageX@soshified.com, Cal Ng, SMTOWN
Article Sources: MTV, MTV
Video Sources: SMTOWN@youtube.com, SoshifiedPD@youtube.com, devak168@youtube.com, HollanderSSF@youtube.com
Written by: MoonSoshi9@soshified.com
Have a news item that you think Soshified should know about? E-mail us at tip@soshified.com.
Follow us on Twitter: http://twitter.com/soshified for the latest on Girls' Generation.