Videos
 1. Girls' Generation on Russian Television
It really is becoming a Global Generation.  MTV in Russia featured Girls' Generation in one of their television shows this week.  Clips from the "Gee" music video are shown as well as footage from their live tour.  Hallyu is expanding rapidly, and it seems these nine girls are leading the charge.  Soon Girls' Generation will be a household name around the world.
2. Teaser for KBS show "Big Brothers" Featuring Girls' Generation
As previously reported, Girls' Generation members Taeyeon, Tiffany, Yuri and Seohyun will appear on the new KBS show "Big Brothers".  A teaser video was released showing clips from the show.  It looks like the interview will be quite deep and meaningful with Seohyun even shedding tears at one point.  Look forward to the broadcast on September 21st.
Endorsements
1. New e-ma Product with Girls' Generation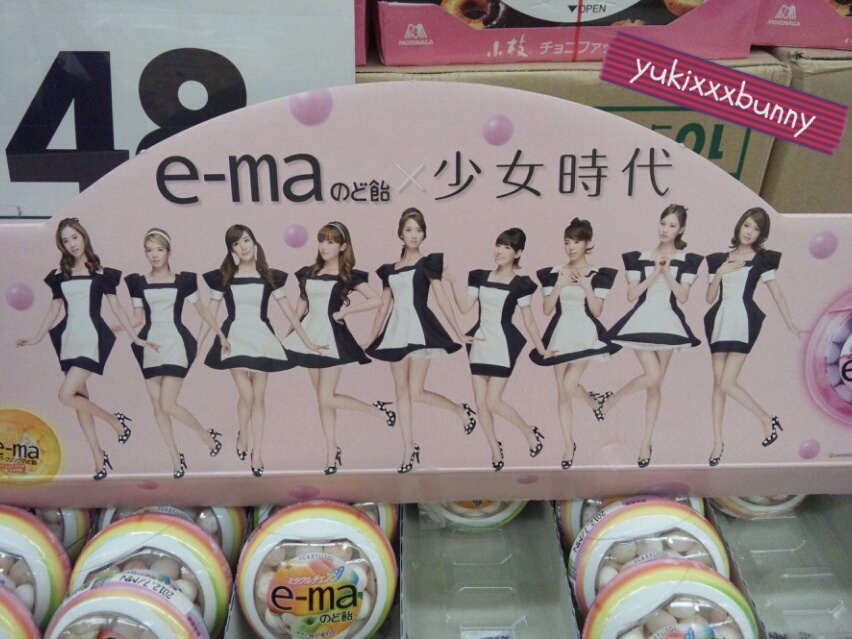 A new e-ma throat candy product, "Miracle Change", has been released in Japan and includes Girls' Generation in its displays.  The girls look cute in black and white mini dresses on the display.  The new e-ma candies will surely fly off the shelves with that kind of advertising.
2. New Goobne Chicken Posters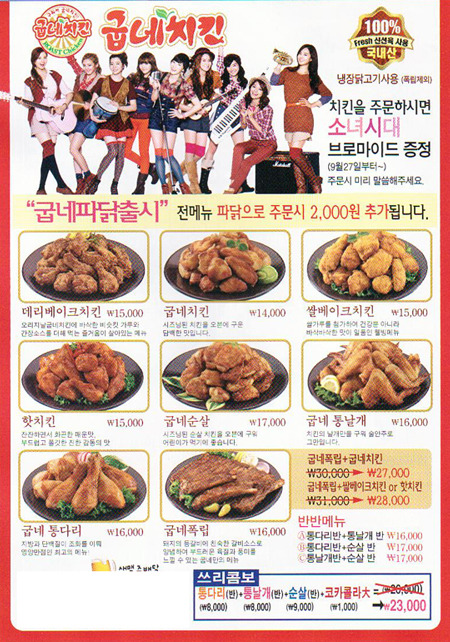 Starting September 27th, Goobne Chicken will be offering new posters featuring Girls' Generation as a free gift.  The posters bring back memories of the "Girls' Generation" music video as they feature the girls in a cute rock band concept.  Seohyun's now instantly recognizable pink guitar even makes an appearance to complete the look.  The girls have proven to be a great model for Goobne Chicken, and these posters will surely help continue that success.
Others
1. Yoona's Genie Outift Auctioned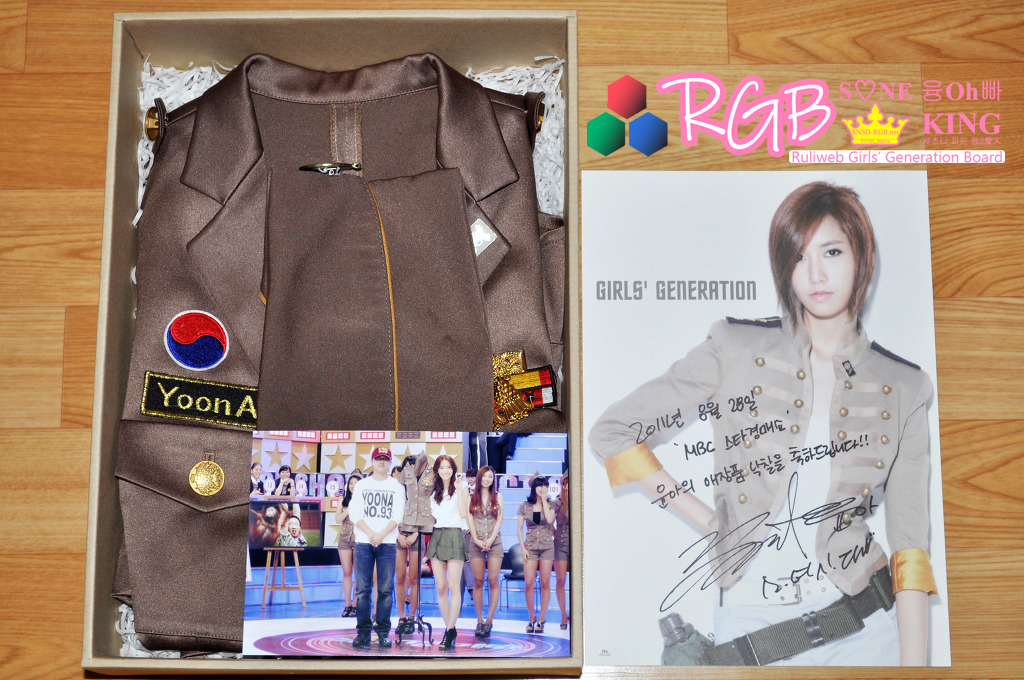 This week Yoona appeared on the show "Star Auction Show" and offered a one of a kind item to auction for charity.  The winning bidder received Yoona's outfit that she wore in the "Genie" music video for 6.7 million won, or roughly $6,200 USD.  In addition to the "Genie" outfit, Yoona was kind enough to autograph a picture for the winner.
2. Sunny Skillfully Handles Dating Question on Strong Heart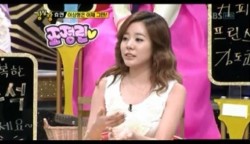 On this week's episode of the SBS show "Strong Heart", MC Kang Ho Dong directed a question at Sunny asking how many Girls' Generation members are currently dating.  Sunny artfully responded, "Rather than dating….just…it could be one sided love…it's under half."  Then the MC asks Seohyun which of the members she thinks will be first to marry, to which she replied Hyoyeon, Jessica, and Sunny.  This prompted Kang Ho Dong to say, "Then these three are dating right now."  Sunny handled the subject with ease, showing off her quick wit and variety show skills to give the audience a laugh.  Thanks to 오이사랑싴@soshified.com for the translation.
3. SMTown Live World Tour Photo Book To Be Released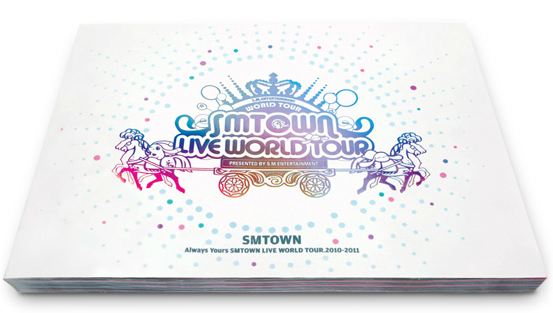 SM Entertainment will be releasing a photo book from its SMTown Live World Tour in late October.  The book will have 288 pictures of all the various artists that attended the concerts like Girls' Generation, Super Junior, BoA and more.  The book will retail for roughly $70 USD.  Pre-orders are being taken here.
4. Girls' Generation to Perform at Korea Grand Prix K-Pop Concert
These days the girls seem to be everywhere.  In an already busy October filled with performances around Korea and traveling to New York City for SM Town Live in New York, Girls' Generation will be performing at the Korea Grand Prix K-Pop Concert on October 15th.  The girls will join other groups Super Junior, T-ara, Rainbow, Davichi, and FT Island.
New Sets of Pictures
Vita500- Taeyeon, Taeyeon2, Jessica, Jessica2, Jessica3, Sunny, Sunny2,  Tiffany, Tiffany2, Hyoyeon, Hyoyeon2, Hyoyeon3, Yuri, Yuri2, Sooyoung, Sooyoung2, Yoona, Yoona2, Seohyun, Seohyun2, Seohyun3
Eider – Yoona, Yoona2, Yoona3, Yoona4, Yoona5, Yoona6, Yoona7, Yoona8
SONE Picture/Video of the Week
This week's SONEs of the week are the guys of Boyz Generation, a group of SONEs out of Indonesia.  For their latest cover they pulled off a killer rock remix of "Let it Rain" from Girls' Generation's First Japan Album.  Their arrangement gives the song a totally different feel with impressive guitar work and vocals throughout.  The flow from the second verse into the bridge and chorus is smooth with great guitar riffs.  The section coming out of the breakdown into the final chorus was especially strong as well.  "Let it Rain" was one of my favorites off the First Japan Album, and these guys definitely put their own spin on it and produced a great rock arrangement.  Check out more of Boyz Generation's covers on their
Youtube channel
.
If you have any pictures or videos you'd like to submit for SONE Picture/Video of the Week, please feel free to do so by sending them to the Soshified Writing Team at tip@soshified.com or posting at the official SONE Picture/Video of the Week thread
Sources: Soshified Photos Section, Yoongislove@twitter.com, yukixxxbunny@twitter.com, 7net shopping, Imchoding@youtube.com, Betanews, Akina95ful@youtube.com, Yurui912@twitter.com, BoyzGenerationJKT@youtube.com
Written by: MoonSoshi9@soshified.com
Graphic by: cioco@soshified.com
Have a news item that you think Soshified should know about? E-mail us at tip@soshified.com.
Follow us on Twitter: http://twitter.com/soshified for the latest on Girls' Generation.