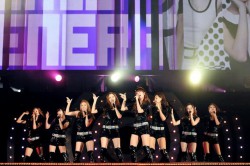 Twelve popular music groups from Korea like Girls' Generation and KARA appeared at Niigata's Tohokuden Big Swan Stadium on August 20 for the "K-POP All-Star Live in Niigata" show. 43,000 fans were excited to attend the first large scale K-Pop festival to be held in this area. With the intention of aiding those affected, victims of the recent earthquake disaster in Japan were invited to the festival.
The nine member group Girls' Generation performed four songs including their hit single "Gee". All of the fans' eyes were glued to the girls' dance that was synchronized down to their breathing. Each time a member's face showed up on the jumbotron, cheers would reverberate around the stadium. Tiffany, Yuri, and Sooyoung were in charge of hosting the show. Sooyoung, who is proficient in Japanese, greeted the fans by saying, "Thank you to everyone who has given Girls' Generation and KARA a lot of love this past year (since debuting)." She also played a big part in translating the other two MCs' Korean speech.
The festival closed with the song "Arirang", where all 62 members who participated in the event gathered together to perform the piece.
At the venue t-shirts and other charity goods were sold. All proceeds and even ticket revenue were set aside to be donated. Also, with thoughts of "becoming the strength of children", around 300 junior high school students who are taking refuge in Niigata from the earthquake were invited to the festival. Prior to the beginning of the festival, everyone gathered to hold a minute of silent prayers for those lost in the disaster.
Girls' Generation's Taeyeon also left a message saying, "I hope even for a little bit that we can give those affected by the disaster a little bit of comfort through our music."
Source: sponichi.co.jp
Translated by: SeraphK@soshified.com
Edited by: michaelroni@soshified.com
Have a news item that you think Soshified should know about? E-mail us at tip@soshified.com.
Follow us on Twitter: http://twitter.com/soshified for the latest on Girls' Generation.