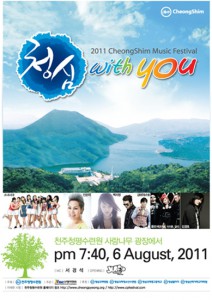 It was recently revealed that Girls' Generation will be one of the artists to attend the 2011 CheongShim Music Festival. The event will be held on August 6th, at 740PM KST and near the Cheongpyeong Training Center. It will also include artists like powerhouse singers Insooni and Baek Jiyoung.
Last year, a 10,000 strong audience attended the festival, and saw great artists like No Brain, Sistar and 2AM. The event has been around since year 2005, and So Gyeongseok will be the host once again after being the MC in 2010.
The 2011 CheongShim Music Festival will be notably held on the day after Girls' Generation's 4th Anniversary. More details will be given when they are released! Stay tuned for updates!
Source: cpfestival
Written by: shizzles9@soshified.com
Have a news item that you think Soshified should know about? E-mail us at tip@soshified.com.
Follow us on Twitter: http://twitter.com/soshified for the latest on Girls' Generation.