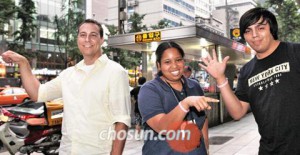 On the 21st of July, 103 *American Girls' Generation fans flew to Seoul together at their own expense to attend the upcoming Girls' Generation's 2nd Tour. These fans met on the **international Girls' Generation forum, Soshified (Soshified.com), and they planned this trip to Korea together. As it is extremely difficult to find seats to attend music program shows, the ever eager group decided to consult the Los Angeles branch of Korean Tourism Organization, and they managed to procure enough seats for themselves. Therefore, not only will they be attending Girls' Generation's 2nd Tour, they will also be watching MBC's "Show! Music Core", and KBS 2TV's "Immortal Song 2".
"I worked part-time at an exchange booth for months so that I could come and watch the Girls' Generation concert. I can't believe I'm going to see Girls' Generation up close…" said Julian Serbantez.
Julian Serbantez is a 21 years-old university student from Chicago, USA, and he is part of a group of 103 Americans who flew half way around the world to Seoul, just to watch their idols, Girls' Generation, perform. His friend, 29 years-old Natasha Wadrington, who is also from Chicago, was present at the interview. Neither of them could contain their excitement when the reporters met with on the 22nd in a café near the City Hall Station in Seoul. When the interview started, Natasha excitedly shared with the reporters, "My iPod is filled with the songs by Girls' Generation. Now, I can actually hear them live!" The other person who was present at the interview, 28 years-old John Toss from New Mexico, also added, "I finally ate real kimchi stew!"
As soon as the 3 youths met the reporters, they started singing praises for K-Pop. Serbantez, who became a K-Pop fan after he listened to Girls' Generation's "Gee" 2 years ago, said, "The cheerful beats are really addictive. Ever since then, I've spent about $5000 USD just on buying albums of K-Pop groups such as f(x) and KARA." Toss, who is a huge fan of Girls' Generation's Taeyeon and Sunny, said, "The feeling that we get from American singers is very distant. But because of reality shows such as 'Invincible Youth' and 'Running Man', I feel that it is much easier to connect with Korean singers because they seem so much more like regular humans."
The 3 youths continued on by naming Korean idol groups such as T-Ara and Big Bang one after another, while occasionally using Korean words such as "It's okay" and "a little bit" during the conversation. They mentioned that ever since they've become interested in Korean idols, they've also taken an interest towards the Korean culture. Serbantez says that he has been learning Korean for a year, and Wadrington said that she learned about the Korean culture through her roommate back at home, and has also been self-teaching Korean through a mobile application.
These fans even cook and eat authentic Korean food. Toss, who is from a place where Asian immigrants are not very common, said, "There are no Korean restaurants, so I looked up the recipe for kimchi on the internet, and made it myself a few months ago." Serbantez says that he goes to Koreatown in Chicago to buy steamed buns, red-bean buns, bibimbap, and other Korean foods.
The 3 of them have only ever dreamed of visiting Korea, and this is their first time in Seoul. As such, they excitedly told the reporters that, "We can't believe we're able to experience the Korean culture and food that we've only been able to see on shows." When the reporters asked them if they had any particular wishes, they said, "We are going to get the autographs of the members of Girls' Generation at this Sunday's concert, no matter what."
*Not all the people out of the 103 people are Americans. Only majority of them are.
**The newspaper described Soshified as an American fansite but Soshified is rightfully an International fansite.
Credits: Source: www.news.chosun.com
Written by: gayqueenful@soshified.com
Translated by: taengbear@soshified.com
Have a news item that you think Soshified should know about? E-mail us at tip@soshified.com.
Follow us on Twitter: http://twitter.com/soshified for the latest on Girls' Generation.