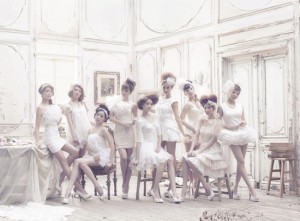 Girls' Generation's sales and concert revenues in Japan have amounted to 450 billion after just 50 days.
Girls' Generation has just ended their first Japan Arena Tour on the 18th at the Marine Messe, Fukuoka. The girls performed for 14 concerts in 6 different cities across Japan. The tour started on May 31 at the Osaka-jo Hall, Osaka and continued at the Saitama Super Arena in Saitama, before stopping by cities like Tokyo, Hiroshima, and Nagoya. They finally performed their last concert for their Arena Tour in Fukuoka. Each concert had an average of 10,000 people in the audience.
The price of the tickets cost 9,300 yen each (approximately 125,000 won). A total of 14,000 people purchased the tickets, adding it up to about 17.5 billion won. Along with the concert goods, the number totals up to at least 200 billion won.
Only a day after the tour started, Girls' Generation released their first full Japanese album "Girls' Generation", which sold more than 500,000 copies in less than a month, certifying it as "Double Platinum" by Japan's Association of Recording Industries. According to SM Entertainment, the album sales have recently surpassed the 600,000 mark.
The Deluxe First Press Limited Edition version of the album costs 6,990 yen each (approx. 94,000 won). The Limited Edition version costs 3,990 yen each (approx. 53,000 won), which the regular edition costs the lowest at 3000 yen per album By roughly calculating these numbers and adding them up to match the sum of the 600,000 copies sold, Girls' Generation's revenue for their album sales alone amount to at least 250,000 billion won.
The exact revenue for the past 50 days cannot be determined based only on the predictions above. There were more than 450,000 ticket applicants, and there were men and women of all ages marching into the concert venues, thus assuring more sales for the concert goods.
Meanwhile, Girls' Generation will start off their second solo concert, "2011 GIRLS' GENERATION TOUR" on July 23-24 at the Seoul Olympic Stadium, Korea.
Source: Metro Seoul
Written by: spiceshoe@soshified.com
Contributor: shizzles9@soshified.com
Have a news item that you think Soshified should know about? E-mail us at tip@soshified.com.
Follow us on Twitter: http://twitter.com/soshified for the latest on Girls' Generation.