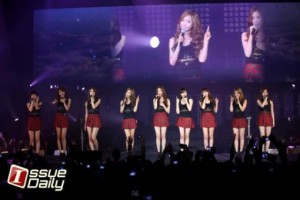 Girls' Generation's "maknae" Seohyun's "Paris Diary" column is coming to an end. Netizens who visited Issue Daily did not hesitate to compliment Seohyun's writing skills and sincerely gave positive feedback for her great relationship with Issue Daily. Seohyun's personal feelings about the SMTOWN concert in Paris were recorded on her "Paris Diary" in order to preserve her feelings forever. Issue Daily did nothing more than fixing a few things here and there. The pictures were also taken by Seohyun herself, or by asking a few passers-by.
Through this column, fans were able to realize that the nine girls aren't just one of the normal Korean idol groups, but that SM Entertainment is working their way to spread the pop culture worldwide. As Girls' Generation's youngest member, Seohyun's column is one with great cultural content, expressing the heart-fluttering feelings of a person in her early 20s. From her first day at places of pilgrimage in the country, to the Hallyu wind blowing in the local areas, and until the SMTOWN concert, she was able to share her Hallyu experience in Paris in a calm manner.
Through the netizens' passionate support, "Seohyun's Paris Diary" has been gaining a lot of attention.
Posts in order:
1. The Europe I dreamed of, the first in Paris, France.
2. Become a Parisian today! The world is wide and overflowing with things you don't know.
3. This is Paris, France, and we are Korean singers, Girls' Generation.
4. Hallyu in France, crossing through Europe.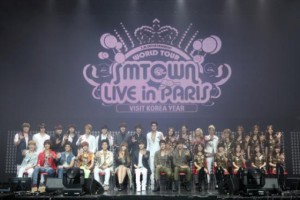 How on earth did French citizens know us?
I'm curious. Is this the power of culture? Our Hallyu wave had been able to absorb its strength because of the Koreans' exceptional passion. It is also because of the spirit of us doing our best. That's what I think. How much effort did we put in before standing in this position?
That reason probably applies to the healthy competition between other idol group members as well. It's like my other members doing their best. We encourage one another, and silently work on becoming the best.
The audience went wild when our songs "Run Devil Run", "Tell Me Your Wish (Genie)", "Gee", and "Kissing You" were introduced. During every moment we stood on the stage, we forgot that we were in France. We were simply glad that the audience was able to enjoy that moment, and we were proud of being [the Republic of] Korea's Girls' Generation.
The audience enthusiastically enjoyed and cheered for not only our performances, but also for seniors TVXQ and Super Junior, as well as SHINee and f(x), along with the joint performances, helping us to complete the concert successfully.
Today's concert made me realize many things.
Even though you can't understand the other's language, and even though you don't look alike, you can become one. Although the language, food, and culture is different, you can connect and become one through music. And that happiness becomes larger when it is shared.
I, no, our SM family, was able to dream a great dream after this day. That dream is that we want to share greater happiness with people that want to see us all over the world. And that music is love, a dream, and happiness to everyone all over the world. I want to let people know about simple happiness.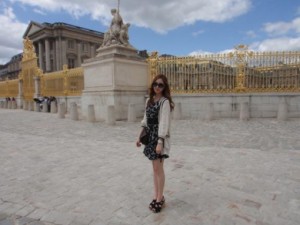 After giving us their "love" and "heartfelt" moments, the beautiful and enjoyable vacation in France came to an end. I don't think there iss anything more relaxing and enjoyable than the world of music. And so, I'm very proud of being a singer. Moreover, I'm a member of SM… Girls' Generation, fighting! Our hopes and dreams, fighting!
Fans, thank you. We will work hard and return. Please continue to give us lots of love hehehe
Source: Daily Issue
Translated by: ch0sshi@soshified.com
Edited by: spiceshoe@soshified.com
Have a news item that you think Soshified should know about? E-mail us at tip@soshified.com.
Follow us on Twitter: http://twitter.com/soshified for the latest on Girls' Generation.