Videos
1. Preview of Hey! Hey! Hey! Music Champ Live Special, July 18th/7pm
On the 18th of July, Girls' Generation will be appearing on Hey! Hey! Hey! They will be performing a few of their Japanese hit songs such as "Genie" and a medley of "Bad Girl". On the same episode, their label mate TVXQ will also be making an appearance to promote their new Japanese song. Soshified will be streaming this broadcast live, so remember to tune in to watch Girls' Generation perform!
2. MBC Star Audition
The second season of MBC Star Audition is back! On the 16th of July, auditions will be held at the Sheraton Los Angeles Downtown Hotel. MBC will picking contestants from all around the world, and they will compete for a cash prize, as well as a chance to debut in Korea as a Pop singer. Participants who pass the initial audition phase will be flown to Korea, where they will compete against other finalists for the grand prize. There are no restrictions, and the only prerequisite is that each contestant must be able to sing at least one Korean song. Do you think you have what it takes to become the next K-Pop idol?
3. BOOM THE K-POP Teaser 2
Following MNet's announcement of a new show titled "BOOM THE K-POP", they have released a second teaser of their first episode which features Girls' Generation during their Japan Arena Tour. In this teaser, watch as Girls' Generation reunite with a producer whom they have previously worked before with on "MTV SNSD", and share their opinions on the Japan Arena Tour. The first episode will air on the 14th of July.
4. Entertainment Relay Girls' Generation Cut
Entertainment Relay brings us the latest scoop on Girls' Generation's Japan Arena Tour which ends on the 18th of July. Watch as they show an interview with the girls backstage, and show clips of what happened during their various concerts across Japan. The interview was held after the concert in Tokyo, and the girls happily share with viewers their feelings about their performance.
6. 'Thanks European Fans' from SMTOWN
After the hugely successful SMTOWN LIVE in PARIS, the family of SM Entertainment has shown their appreciation towards their European fans by posting up a thank-you video. In the video, various members from idol groups such as SHINee, f(x), Girls' Generation, Super Junior and TVXQ are seen holding sheet of paper with "Thank You" printed on it in different languages. Not only that, solo artists such as BoA also participated in the thank-you video.
Endorsements
1. SNSD 7-11 CF Making Of
Following the announcement of the Japanese branch of 7-11 collaborating with Girls' Generation, videos of the CF have already surfaced. Recently, a behind-the-scenes video of the CF was released, and viewers got the chance to watch for themselves, the dorky personalities of all the members in Girls' Generation. Also, viewers are able to witness how quickly the girls are able to adapt to different themes and watch as they interact among themselves and with the staff while on set.
2. SNSD SPAO and Everysing products
After the SMTOWN LIVE in PARIS, Everysing has released their newest Girls' Generation merchandise such as files and notebooks. The rest of the photos can be found here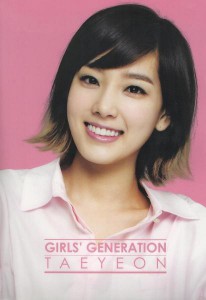 Others
1. Girls' Generation Mentioned by Popular Model, Marimo
A popular model called Marimo (村田莉), has mentioned in the August edition of "Popteens" magazine that Girls' Generation has been her motivation behind her recent diet. She stated that she would like to have the beautiful legs that the members of Girls' Generation are famous for, therefore they were the inspiration for her to start dieting.
Girls' Generation is known as the girl group with beautiful legs, and it is no wonder that even a popular model such as Marimo would look to Girls' Generation as her motivation. The full article can be found here.
2. Girls' Generation's All-Kill on Mel0n J-Pop Chart
After the release of Girls' Generation's self-titled first Japanese album, netizens have been astounded by the hot response which the songs have garnered. Out of the top 17 positions, Girls' Generation managed to occupy a total of 13 positions, with Hoot (Japanese Version) being the top. The positions of the remaining songs can be seen below:
1. Hoot (Japanese Version)
2. The Great Escape
3. MR. TAXI
4. Let It Rain
5. Bad Girl
6. Beautiful Stranger
7. You-Aholic
8. I'm In Love With The Hero
9. Born To Be A Lady
11. MR. TAXI (it appeared again for some reason)
13. Genie
16. Gee
17. Run Devil Run
3. Japanese Ambassador to Korea Acknowledges Girls' Generation
Recently, the Japanese Ambassador to Korea talked about the Hallyu wave and its tremendous success, recognizing Girls' Generation and reasons for their popularity. He stated that it wasn't just their Korean elements alone; their global elements of having Scandinavian music, Italian fashion, and Hollywood makeup helped establish themselves as a global factor.
New Sets of Pictures
2. Music Bank K-Pop Tokyo Special
3. Yoona Sponsored Photos- Yoona 1 Yoona 2 Yoona 3 Yoona 4
4. Vita500- Taeyeon Jessica Sunny Sunny 2 Tiffany Hyoyeon Yuri Sooyoung Yoona Yoona 2 Seohyun Fans
5. Daum Cloud Wallpapers (Taeyeon) Daum Cloud Wallpaper (Seohyun)
6. Daum Application Wallpapers
SONE Picture/Video of the Week

Right now, it's Global Generation! All the way from South America comes "Dolls Peru". Just like all international SONEs, Peru is working very hard to get its very own SMTown Tour in every way possible: from making banners, participating in fan chants, planning flash mobs, and just recently, even organising their very own concerts! In this case, the Peruvian group, "Dolls Peru", showcases their very own dance cover of Girls' Generation's "Oh!". Judging from the size of the stage, the camera crew, and the energetic audience, it's very obvious how much work and determination has been put in. Peruvian SONEs, hwaiting!
If you have a cool image or video of SONEs or Girls' Generation appearing around your town, be sure to send them to the Soshified Writing team at tip@soshified.com or at the official SONE Picture/Video of the Week thread.
Sources: Soshified Photos Section, percy841002@youtube.com, mbcaudition@youtube.com, markpdcrew@youtube.com, TheSoneSource24@youtube.com, SMTOWN@youtube.com, kstar0900@youtube.com, sellprpo@youtube.com
Written by: gayqueenful@soshified.com, jaygatsby@soshified.com
Contributors: SeraphK@soshified.com, residentbenchwarmer@soshified.com, spiceshoe@soshified.com
Graphic by: cioco@soshified.com
Have a news item that you think Soshified should know about? E-mail us at tip@soshified.com.
Follow us on Twitter: http://twitter.com/soshified for the latest on Girls' Generation.