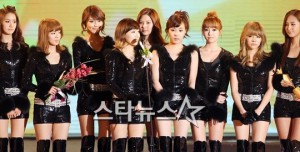 After less than a month since its original broadcast, Universal Music Japan (UMJ) recently announced through Girls' Generation's official Japanese website that NHK will air an encore of MUSIC JAPAN's "Girls' Generation Special". NHK aired the episode in the beginning of June on the 9th, and the encore episode will be shown on July 15th at 1AM Japan time.
UMJ commented that "The "Girls' Generation Special" that was aired last month received lots of requests to be re-broadcast, so it will be, with the addition of a 15-minute never-before-seen and behind the scenes footage. We hope that people who caught the special, as well as those who did not, will not miss it." The initial episode showed the girls' journey in Japan from their debut to their first tour in the country. It also featured interviews with the girls who talked openly about various topics.
Even though the encore will not be broadcast at a primetime slot, the fact that it is being shown nationally once again is a significant feat. Girls' Generation is currently experiencing overwhelming support in Japan, seen through their successful Japan Arena Tour as well as their recently declared double platinum first Japan album.
Stay tuned for updates!
Source: Star News, Universal Music Japan
Written by: shizzles9@soshified.com
Translator: jreddevil07@soshified.com
Have a news item that you think Soshified should know about? E-mail us at tip@soshified.com.
Follow us on Twitter: http://twitter.com/soshified for the latest on Girls' Generation.