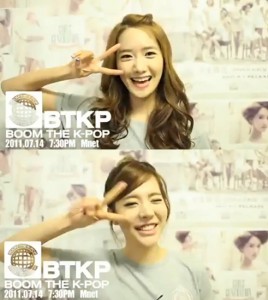 A documentary about the Girls' Generation craze is coming out!
A program reporting the Hallyu wave, Mnet's "BOOM the KPOP" will broadcast a Girls' Generation special on July 14. The crew of "BOOM the KPOP" has been actively following Girls' Generation's activities in Japan in order to capture their increasing popularity in Japan.
On June 29, the crew accompanied Girls' Generation on their Japan Arena Tour at the Yoyogi National Stadium in Tokyo, Japan. They also went to a few cities such as Shinjuku, Shibuya, and Harajuku to see the changes in the fans' lifestyles.
According to the crew, the fans in Korea and Japan both have different ways in expressing their love for their artists. Korean fans enjoy supporting their idols in groups whereas the Japanese fans tend to support them individually. However, with Korean singers breaking their way through the Japanese music industry with their skyrocketing popularity, Japanese fans are starting to increasingly resemble Korean fans.
They also mentioned that Girls' Generation is popular amongst women in their 10s-30s. Their popularity isn't limited to just their songs, but in terms of fashion and makeup, too. Because of those factors, Girls' Generation has changed most of the women's lifestyles.
This special feature will be divided into two parts. The first part is "Do you know Girls' Generation?" and will highlight Girls' Generation's popularity in Japan, as well as why the Japanese fans are very passionate about this girl group. The second part, which will be broadcasted on July 21, is called "Right now it's Girls' Generation!" and will feature the changes in the Japanese fans' lifestyles due to the effect of Girls' Generation. The first part will be broadcasted on July 14 at 7:30 p.m.
In case you missed The Weekly Soshi News Wrap, a trailer for "BOOM the K-POP" has been released. You can watch the trailer below.
Are you excited for this special feature of "BOOM the KPOP"?
Source: Star News
Written by: spiceshoe@soshified.com
Contributors: shizzles9@soshified.com
Have a news item that you think Soshified should know about? E-mail us at tip@soshified.com.
Follow us on Twitter: http://twitter.com/soshified for the latest on Girls' Generation.