Videos
1. Trailer for Mnet "BOOM the K-Pop" Featuring Girls' Generation
Girls' Generation finally reunites with Mark PD! He used to be the PD (Producing Director) for one of the girls' earlier shows, "MTV SNSD". Fans have been eagerly anticipating this reunion and are looking forward to the episode which will air on July 14. Stay tuned for updates! In the mean time, check out the trailer below!
2. Girls' Generation on Mexican TV
Girls' Generation was mentioned as one of the top groups that Mexicans love. The Global Generation fever is spreading, and a few cuts from several music videos were broadcast. Check them out below! (Tip from shinings(o)ne@soshified.com)
3. Commercial for Girls' Generation's First Japanese Album
For the SONEs who missed it, there was a short commercial video which advertised Girls' Generation's first Japanese album. The short 15-second video reveals cuts from the "MR. TAXI" and "Run Devil Run" PV, two of the girls' Japanese singles which were featured in the album. (Tip from sineka_nanthakumar)
4. Soshified on Korean News
Soshified has appeared several times on Korean news and the international community's recognition is only continuing to rise. On May 6, Soshified was also briefly featured on "tvN E News", which caught many fans by surprise. Although Soshified was wrongly dubbed as an "American fansite" for Girls' Generation, many fans caught on and pointed out the mistake to show how global Soshified has truly become. (Tip from mattguitarist@oshified.com)
Endorsements
1. Yoona's New Innisfree CFs
New Innisfree CFs with Yoona have recently been released. Each thirty second video shows Yoona promoting Innisfree's volcanic pore mask and toner. Enjoy the subbed videos!
Others
1. Girls' Generation Still Going Strong on Charts
Girls' Generation's singles "MR. TAXI", "Gee", and "Genie" are still holding their spots on the Japan CD Weekly Top 100 Singles Chart (6/27-7/3) by placing #9, #24, and #36 respectively. These are impressive standings considering the singles were released some time ago (2010 for the latter two). The singles "MR. TAXI" and "Gee" have also placed #26 and #98 respectively on this week's Billboard Japan Hot 100. Their first Japanese album is at #6 on Billboard Japan's Top Albums.
Furthermore, it has been less than six weeks after the release of Girls' Generation's first Japanese album, and the girls are still going strong by ranking #6 on the weekly Oricon chart with 28,026 copies sold this past week.
It looks like their rankings are not going down anytime soon judging by their present ranks.
2. Girls Generation Gets Mentioned in Guardian
The music blog on the website of the British newspaper The Guardian mentioned Girls' Generation in one of their K-Pop-related posts. The article discusses Girls' Generation's (as well as other artists like Boa) sky-rocketing success and how the K-Pop phenomenon has proven to be a success. You can read the article here. (Tip from jillipino@soshified.com)
3. Girls' Generation on Plaza Low Yat in Malaysia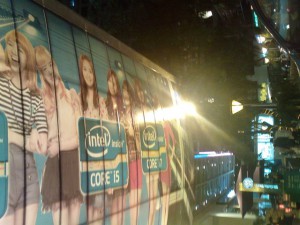 Malaysian SONEs have some new eye candies when they visit the mall known for its IT equipment, Plaza Low Yat. Pictures of Girls' Generation for Intel were hung outside the mall and Soshified member Soonkyaa! managed to take a picture of the advertisement to share with us.
New Sets of Pictures
Official photos from MTV Video Music Aid Japan
7-Eleven Wallpaper (Extremely HD)
Daum Website Promotional Pictures
Girls' Generation with Mark PD
Vita 500: Taeyeon, Tiffany, Hyoyeon, Seohyun, Jessica, Sooyoung, Taeyeon 2, Sunny, Yuri, Yoona, Tiffany 2
SONE Picture/Video of the Week
From vocal to dance covers — SONEs have them all covered. The video below features a few Indonesian SONEs doing an acoustic guitar cover of "Genie". They even went as far as rearranging the whole song with guitar chords and notes, as well as ensuring that the quality of the recording is high. Check it out!
If you have a cool image or video of SONEs or Girls' Generation appearing around your town, be sure to send them to the Soshified Writing team at tip@soshified.com or at the official SONE Picture/Video of the Week thread.
Sources: Soshified Photos Section, ssfshortclips2@youtube.com, kwangdongpharm@twitpic.com, DulceKwon@youtube.com, KzhOZhiiLa@youtube.com, markpdcrew@youtube.com, SNSDFansUKTV@youtube.com, S9Onelove04@youtube.com, ytmsyjsh@youtube.com, yoongislove@twitter.com 1, 2, 3, Oricon
Written by: spiceshoe@soshified.com
Contributors: residentbenchwarmer@soshified.com, michaelroni@soshified.com, gayqueenful@soshified.com, shizzles9@soshified.com
Graphic by: cioco@soshified.com
Have a news item that you think Soshified should know about? E-mail us at tip@soshified.com.
Follow us on Twitter: http://twitter.com/soshified for the latest on Girls' Generation.