Videos
1. Jessica Vita500 Promotional Video
In a new promotional video for Vita500, Jessica talks about the heat of summer. She says that her way of relaxing indoors is to turn the music on really loud and sing along. To demonstrate, she sings a short section of "Naengmyun". At the end, she asks fans to recommend songs that they would enjoy singing while staying indoors to beat the summer heat. Check out the video below.
Endorsements
1. New Vita500 Labels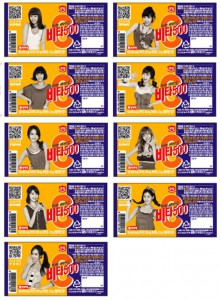 With all things Vita500 still being released, we shouldn't be surprised to find out that new labels have been released for the drinks that feature the girls. (Source: kwangdongpharm@twitter)
Others
1. Girls' Generation rankings
While Girls' Generation debuted at #3 on the United World Charts, it isn't going away just yet, holding onto the #28 spot in its 4th week, an impressive showing. (Source: Yoongislove@twitter)
Domestically, the album is doing great as well, coming in at #7 for the Oricon Weekly Rankings released on July 4th, with a weekly total of 33,438 copies sold. (Source: Oricon)
The latest single off of the album, 'MR. TAXI,' is still going strong as well, placing #7 on the Chaku-Uta short and #11 on the Chaku-Uta full charts on the Recochoku Weekly Chart (6/22-28) (Source: Yoongislove@twitter)
2. Girls' Generation mentioned in important Spanish newspaper
The girls were recently mentioned in the popular newspaper 'El Pais' in Spain. The article praised Girls' Generation, along with fellow Korean artists, specifically stating how they aim for maximum quality with energized lyrics and catchy tunes. The full Spanish article can be found here.
3. Girls' Generation is the fifth most popular Korean artist in China
A recent survey done in China suggests that the girls are the fifth most popular female Korean artist in the country, behind seniors such as Lee Hyori, and ahead of current generation groups such as Kara. The full Korean article can be found here.
New Sets of Pictures
Vita 500 – (Wallpapers): Tiffany, Hyoyeon, Seohyun
Jessica 1. Group 1, Group 2, Jessica 2
Vita 500 – (Pictures): Sooyoung, Jessica, Taeyeon
Yuri Come to Play Sponsored Pics – 1 , 2
Hyoyeon Come to Play Sponsored Pic – 1
Goobne – (Calendar Wallpaper) – Sooyoung
Tiffany in the July 2011 issue of ASTA TV
Fantaken pictures of Paradise in Phuket DVD
New website pictures for the 1st Japanese album
SONE Picture/Video of the Week
The SONE Video of the Week for this week shows how far reaching Global Generation really is. The video, sent in by TaeYeon~♥@SSF, shows a Peruvian electronics store selling TVs displaying the 'Oh!' music video. Check it out below, and if you have a cool image or video of SONEs or Girls' Generation appearing around your town, be sure to send them to the Soshified Writing team at tip@soshified.com or at the official SONE Picture/Video of the Week thread.
Sources: Soshified Photos Section, Yoongislove@twitter, kwangdongpharm@twitpic.com, SONESPeru@YouTube.com, xMoo1304x@YouTube.com, sone110222@YouTube.com
Written by: JeremyJay22@soshified.com
Contributors: michaelroni@soshified.com, residentbenchwarmer@soshified.com, jaygatsby@soshified.com, gayqueenful@soshified.com, spiceshoe@soshified.com
Banner: cioco@soshified.com
Have a news item that you think Soshified should know about? E-mail us at tip@soshified.com.
Follow us on Twitter: http://twitter.com/soshified for the latest on Girls' Generation.