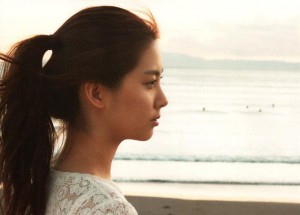 On this special day, we celebrate Girls' Generation's Seo Joohyun's 20th (21st) birthday. It's easy to associate our favorite maknae with recognizable traits, but over the years, we have also witnessed her compelling growth both as an individual and as an artist. Seohyun doesn't intend to be just an idol star, she has her sights on being one of the greatest public figures anyone has come to known.
"Thirty years later, I want to study a lot and become a diplomat."
Seohyun trained and entered the K-Pop industry at an early age. However, that didn't deter her from working hard to reach the goals she had set for herself. Spotted on a subway train and subsequently asked to enter SM Entertainment , Seohyun made it a point to never neglect her studies while preparing for her debut. "Studying just gives a good impression of you… There's no reason for me to give it up." Her ability to multi-task and stay consistent in whatever that she puts her heart into has proved to be one of her best attributes, allowing her to thrive in even the most strenuous of situations.
This "4-dimensional" girl is always aware that she is not just Seohyun, but also a representative of Girls' Generation. Her professionalism and kind demeanor is one of the most talked about in fan accounts, and she is often highly praised for her polite mannerisms. A favorite among the managers, she makes it a point to always take care of her health and to keep herself rooted by looking up to role models like Secretary-General of the UN, Ban Ki-moon. Her persistence to never live a day with regrets and shame is nothing short of admirable. "I want to live a life where I wouldn't feel ashamed of myself." Her actions and her words are essentially emblematic of the pure and honest Seohyun we have all come to love.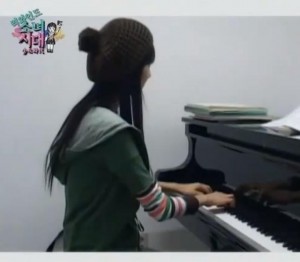 As the years passed, Seohyun also proved her capabilities to be an adept all-rounder. One of her distinctive talents would be her natural forte in playing the piano. She showed her limitless piano skills for special performances and at concerts, and members like Sooyoung also attested to her potential. Moreover, Seohyun is known for her stability in aspects like her singing and dancing. Often responsible for harmonizing and known for executing dance moves well, Seohyun complements the members with her polished adaptability. She catches everyone by surprise every time she presents a new side of her on stage, making it a unique charm that simply cannot be ignored.
"I want to show a Seohyun with many different charms that can't be found in real life."
Her talents, however, did not come without hard work and constant practice. Known for being the one who always practices her facial expressions, and known for her keen interest in learning languages like Japanese and English, it is clear that Seohyun always leaves room for improvement and is always ready to better herself.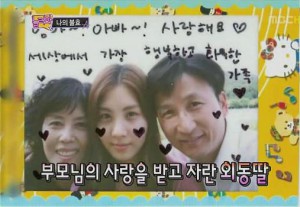 "I think the best deed you can do for your parents is to become a child your parents can be proud of."
As an only child, Seohyun received her parents' blessings to chase after her dreams. One of the best memories would have to be when Seohyun's mother appeared on an episode of SBS's KJE Chocolate to surprise her daughter with a heartfelt letter and a picture diary as a birthday gift. Instead of struggling with the frequent absence of her family by her side, Seohyun became even more determined to lead a life both she and her parents could be proud of. Time away allowed her to appreciate and understand the importance of family, and her lesson learned is also one for fans to emulate as well.
While constantly being in the public eye can be seen as a challenge, Seohyun instead took it in stride and found ways to expose herself to new concepts. Her decision to be on MBC's "We Got Married" was a surprise to both the members and the fans alike. However, as the variety show progressed, it became clear that she was learning valuable lessons from each episode. She was persistent during the process of knitting a scarf from scratch amidst her busy schedules, and according to member Tiffany, was also able to better express her emotions when singing.
This proved that with each and every experience Seohyun went through, she was able to not only develop herself as an individual, but fine-tune her aptitude as an artist as well.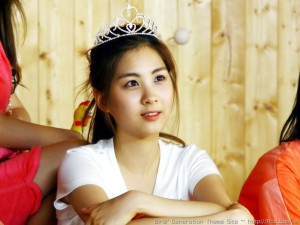 Seohyun is one of the members who always speaks fondly of the strong bond between Girls' Generation. "Although we are not real sisters, I think we are sisters bonded by fate." She never fails to speak out about how thankful she is for having them by her side. As the youngest of the 9, she knows she is protected by their love, and it is that transparency that allows her to freely speak her mind around them. Who else would tell Seohyun she was turning too yellow after eating all those sweet potatoes? And who else would she scold about eating too much fast food that they could die?
Being part of such a close-knit group not only allowed her to view different perspectives and opinions, but she also learned to compromise. "I'm thankful for the fact that we're walking to the same path with the same goal." Often calling the members her second family, Seohyun pours her everything into Girls' Generation's activities, eager for their name to be spread across borders so she can make a difference.
I think us nine members and the SONEs have a special relationship, because with your unchanging love since we debuted, we all grew together.
Like some of the members, Seohyun didn't immediately know that she wanted to become a singer. "My dream was to be a person giving lots of happiness and joy to others." As she learned more about the power of music and how it was able to influence others, Seohyun made up her mind to dedicate her life to being an artist. "I'm filled with pride and energy every time I go up on stage." She strives to always present herself in the best light and to be a person fans can always be proud of. Known for her subtle but generous fan service, Seohyun gives back by always showing her gratefulness towards the people who are supporting her.
"I will take responsibility in what I do, and never let you down as your singer, as your girl, Seo Hyun, and Seo Joohyun."
As someone who never forgets about her roots, Seohyun has proven to be an individual who has a variety of charms both in her personality and her stage presence. She has taught so much to the people around her, and with her unchanging passion for a career she loves, Seohyun is sure to lead a life everyone can be proud of.
Happy 20th (21st) Birthday, maknae Seo Joohyun!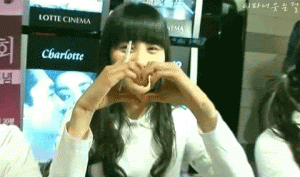 Written by: shizzles9@soshified.com
Have a news item that you think Soshified should know about? E-mail us at tip@soshified.com
Follow us on Twitter: http://twitter.com/soshified for the latest on Girls' Generation.