Videos
1. Soshified's 3rd Anniversary "SONEs Around the World" Video Shown on E!TV Star Program
In the June 25 episode of E!TV Star Q-10 documenting Girls' Generation's growing popularity across the globe, clips from Soshified's 3rd Anniversary "SONEs Around the World" video were shown. The video, which followed the theme "Forever9" and can be viewed here, used pictures taken by Soshified members all around the world and displayed the global reach of Girls' Generation's popularity. The unsubbed E!TV clip has been attached below.
2. Fancam of Girls' Generation at the Airport
A fancam of Girls' Generation at the airport leaving for Japan was posted by Jessture. (Source: ninanoinjess@youtube.com)
3. Girls' Generation Chosen As Artist People Would Like to Go on Summer Vacation with
Girls' Generation was chosen as the artist people would most like to go on summer vacation with on the KBS Joy show "Entertainers", and of course the clip shows them at their dorky best and talks about how awesome they are and why. (Source: aslotuss6@youtube.com)
4. Girls' Generation Clips from SMTOWN Paris
Clips of Girls' Generation on various shows while performing in Paris. (Source: aslotuss6@youtube.com)
Endorsements
1. New Photos of Girls' Generation e-ma Pouches Released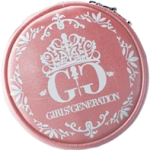 New photos of the special Girls' Generation-branded e-ma pouches were released. There are nine different colored versions, and pictures from e-ma's website have been compiled and can be viewed here.
2. Intel Malaysia "Visual Dreams" Contest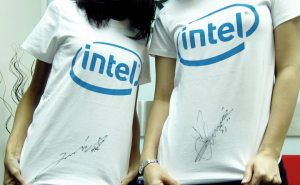 Intel Malaysia is holding a "Visual Dreams" contest in which participants are being asked to make a music video promoting features of the 2nd Generation Intel Core Processors with music from "Visual Dreams". The contest is open until July 8th, and prizes include a 2nd Generation Intel Core i7 Processor Powered notebook and Girls' Generation autographed Intel T-shirts. To see contest details, go here. (Source: Intel Malaysia@facebook.com. Thanks to Leroy Luar for the tip.)
Others
1. Girls' Generation featured in August 2011 issue of Ray Magazine.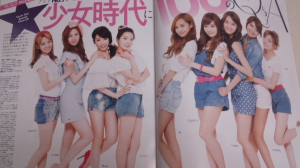 Japanese magazine Ray featured the girls in their August 2011 edition. To see pictures of the girls in Ray, go here. And be sure to stay tuned to Soshified for the full translation of the girls' article.
2. Girls' Generation rankings
Girls' Generation continues to pile up the rankings on various charts in Japan. For the week of June 15th through the 21st, "MR. TAXI" got 6th, "Gee" 15th, "The Great Escape" 62nd, and "Let It Rain" 84th on the RIAJ Weekly Chart for Chaku-Uta Full. (Source: Yoongislove@twitter.com)
Girls' generation also nabbed places on the Japan CD Weekly Rental Top 100 Singles Chart. "MR. TAXI" placed 5th, "Gee" 22nd, and "Genie" 38th for the week of June 13th through 19th. (Source: Yoongislove@twitter.com)
New Sets of Pictures
Vita500 – Yoona, Seohyun, Hyoyeon, Yuri, Taeyeon, Sooyoung, Jessica, Tiffany, Taeyeon, Yuri 2, Seohyun 2, Yoona 2, Hyoyeon 2, Sunny, Sunny 2, Sunny 3, Tiffany 2, Sooyoung 2, Hyoyeon 3, Taeyeon 2
SONE Picture/Video of the Week
To honor the girls' recent visit to Paris for their SMTOWN concert in France, this week's video is sent in by 3SONEsInParis@youtube.com. If you've never had the opportunity to attend a Girls' Generation concert and meet up with fellow SONEs, you can get a glimpse of what SONEs talk about when they get together. Of course, food is always a popular topic.
Sources: Soshified Photos Section, ytmsyjsh@youtube.com, ninanoinjess@youtube.com, aslotuss6@youtube.com, Yoongislove@twitter.com, Intel Malaysia@facebook.com, kwangdongpharm@twitpic.com, ecoinnisfree@twitpic.com
Written by: residentbenchwarmer@soshified.com
Contributors: michaelroni@soshified.com, oniontaker@soshified.com
Banner: cioco@soshified.com
Have a news item that you think Soshified should know about? E-mail us at tip@soshified.com.
Follow us on Twitter: http://twitter.com/soshified for the latest on Girls' Generation.