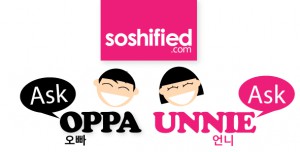 June is here, and along with the arrival of the summer heat we have the arrival of the next edition of Ask Oppa / Ask Unnie. The comments and feedback from you all has been great, and we hope to continue to see that in the comments below. We'd also like to announce that we now have three different methods of sending questions for us to answer. We've laid out the three ways below.
Method 1) Email questions to us at tip@soshified.com with the subject "Ask Column".
Method 2 [NEW!]) Leave questions in the official Ask Oppa / Ask Unnie Question Submission Thread here on Soshified.
Method 3 [NEW!]) Submit questions to the official Ask Oppa / Ask Unnie Formspring page.
Now, with these three different methods, you can choose whatever is most convenient for you! We know that some of you spend an enormous amount of your online time right here on Soshified, so having the question submission thread makes it convenient for you so that you don't have to navigate away from it. We also know that lots of you enjoy using Formspring, so we've opened that option up to you all as well.
Just remember that we're looking for opinion-based questions, since the whole novelty of this column is getting unique and potentially contrasting male and female opinions, and because questions about Girls' Generation facts can be answered here instead. Also, remember that there is NO deadline for submitting questions. If we didn't answer your question this month, it doesn't necessarily mean that we'll never answer it, and we can save it for later months.
Now, let's get to this month's questions, shall we?
Who was the first of the girls that you recognized and liked? And why?
– Hazella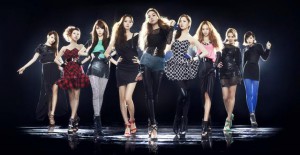 Quick, who did you recognize first?
michaelroni-oppa says:
I love this question because as SONEs, we love all the girls and we support them all as a group, but we all had a starting point. For many people, that starting point involves one or two members catching your eye, and it was the same way with me. The very first member who caught my eye was Yuri, because I didn't know anything about the girls yet and could really only go with a superficial view. Yuri's outward appearance really matches what I normally consider to my ideal type: a girl who is just barely shorter than me with a healthy figure and long hair. At the time, when one of my friends (who also knew about Girls' Generation) found out that I was becoming a fan, she guessed on her first try that my favorite member at the time was Yuri, which just confirmed how predictable my bias was when based on appearance alone. Of course, as time wore on, I learned more about all the girls and came to love them all equally, but Yuri will always hold a special place for me as my very first bias.
Procrastinatoress-unnie says:
Wow that's a hard one. It feels like so long ago. I'm probably going to have to go with Tiffany on this one. Around the time I was getting to know about Girls' Generation, there was a lot of controversy and rumour-mongering about her, but it's just not cool to believe anything that gets thrown your way. I did some searching and I found dozens of fan accounts and threads talking about how sweet and selfless she was, and well, it's just impossible not to love the girl when you realize how strong and kind she is. Of course from what I'd read, I also discovered the Soshibond and heard about how down-to-earth the other members were, and well, one thing led to another and bam! SONE haha. Of course my bias has jumped around since then, I've gone from liking this girl the most to that girl to another girl, but Fany will always have a special place in my heart as the girl who dragged me into this funny fandom.
Usage of autotune on SNSD songs? Is it overly used or did they put in a right amount?
– rawwr09
michaelroni-oppa says:
This is a pretty hot topic, since autotune tends to be something of a "love it" or "hate it" thing. The "Girls' Generation" 1st Japanese Album has a much more electronic sound than any of Girl's Generation's previous albums, but I found that it didn't really bother me much at all. In particular, "MR. TAXI" created a lot of discussion when it first came out because of the stronger use of autotune, and many SONEs weren't really prepared for it. Personally, I felt that the autotune was used sparingly enough and that it worked within the overall feel of "MR. TAXI", so it wasn't a problem for me. I am, to a degree, worried that the presence of autotune might get stronger to the point where it's a distraction, because each of the girls' voices is beautiful on its own.
Procrastinatoress-unnie says:
To be honest, I've never been a fan of autotune. Girls' Generation stood out for me so much in the past because their first album was full of real instruments and had so little computer-generated sound, and they never used autotune. The sound they produced was so very different from what other groups were making; it was really pretty and sweet sounding haha. With the new image they are using in Japan, I was expecting there to be autotune and the like on their first Japanese album, but luckily it's not overdone to the point where their lovely voices can't still be heard. As the girls mature and grow, their music style will change and they'll start trying new things, and that's something you just have to accept and support. I'm just going to enjoy every sound they throw at us.
If you had to choose 2 between the 9 girls, who should be the representatives of Soshi in Modeling contest? Why?
– XelSeo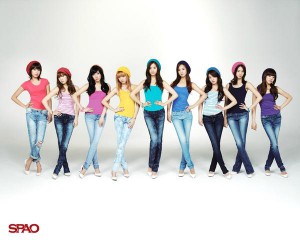 michaelroni-oppa says:
Do I really have to choose just two of them? Honestly, they're all beautiful enough and talented enough to be models. Each member can pull off any concept with ease, whether it's cute, sexy, strong, or playful. I could basically close my eyes, point at one of the girls at random, and be confident that she would be the perfect model for whatever clothing/cosmetics company or product that is needed. But as far as which members I would like to see do some modelling right now, I will say Hyoyeon and Seohyun. I don't really have a clear cut explanation for those choices beyond the fact that they're my "recent biases", a symptom that I'm sure many SONEs are familiar with.
Procrastinatoress-unnie says:
Well, if it was conventional modelling, I'd probably go with Sooyoung and Yoona. They are, after all, the members with the most modelling experience, and they can pretty much rock any piece of fashion. But if I were to mix things up a little? Probably Hyoyeon and Sunny. Hyoyeon just has this loud, bright, and energetic style that I love about her – she's a total fashionista. And Sunny? Well, as a tiny tiny person it's unlikely that she'd get as many chances at runway modelling as other members, so why not fulfill a dream when I can?
With SNSD debuting before the new wave of mass idol groups, what keeps them on the top after that? Their ever-changing concepts? Their ability to shine through all 9 members?
– Kyoraku
michaelroni-oppa says:
I think part of the reason why they manage to stay on top is that, for better or worse, they're seemingly never out of the public eye. There's always something going on with the girls, whether it's a new single/album release, a concert that they're performing at, or just a simple news story that references them. They've already managed to capture our hearts, and we crave every little tidbit we can find about them. Somehow, there's always something to satisfy our cravings, whether it's a previously-unreleased promotional photo that makes its way onto Twitter, or a poll conducted by some random source that ends with a Girls' Generation member (or the entire group) at the top of the list, or a fancam from one of their concerts. We love having the girls constantly on our minds, and luckily enough for us, there's always something new and fresh to look at or talk about. In my mind, that's part of the secret to why they've been able to stay at the top even with all the new groups that debut.
Procrastinatoress-unnie says:
It's a mixture of hard-work, good promotion, family-friendly image, luck, and loyal support from fans. Girls' Generation have been the first group to break through a lot of barriers and achieve what nobody else could; and they reap the benefits of their perseverence. If you've managed to crawl to the top of the pile, that keeps you in everybody's view, doesn't it?
We hope you've enjoyed this episode of Ask Oppa / Ask Unnie, and be sure to leave us a comment below! Remember, we need to hear your questions in order to make this column work, so send them to us using one of the three methods listed above! See you next month!
Written by: michaelroni@soshified.com, Procrastinatoress@soshified.com
Have a news item that you think Soshified should know about? E-mail us at tip@soshified.com.
Follow us on Twitter: http://twitter.com/soshified for the latest on Girls' Generation.