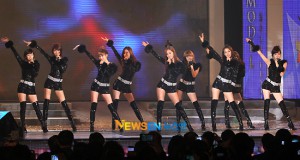 It was revealed on June 30th that Korea's nine-member beautiful-legged girl group, Girls' Generation, will appear at the annual summer open air event "Summer Sonic 2011" and will be the first female Korean artist to participate. You will be glued to the hot sight of their slender beautiful legs in this expected summer heat wave. Summer Sonic has occurred every year since 2000. This year on August 13th and 14th there will be four performances in two cities in the east and west of Japan, and 200,000 people are expected to attend. Girls' Generation will appear on August 14th at Chiba QVC Marine Field and the Makuhari Messe in Tokyo Park.
There is a lineup of big names who are active around the world like Red Hot Chili Peppers, X JAPAN, and Avril Lavigne.
After having a major debut in September of last year in Japan, on June 1st (2011) they released their first (Japanese) album "Girls' Generation" which has sold over 700,000 units. Currently they are doing a full Japan tour consisting of six cities and fourteen performances and are expecting approximately 140,000 fans. Staff have explained that, "Summer Sonic's organizer recognized the quality of their performances and that there was a high demand for them."
This will be the girls' first time experiencing a summer festival, so the members commented, "We're all really excited to be able to stand on the same stage with so many magnificent artists from around the world."
(TL note: Summer Sonic will consist of four performances in two cities over two days' time. There will be concerts held in both locations at the same time on the same day. After those performances, the musicians/artists will be traveling to the other location to perform the next day. In other words, there will be two concerts, one in Tokyo and one in Osaka, each day, for a total of four concerts. Special guests are musicians/artists that will ONLY be appearing in one city. For example, Girls' Generation will only be appearing in Tokyo on the 14th, and will not be performing in Osaka on the 13th. Stay tuned to Soshified for any updates.)
Source: Sanspo
Translated by: Kkabbekky@soshified.com, SeraphK@soshified.com
Edited by: residentbenchwarmer@soshified.com
Have a news item that you think Soshified should know about? E-mail us at tip@soshified.com.
Follow us on Twitter: http://twitter.com/soshified for the latest on Girls' Generation.