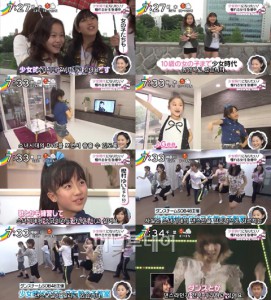 Nippon TV's popular information show "ZIP!" recently reported on the "I want to be like Girls' Generation" fever that is currently spreading throughout the country of Japan. It was broadcast in the morning of the program's June 22nd episode.
The show featured different people who have been influenced by the 9 members, including an elementary school student who proudly said "I want to be Girls' Generation's 10th member". Japanese female fans of different age groups gave interesting and similar comments like "I'm on a diet to become like Girls' Generation", "I want to be like Girls' Generation" and even pointed out that "They are perfect in dancing, singing and everything else."
An elementary school girl, in particular, caught the attention of many when she said "I want to be a singer like Girls' Generation" and proceeded to spend millions of yen to convert one of the rooms in her house into a dance room.
A dance academy that focuses on learning Girls' Generation's choreography also attested to the girls' growing popularity. The academy has had over 1,000 people join to take lessons since the girls debuted in Japan last fall. The session consists of four 90-minute lessons to officially master a song's choreography.
In addition, a nail art shop run by Koreans has been experiencing a surge in orders with people asking to have their nails done like the girls. People would make special requests like "Please make my nails like Sooyoung's in Girls' Generation's "Hoot" album jacket."
The girls are currently riding the wave of their success and are receiving immense love from people in Japan. The Korean girl group has achieved milestones on the Oricon charts with profits of approximately 34.7 billion won, and will continue their Japanese activities as planned.
Source: MT
Written by: shizzles9@soshified.com
Korean translator: jreddevil07@soshified.com
Have a news item that you think Soshified should know about? E-mail us at tip@soshified.com.
Follow us on Twitter: http://twitter.com/soshified for the latest on Girls' Generation.