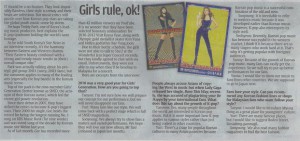 When Girls' Generation was in Jeju Island for the SBS Super Concert Wonderful Jeju, an e-mail interview was conducted with the girls by Malaysia's "The Star" newspaper. Along with the scan of the newspaper article, the interview has been attached.
The Star: 2010 was a very good year for Girls' Generation. How are you going to top that?
Taeyeon: I'm not sure how we will prepare our concept for our performance, but we will never disappoint our fans.
Yuri: Many fans like our style. We will come back with a perfect stage which is full of SNSD magnetism.
Sooyoung: We always try to show fans a mature and varied performance. We hope they will love our new album, Mr Taxi (released in Japan last month).
The Star: People always accuse Asians of copy­ing the West in music but when Lady Gaga released her single, Born This Way, recent­ly, she was accused of plagiarising your Be Happy by your international fans. What does this say about the growth of K-pop?
Taeyeon: Yes, many people throughout the world are interested in Korean pop music. But it is more important how K-pop applies to various styles rather than just being copied in other countries.
Yuri: There's a craze for popular Korean cultures in many Asian countries because Korean pop music is a successful com­bination of the old and new.
Sooyoung: It is inevitable to refer to western music because it was developed earlier than Korean music. However, K-pop also reinterprets its style well.
Seohyun: Recently, Korean pop music has become successful in the western market. I think it is because there are so many singers who work hard at it. That's why it's getting popular with foreigner audiences.
Sunny: Because of the growth of Korean pop music, many fans can easily get the experience. So we will try to put up better performances for our fans.
Yoona: I would like to show our music to fans from other countries. We are supposed to go to Japan next.
The Star: Fans love your style. Can you recom­mend any Korean fashion lines or shops for Malaysian fans who want follow your style?
Taeyeon: I would like to introduce Myung Dong as a great place for youngsters' culture.
Yuri: There are many famous places, but I would like to suggest Rodeo Street, Sinsadong garosugil.
Sooyoung: We also read many fashion magazines to find the best fashion.
Source: The Star Newspaper
Image Credit: fanwonder
Written by: michaelroni@soshified.com
Have a news item that you think Soshified should know about? E-mail us at tip@soshified.com.
Follow us on Twitter: http://twitter.com/soshified for the latest on Girls' Generation.