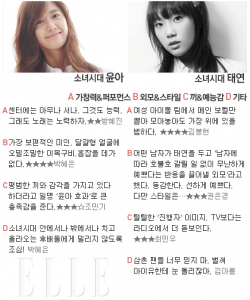 Taeyeon and Yoona were featured in Elle's ranking of top Korean idols.
A- Singing & Performance; B- Appearance (Face) & Style; C- Talent & Artistic Abilities; D- Other
Girls' Generation: Yoona
A- Nobody can stand at the center. Even that is an ability. But let's work on the singing.★★ -Bang Hye Jin
B- The most universal beauty. Egg-shaped face, detailed features. There are no flaws. ★★★★ -Park Hye Eun
C- Even though she just has ordinary talents and sensibility/wit, she gives sufficient satisfaction with her 'Yoona Effect'. ★★★☆ -Jo Min Ki
D- Be careful not to get pushed/beat out within SNSD, or by rookies outside of the group! -Park Hye Eun
Girls' Generation: Taeyeon
A- If you were to pick out all the main vocals in female idol teams, she would probably be at the top of the list. ★★★★ -Kim Bong Hyun
B- When it comes to Taeyeon, one man said, "She has the face that would make any man agree that she is pretty". I agree. She is pretty. But her style is… ★★★ -Kwon Eun Kyung
C- Laid-back 'MC' image. She stands out more on the radio than on TV. ★★★ -Choi Min Woo
D- Don't have too much faith in samchon fans. They're already starting to shift their eyes to IU. -Kim Areum
Source: ELLE
Translated by: ch0sshi@soshified.com
Edited by: residentbenchwarmer@soshified.com
Contributor: Soy@soshified.com
Have a news item that you think Soshified should know about? E-mail us at tip@soshified.com.
Follow us on Twitter: http://twitter.com/soshified for the latest on Girls' Generation.