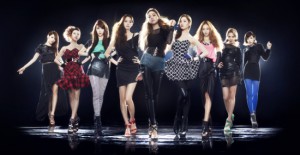 After being judged as the "standard of success" for Korean singers in Japan, Girls' Generation set a new record, over senior singer BoA, on the Oricon charts. The members' mature transformations, which have been revealed on their Japan tour, have been garnering attention from Japanese and Korean fans, opening up Girls' Generation's "success generation" in Japan.
◇Girls' Generation sets new Oricon chart record with more album sales than BoA
Girls' Generation's first official Japanese album "Girls' Generation", which was released on June 1st, sold 232,000 copies in its first week, landing them first place on the Oricon Weekly Album Chart.
This was something to focus on, as they beat BoA's record. Nicknamed "Asia's Star", BoA had been judged as the Korean singer who succeeded the most in Japan. BoA's album "Listen to My Heart" reached the number one spot on Oricon's Weekly Chart on March 25th, 2002 with 231,000 albums sold, making her the first foreign singer to attain first place. Girls' Generation broke that record with 1,000 more sales than BoA. This was also the first time a foreign girl group ranked first after Russian female duo t.A.T.u., who stood at number one 8 years and 3 months ago.
Sankei Sports and Oricon News both reported the news of this new record, gaining much attention. Oricon News in particular said, "This year, Korean singers' entrances onto Oricon's weekly chart have been standing out: TVXQ on Feburary 7th, KARA on April 18th, Jang Geun Suk on May 9th, Big Bang on May 23rd, and F.T. Island on May 30th. Girls' Generation become the (sixth Korean artist to claim the) number one spot."
◇Yoona, Tiffany, and other members gain attention for their mature transformations on the Japan Arena Tour
Starting on the 31st of May, starting in Osaka, Girls' Generation is planning on meeting with approximately 140,000 fans through fourteen concerts in six cities all over Japan.
On the arena tour, Yoona, Tiffany, Yuri, and other members' mature transformations have been garnering much attention from both Japanese and Korean fans. Yoona's shocking pole dance was spread all over the YouTube and the internet in general on the June 7th. She wore short pants that emphasized her legs while she danced with a horizontal pole. Fans have been expressing their shock by commenting, "Innocent Yoona has become sexy."
In response to this, SM Entertainment revealed that this was a new concept they prepared for the first Japan Arena Tour. On the 7th, SM stated, "They prepared a new concept, different from what they've shown in Korea and Japan, for the concert. We want people to see it as a new attempt for members to be able to show off their more mature charms." When asked if "the same performances can be seen at their second solo concert in July", they revealed, "Because the performances at the arena tour were created for the album they released there, nothing has been set for their performances in Korea yet." Girls' Generation set off for Paris on the 7th for the concerts that will be held there on the 10th and 11th.
Source: Nate
Translated by: ch0sshi@soshified.com
Edited by: residentbenchwarmer@soshified.com
Have a news item that you think Soshified should know about? E-mail us at tip@soshified.com.
Follow us on Twitter: http://twitter.com/soshified for the latest on Girls' Generation.