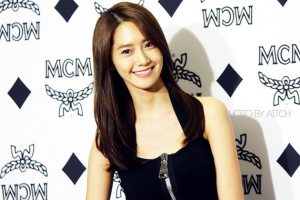 Yoona is a model of beauty; of grace; of perfection. Yet we see so many facets of her personality in conflict with her public image that one will be hard-pressed to name a single defining quality of her, let alone pen an article that can sufficiently encompass everything Yoona is. Many have tried to deconstruct or over-analyze her, but few have attempted to see the world around her through her own eyes. This is an ordinary girl who wants to shine with her members in extraordinary ways.
Yoona is beautiful – there is no doubt about that. Nowadays, it does not come as a surprise when men – actors, soccer stars, Olympic medalists, idols – all name her as their ideal type. She is aware of her own beauty and has made light of it several times, but never once has she boasted or taken her popularity for granted. For a winner of many popularity polls and awards, she remains humble about her fame and always seeks to share the spotlight.
"I would choose to have all nine members performing on stages together rather than individual activities."
From as early as her "You Are My Destiny" (YAMD) days, she has always made it a point to introduce herself as Girls' Generation's Yoona, not actress Im Yoona. She does not seek attention – attention seeks her, and she does not want it if it cannot be shared with her other members.
As the center of Girl's Generation, one would expect Yoona to be a pretty girl with numerous talents in different areas. Well, except that she is not just another pretty idol. Some might ask, why her? "She has no talent and can't sing. She's just pretty, and there are so many others that deserve it more than her!"
It is a fact that Yoona is not one of the better singers by any stretch, but what is more important is that she has never stopped trying to improve. She is conscious of all her flaws and critics, especially when it comes to singing. Yoona has termed it as her complex, but she has never shied away from singing her favorite songs or her lines in group songs when asked to.
"Compared to getting hurt when receiving negative comments, these comments instead give me the motivation to do better in future."
For someone who finds the least confidence in her vocal abilities, recording a full solo song must have been one of the most challenging points in her career. However, she took her fear head-on and "Innisfree Day" has received much love and support from fans and critics alike. It was an inspiring leap of faith that encouraged not just herself, but all of us to conquer our fears and strive for continual improvement.
As a "talentless" girl, Yoona rocks the stage once the music starts cranking. Dancing has always been her forte, and she moves effortlessly with skill and precision comparable to many professional dancers. The world is her stage and it gives her confidence, which shows in her intense routines and flawless execution that ooze with charisma.
On the red carpet and in magazines, Yoona is a perfect portrayal of elegance and divinity. Watch behind-the-scenes footage, however, and expect to find countless moments of goofing around, roaring of laughter in her trademark "alligator" style, and snacking in secret with her fellow shikshin partners-in-crime. She puts in her best effort to represent Girls' Generation in public, but she does not try to hide her real personality either.
For all we see of her, Yoona is an immature elementary school kid (aka choding) when it comes to playing pranks on her unnies and maknae. Pretty face? You must mean her flounder face! Girlish and demure voice? Definitely her Ahn Youngmi imitation! Frail like a flower? Absolutely not! The Yoona we are talking about here is Him Yoona, who can break six chopsticks at once. Her boyish charms are endearing and she pays no regard to putting up pretenses. She just wants to be herself, and being around her members never fails to bring out her most honest and playful sides.
Regardless of what her detractors might say about her non-fundamental role in the group, the various companies – the ones with actual clout – all believe in Yoona's star power as well as her unique brand of dedication to whatever she does. Without that, she would not have been able to land solo endorsements for massive companies like S-Oil, Yejimin, and Innisfree. Innisfree, in particular, has seen its sales soar since Yoona's endorsement in September 2009. In late 2010, its Volcanic Pore Clay Mask received rave reviews and was sold out across Korea.
However, Yoona has made many sacrifices as a model-actress while being part of Girls' Generation. One of her regrets was not being able to attend both the 2008 and 2009 Korean Music Festivals at Hollywood Bowl in LA, due to filming for YAMD and "Cinderella Man" (CM) respectively.
"…as I went out alone to do my schedule by myself, I thought of our members a lot more. Those text messages and phone calls were such a great encouragement for me."
Her various commitments become a double-edged sword when she raises the profile of Girls' Generation as a group while being an actress, at the expense of her missing out on many performances and rehearsals as part of Girls' Generation. During the periods of filming for her dramas, she had to practice for their "Gee" comeback as well, showing her tenacity even at 18 (19 in Korean) years of age. Yoona's schedule for YAMD filming used to extend up to 3AM in the morning, causing her to miss even the group's private celebration of their first anniversary at their dorm.
Never showing resentment for her burden of having to shoulder dual roles, Yoona still treasures her actor and actress sunbaes as well as filming staff for being the ones to support her every day during the process of shooting the dramas. She thanks them in interviews for teaching her the ropes as a rookie actress, and also takes the time to hand out Thank You cards at the end of filming.
"The first family is my kin. The other family is my SNSD family."
Family is perhaps the most vital connection in Yoona's life. She guards her private life strongly, but still makes every effort to spend as much time as she can with her family when she has time off. Yoona has spent her last few vacations on trips to Europe and Hong Kong with her family instead of resting during these arguably precious times of break.
Her close ties to familial relationships also fuel the sisterly bond she has with the other members, and it is through them that she gains happiness, security and comfort in their journey. She tells us in interviews that the members are her pillars of strength and she is not one to bottle up her problems, choosing to confide in her members and seek their advice. Yoona's strong attachment to them can be further seen when she cried after forgetting to thank them during her speech at the 2009 Baeksang Awards.
In a display of support for her fellow member, Yoona visited Taeyeon on MBC's Chinhan Chingu in April 2009 after knowing that the leader was hosting the radio show alone. Despite her manager's objections, she managed to sneak time in with her unnie in the face of her grueling schedule while filming CM.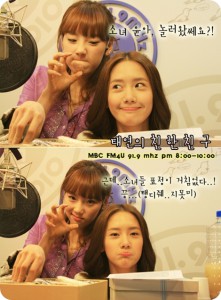 Not forgetting her fans, SONEs are at the center of her Yooniverse. She sees it as important to communicate with us constantly, from leaving messages on the official Girls' Generation website to replying to UFO messages whenever she can. Her connection to those around her is what motivates her to do better with each passing day.
This is the real Im Yoona. While dedicated to her craft, at heart she is an ordinary girl free of pretenses and airs, chasing the same dream with her 8 sisters. Her star shines because of her honesty to herself, her love for her members and fans, and her determination to always deliver her best in everything as Girls' Generation's Yoona.
Source: xhakrdhaps@youtube
Written by: doe@soshified.com, soshiluv9@soshified.com
Have a news item that you think Soshified should know about? E-mail us at tip@soshified.com
Follow us on Twitter: http://twitter.com/soshified for the latest on Girls' Generation.