Videos
1. Girls' Generation Interview on TBS King's Brunch

This was a fun interview as the girls seemed to really enjoy talking to the interviewer (who was fluent in both Japanese and English). They highlighted parts of their "MR. TAXI" choreography, talked about good places to go to in Japan and Yuri proclaimed her love for Takoyaki (Japanese delicacy) again.
2. Previews of Upcoming Performances on Programs
We'll have lots of performances to look forward to, as the girls are slated to perform on various Japanese music shows in the coming weeks. Judging from the previews above (Music Champ's Hey!Hey!Hey and Music Station), they'll be performing "MR. TAXI" in their yellow outfits again.
3. Girls' Generation Mentioned

The girls were mentioned in the two clips above. The Japanese video (top one) shows the hosts talking about the girls' 1st Japan album and how it is being anticipated by many. The bottom video is a Y-Star clip that ranked Yuri 1st in terms of the celebrity with the best body.
Endorsements
1. Lipton in Japan



More here
Don't forget, the girls are officially endorsing Lipton in Japan. The SoShi Subs team released a subbed version of the behind-the-scenes so watch it before the video gets removed! Check it out below:
2. Vita500 Behind-the-Scenes with Sunny

Everyone knows we're all being spoiled with constant updates of pictures and videos of the girls endorsing Vita500. Well, this time is no different as a behind-the-scenes video featuring Sunny was released to keep us craving for more!
Others
1. Girls' Generation in Vogue Japan Magazine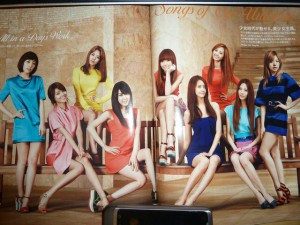 More Pictures
High Quality Pictures
The girls were featured in the July edition of Vogue Japan. All the girls pulled off their outfits and looks well, giving off a mature yet sexy aura. Don't forget to get yourself a copy!
2. Girls' Generation Ranked in Various Charts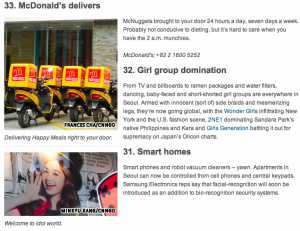 CNN recently published an article, giving 50 different reasons why Seoul is the world's greatest city. Girls' Generation was mentioned at rank number 32, proving the power of girl groups in light of the Hallyu (Korean wave).
Due to the explosive response of Girls' Generation's appearance at Hanyang University on the 17th of this month, the girls were one of the Top 10 most searched about online. Furthermore, their Japanese "MR. TAXI/Run Devil Run" single also topped the Singapore K-Chart (in collaboration with HMV Singapore) for the week of May 17th till 23rd.
3. Billboard of Girls' Generation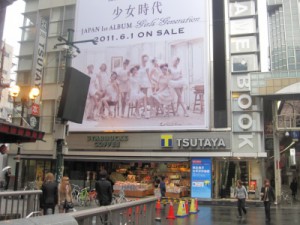 With their Japan 1st album due to be release in just a few days, their album cover shot has been placed as a billboard on the Tsutaya building in Japan.
In other Japan news, their "MR. TAXI" music video is still in 1st place on the iTunes Japan chart, and is currently topping CD Japan's real time chart and HMV Japan's daily chart as well.
New Sets of Pictures
Vita500 1/2/3/4
New SPAO Shots
New E-ma Campaign Ad
Goobne Behind-the-Scenes
SONE Picture/Video of the Week
To further hype you guys up for this new category, we've also started a new thread for you to post pictures and videos up (that's right, it's now not just pictures, but videos as well!). You can post pictures/videos that caught your eye as well, so head on over here and start sharing!
To start you off, here are some examples of videos that we like! It's a nicely done collaboration cover of "Hoot" and a unique metal version of "Gee".
Sources: Soshified Photos Section, Nate, CNN, ssfsubsJ@youtube, rightnowsee@youtube, TheSoshifull@youtube, PuppyLove0314@youtube, kpopidolgroup1@youtube, shinnveno@youtube, Kwangdong@youtube, sjwpark@youtube, BoyzGenerationJKT@youtube, SG K-Chart, yoongislove@twitter
Written by: shizzles9@soshified.com
Contributors: michaelroni@soshified.com, residentbenchwarmer@soshified.com
Banner: cioco@soshified.com
Have a news item that you think Soshified should know about? E-mail us at tip@soshified.com.
Follow us on Twitter: http://twitter.com/soshified for the latest on Girls' Generation.