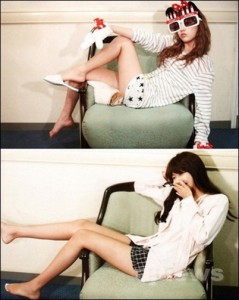 It is a well-known fact that Sooyoung is the tallest member in Girls' Generation and Taeyeon is one of the shortest. This difference in height may be significantly due to one thing.
Recently, a comparison of leg lengths between Sooyoung and Taeyeon has become a hot topic. A photograph of the two girls in similar positions has been circulating around the internet. The girls are sitting sideways on a chair, allowing people to notice the difference in the lengths of the girls' legs. It has even been said that the fact that one of Sooyoung's legs is not completely in the frame could be embarassing for Taeyeon.
Sooyoung's long legs have been known for a long time. On a "Radio Star" segment on MBC's "Golden Fishery" in February of 2009, Sooyoung even introduced herself by saying, "I'm in charge of leg length in Girls' Generation."
Fans are showing a variety of responses to the picture showing the differences in leg length between Girls' Generation's Taeyeon and Sooyoung, saying comments such as, "It's not that Taeyeon's legs are short, but that Sooyoung's legs are really long", "Sooyoung gives off a mature feel", "Although Taeyeon's legs are shorter than Sooyoung's, it's okay, because she's good at singing and because she's cute."
Source: Nate
Written by: residentbenchwarmer@soshified.com
Translated by: jreddevil07@soshified.com
Have a news item that you think Soshified should know about? E-mail us at tip@soshified.com.
Follow us on Twitter: http://twitter.com/soshified for the latest on Girls' Generation.